Ronan's Casey Lunceford awarded $50,000 teaching prize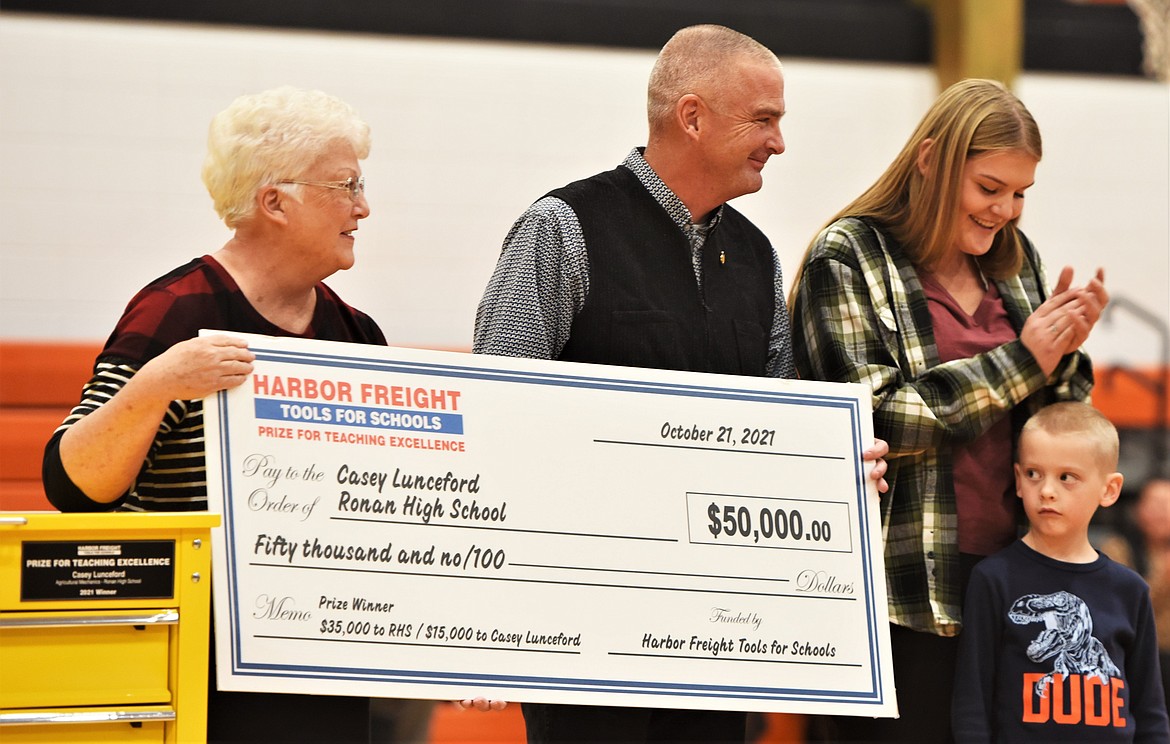 Ronan High School agriculture teacher Casey Lunceford received a $50,000 teaching award from Harbor Freight on Monday at the school's gymnasium. With him for the ceremony were his mother, Verna Scott, daughter Jaylea and son Dexter. (Scot Heisel/Lake County Leader)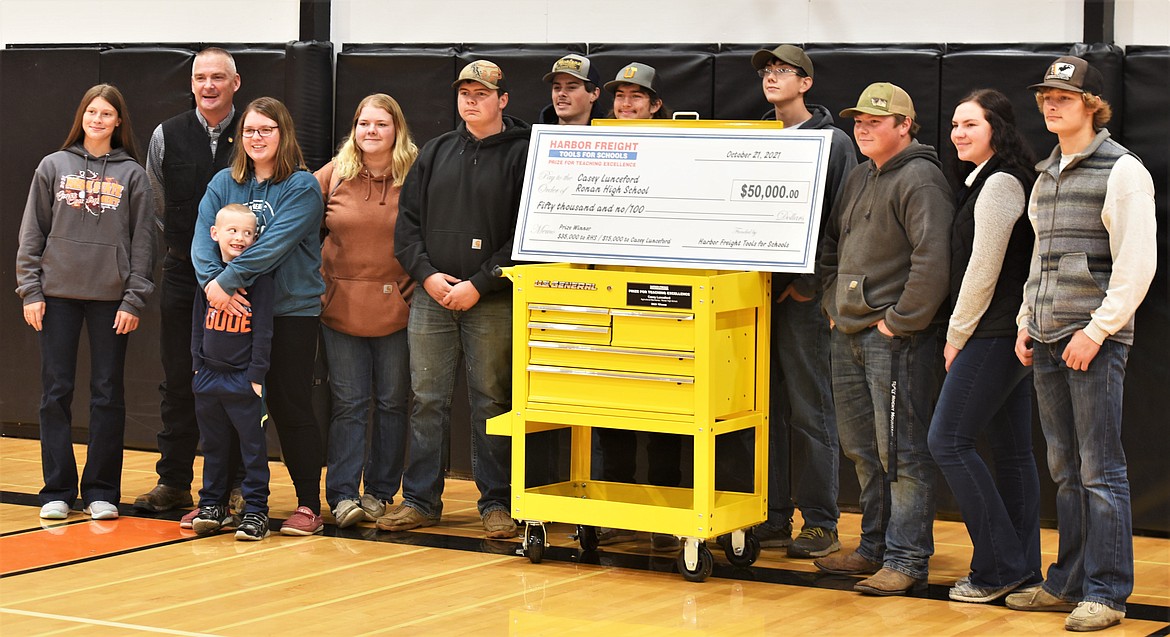 Casey Lunceford and a group of his students pose with the tool box he was awarded Monday from Harbor Freight. (Scot Heisel/Lake County Leader)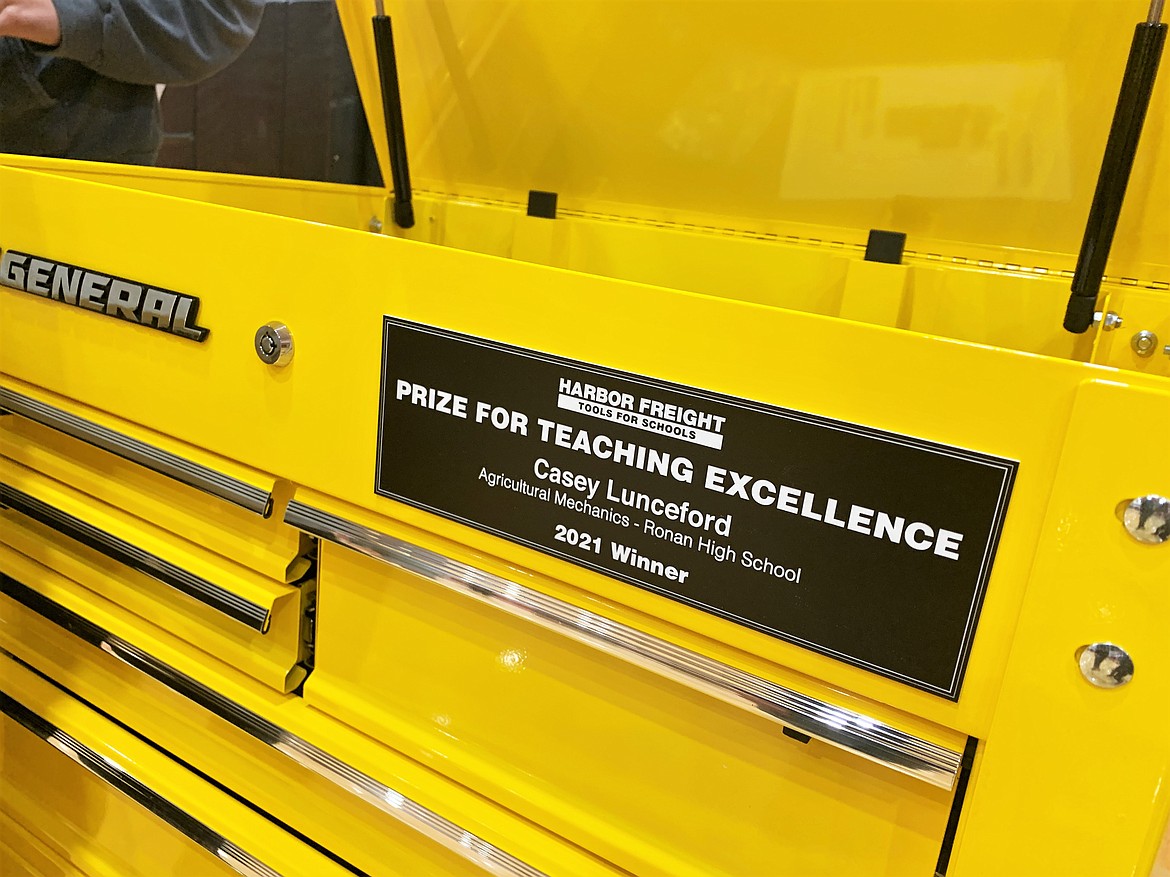 Casey Lunceford's award came with a customized tool box from Harbor Freight. (Scot Heisel/Lake County Leader)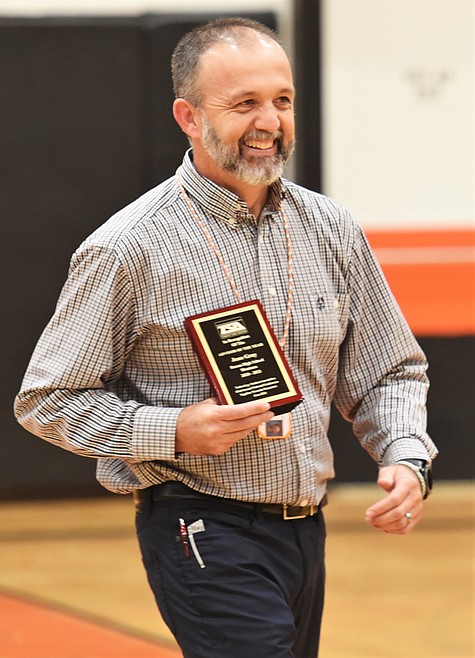 RHS teacher Jesse Gray also received an award Monday for top Technology Student Association educator in Montana.(Scot Heisel/Lake County Leader)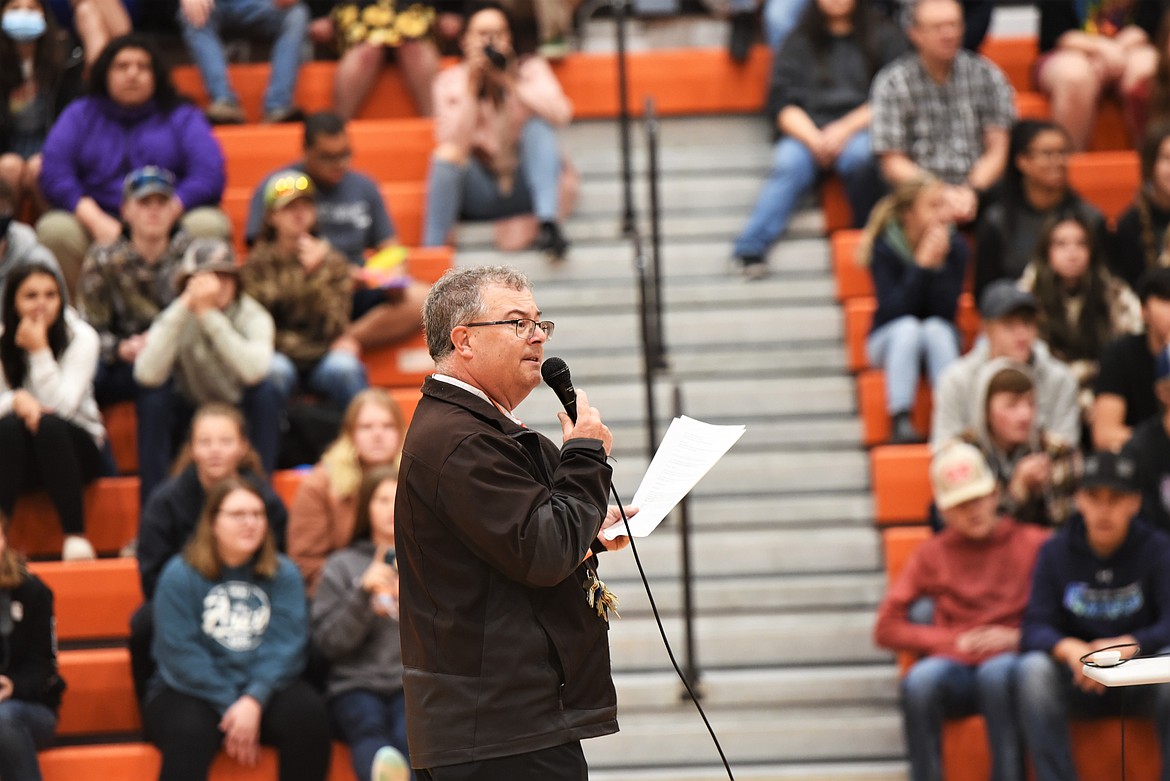 Ronan High School principal Kevin Kenelty addresses a full assembly of students Monday to announce some recent teaching awards. (Scot Heisel/Lake County Leader)
Previous
Next
by
SCOT HEISEL
Lake County Leader
|
October 25, 2021 12:00 PM
RONAN — Ronan High School vocational agriculture teacher Casey Lunceford is among 18 educators across the nation who were selected as recipients of a 2021 Harbor Freight Tools for Schools Prize for Teaching Excellence.
Ronan High School principal Kevin Kenelty presented the award to Lunceford during a full school assembly Monday afternoon in the high school's gymnasium.
As part of the prize, Lunceford will be awarded $15,000 and his program will receive $35,000. He also received a Yellow U.S. General mechanics tool cart with a customized panel commemorating the award.
Lunceford is the first teacher from Montana to claim one of the Harbor Freight awards, which were first presented in 2017.
The 2021 prize drew 726 applications from 49 states and included three rounds of judging, each by an independent panel of experts from industry, education, trades, philanthropy and civic leadership.
"This community is what makes this happen," Lunceford told students Monday. "We've had so many people around the community work with this program and with this school, and it's because of this community and these people right over here that we get an award like this."
Lunceford teaches both at the high school and the middle school in Ronan. His classes focus on skills-based applications that can help prepare students for agricultural careers, including mechanics and engineering. He said the award money will be a welcome boost to his program.
"We have a lot of safety stuff to get caught up on — new welding stuff, safety goggles and things like that. But there are some things that are kind of old. Our air compressors are needing some help. And some of the new stuff we haven't started yet at the program. We'll have like a metal lathe, a milling machine. We'll get some of that stuff, and then I'm afraid I'll have to learn just as fast as the kids do. We've got a chance to try some stuff that we haven't had yet."
Lunceford and his students recently completed a remodel of the swine area at the Lake County Fairgrounds in Ronan as part of a class project that was featured in a July article by the Leader. Students and volunteers built a 10 by 100 foot concrete slab over the dirt that had been dug up and churned by generations of show hogs. Once the concrete was done, the team built new metal stalls to set on the concrete.
"My favorite part of being a skilled trades teacher is watching my students learn not just the hands-on techniques, but also how they can make a living at those trades," Lunceford said in a press release issued by Harbor Freight.
Lunceford took a moment to celebrate the achievement, but a long day awaited him Tuesday, when he and a group of students drove to Indianapolis for the 2021 National FFA convention, which runs Oct. 27-30.
Also Monday, Ronan High School Collaborative Learning Space teacher Jesse Gray accepted a statewide award for top Technology Student Association educator in Montana. TSA educators "take the study of STEM (science, technology, engineering, mathematics) beyond the classroom and give students the chance to pursue academic challenges among friends with similar goals and interests," according to the Montana TSA website.
Harbor Freight Tools founder Eric Smidt created the Tools for Schools program to recognize outstanding instruction in the skilled trades in public high schools and the teachers who inspire students to learn skills to prepare for life after graduation.
Lunceford has taught agricultural mechanics in Ronan for three years. He brings 10 years of experience owning and running a home company and sawmill to his teaching, as well as the skills from his high school and college days in Future Farmers of America. He credits FFA for teaching him about work ethic, communication, and lessons in mechanics, sales, and agronomy that he put to use every day while working in the industry. He has since earned a Master's Degree in Agriculture Education, and serves as an officer in the Montana Association of Agriculture Educators and Vice President for the Montana Association of Career and Technology Educators.
Recent Headlines
---