In Business: M&S Meats opens in Polson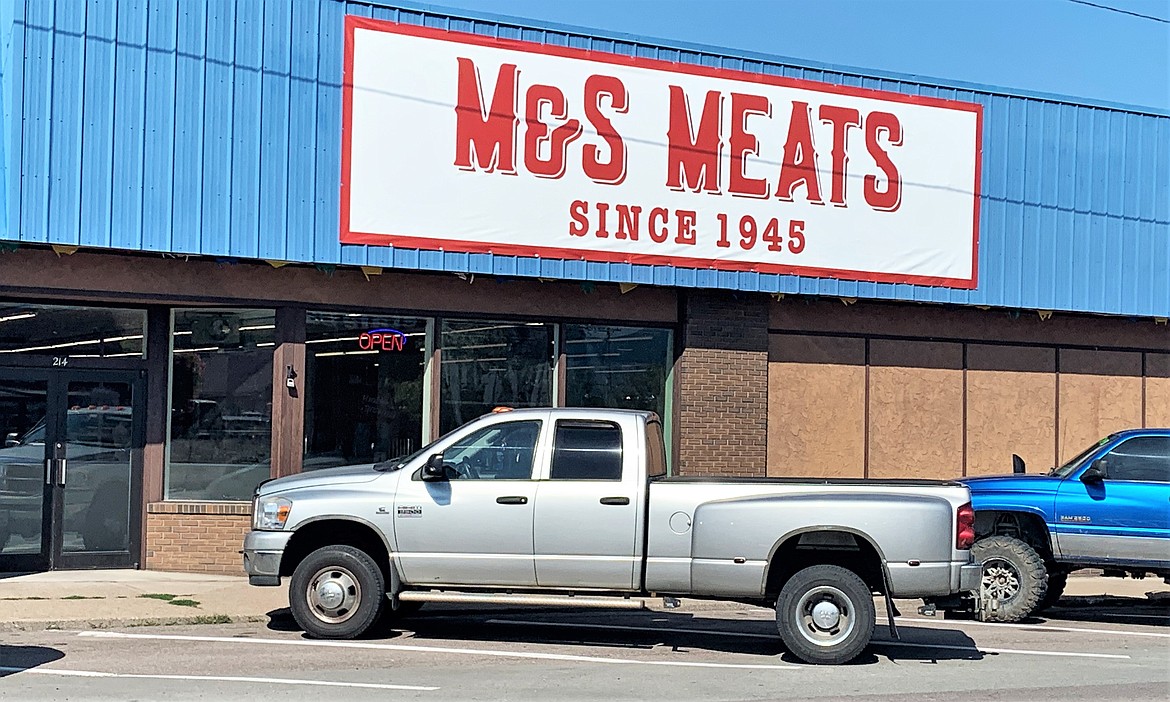 M&S Meats has opened a shop in the former Polson Sears building. (Lake County Leader)
by
SCOT HEISEL
Lake County Leader
|
September 2, 2021 12:15 AM
Rollins-based M&S Meats, established in 1945, has set up shop in the former Polson Sears building next door to Beacon Tire on First Street.
The Polson shop officially opened for business Monday, though setup is far from complete. A vendor was filling a soda case Monday morning, and there were a few aisles of shelving filled with the company's popular beef jerky, huckleberry products, pet products, sweets and soaps, among other items. There also was frozen Wagyu beef and ground Yak in a freezer, and cases full of sausages and cheese curds.
Rachel Atkins, a regional manager, was on site Monday to get things going. Atkins said they're still adding staff for the Polson store.
Owner Trish Nguyen of Lakeside could not be reached for comment. Nguyen opened a second shop in Kalispell last year, and Polson will be the third. The company also has a thriving online retail business at msmeats.com.
Nguyen told the Daily Inter Lake in July 2020 that the company had been sending out about 500 to 600 packages every day across the United States.
There's plenty of space inside the building, and Atkins said Nguyen is considering sharing the space with at least one other business, possibly a nail salon. She said walls would be built to keep the spaces separate.
New digs for Good Coffee
Good Coffee Roasting Company last weekend moved a few blocks from its former spot at 201 Third Ave E in Polson to 214 B on Main St., where it shares an entrance with the Crow's Nest Gallery & Framing. The new coffee shop is between the gallery and Perfect Shot Tavern.
Owners John and Celeste got some help this weekend moving furniture, kitchen gear and the shop's signature 8-track tape collection over to Main Street.
The coffee shop is open from 7 a.m. to 3 p.m. Wednesday through Friday and 8 a.m. to 3 p.m. on weekends.
Logan launches new clinic
Logan Health Primary Care has opened a new walk-in clinic in Polson designed for non-emergency medical care.
The clinic is at 106 Ridgewater Drive and will be open from 9 a.m. to 4 p.m. weekdays.
Brian Rick, PA-C, will lead the walk-in care team at Polson Health for convenient care services.
Domino's dishing out the pies
The new Domino's Pizza shop on Main Street in Polson is finally open and ready to deliver.
A building at 318 Main St. was demolished earlier this year and a new building was constructed to house the pizza business.
The business originally targeted a late-March opening date, then moved it to Memorial Day. The ovens finally heated up for customers in late August, and deliveries are available seven days a week, according to general manager Eric Clements. He said they have about 10 people on staff and are looking to hire about six more drivers.
Owner Jeremy McMillan, his wife Stacy and their 13-year-old daughter Reggie live in Missoula, but McMillan told the Leader in January that he's got deep ties to Lake County.
"My family homesteaded out on Rocky Point Road," he said. "Marie Johnson, my great-grandmother, lived in Polson until her death in 1990. My grandparents have a house on Masumola Lane. I also have many family members all along the west shore, and I spent summers in Polson while growing up."
Domino's is open from 10:30 a.m. to midnight every day.
In Business is an occasional column devoted to Lake County business developments. If you have local business news you'd like to share, contact Editor Scot Heisel at sheisel@leaderadvertiser.com.
---