Community mourns abrupt loss of Amanda Farley
by
SCOT HEISEL
Lake County Leader
|
September 14, 2021 8:17 AM
Authorities in Colorado confirmed Friday that a woman whose death was the result of a homicide Sept. 5 in Aurora, Colo., is Amanda Lynn Farley, 20, of Polson.
Farley's boyfriend, Dakota Chinnock, 20, also of Polson, was taken into custody the morning of Sept. 5 at an apartment in Aurora, where authorities responded to a report of an injured woman and found Farley, who was pronounced deceased at the scene.
Chinnock was detained after detectives from the department's Major Crimes Homicide Unit responded to investigate, according to a statement from the Aurora Police Department.
The Arapahoe County Office of the Coroner confirmed Farley's identity Friday, Sept. 10 in a statement.
Chinnock and Farley both attended Polson High School.
Farley graduated in 2019, and her activities included competing on the Polson golf team. Her Facebook profile indicates she was employed at New Horizon Academy, an early education and child care facility in Denver.
Friends and family attended a vigil for Farley at Polson Bay Golf Course on Saturday night.
As a member of the Polson High School golf team, Farley competed under the direction of current head coach Cameron Milton, who also works as head pro at the golf course.
"On behalf of the Polson Pirate golf team, we are obviously deeply saddened by these tragic events involving Amanda Farley, who played four years of high school golf for us," Milton said Monday as his team competed at the annual Polson Invite. "Our thoughts and prayers go out to the Farley family in this difficult time. Just know that she was in our thoughts today during the Pirate Invite."
Kayla Verlanic has organized a GoFundMe online fundraiser campaign with the goal of raising $10,000 to cover the family's expenses for travel to Colorado and funeral costs. The campaign had raised more than $7,000 by Tuesday morning.
An obituary for Farley is published on page A6 of this week's Leader.
Chinnock graduated from Polson High School in 2020. He was most recently employed as a technician at Brakes Plus, according to his Facebook profile. His past jobs included stints at Midas, Stageline Pizza and Safeway in Polson.
Chinnock was booked into the Arapahoe County Detention Center on a first-degree murder charge. He had an initial court appearance scheduled for Sept. 7, and his next court appearance is scheduled for Oct. 25.
Detectives will continue their investigation and are asking anyone who has information about this incident to please reach out to Metro Denver Crime Stoppers at 720-913-7867.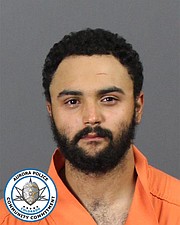 Recent Headlines
---