Authorities arrest 13 in Polson drug sweep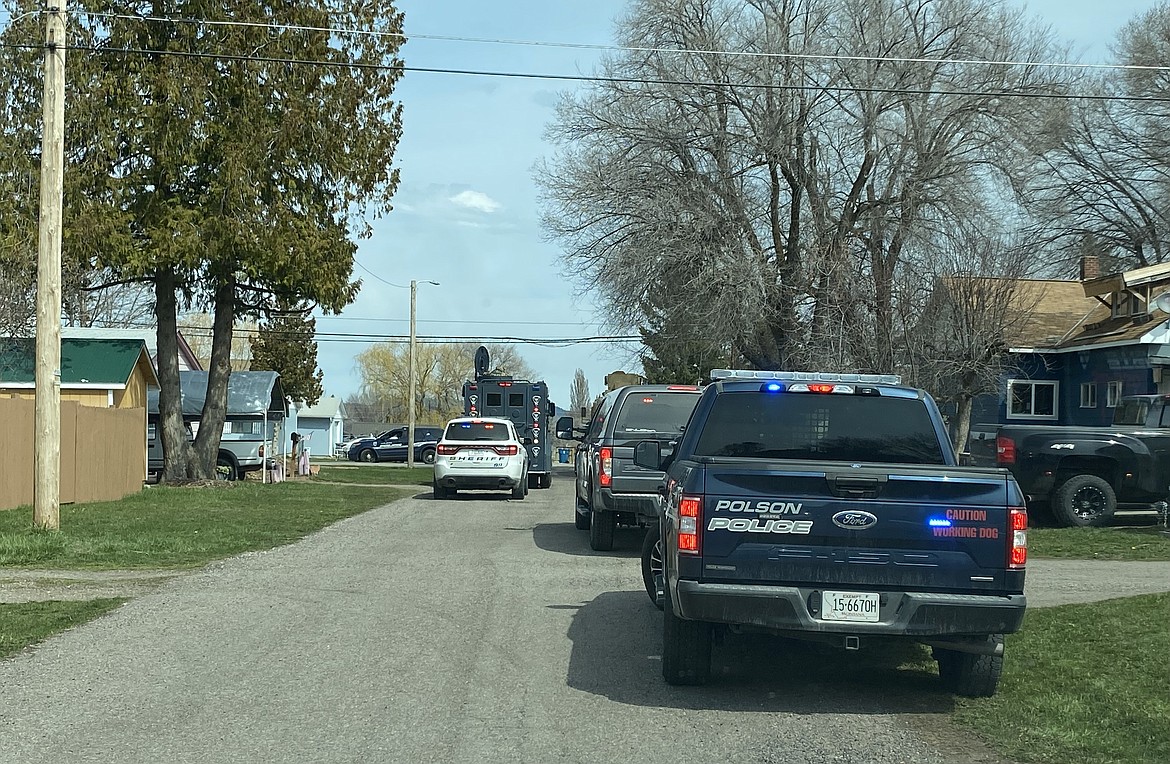 Law enforcement agencies blocked off some residential streets during a drug bust in Polson on Monday. (Courtesy of Polson Police Department)
by
SCOT HEISEL
Lake County Leader
|
April 26, 2022 9:35 AM
Law enforcement agencies from throughout the region converged Monday to serve warrants on three Polson homes as part of a drug investigation. The daylong operation resulted in the arrest of 13 adults, according to a Polson Police Department press release issued Tuesday morning.
Police said the three houses were identified as connected in the use and distribution of methamphetamine and fentanyl, and children were living in one of the homes. At least two of the houses are in the residential area near O'Malley Park and Pomajevich Field in central Polson.
"We are committed to drug endangered children, and to that end, residential search warrants were executed to safely remove these children from an atrocious environment," Capt. George Simpson said in the press release.
Authorities found suspected methamphetamine and fentanyl, along with firearms and drug paraphernalia. Flathead Tribal game wardens also are investigating possible wildlife violations related to decaying wildlife parts that were seized.
Two children were removed from one home as part of a Child Protective Services investigation.
The adults were detained for charges including criminal possession of dangerous drugs, criminal child endangerment, possession of drug paraphernalia and resisting arrest. Due to jail overcrowding, none of the adults was booked into the Lake County Jail, and $126,000 in bonds for outstanding arrest warrants were not served.
Polson Police have not released the names of those charged.
"No names will be released at this time to protect the dignity of the children involved and to maintain the integrity of ongoing investigations," according to the press release.
Assisting the Polson Police in the operation was the Northwest Montana Regional SWAT Team, which includes members from the Polson Quick Reaction Force, the Flathead County Sheriff's Office and the Whitefish Police Department. The Kalispell Special Response Team, Two Bear Air, Flathead K-9 Foundation, Lake County Emergency Dispatch Center, Flathead Tribal Police and Tribal CPS also assisted.
"This would not have been possible without the cooperation from our community, assistance from our northwest Montana law enforcement partners and investigation by your outstanding Polson officers," Polson Police Chief Wade Nash said in the press release.
Nash noted that Wednesday, April 27 is Drug Endangered Children's Awareness Day. Visit www.nationaldec.org to learn more.
Recent Headlines
---