County Superintendent Hall receives state award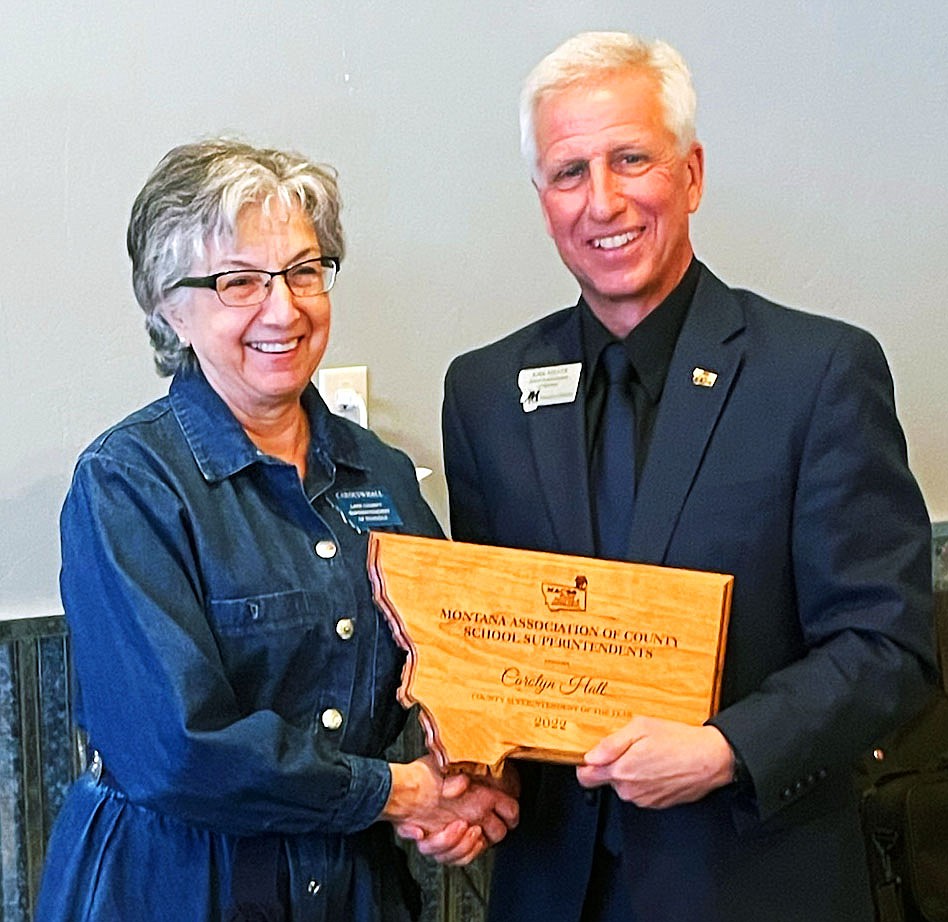 Lake County Superintendent of Schools Carolyn Hall, left, and School Administrators of Montana Executive Director Kirk Miller. (Courtesy photo)
by
SCOT HEISEL
Lake County Leader
|
April 26, 2022 5:02 PM
Lake County Superintendent of Schools Carolyn Hall received the state's County Superintendent of the Year award last weekend at Lewistown.
Hall is in her seventh year in the position, which has financial oversight over every school district in Lake County, including three rural districts — Dayton, Valley View, Salmon Prairie — that have no local administration.
School Administrators of Montana Executive Director Kirk Miller presented the award. Lake County Commissioner Gale Decker attended the ceremony as well.
Hall said constituent letters of nomination, primarily from parents, clerks and trustees, are sent to the County Superintendent Committee, which names the award winner each year.
"I don't do this job alone," she said Monday. "It's all of the administrators, the teachers, the superintendents. We all do this together."
Hall said she was humbled by the award, but "felt like an imposter. I'm the one who gets all the praise. I'll just accept it on behalf of all the county superintendents who all do this job, or have done it."
She singled out her deputy, Beth Rowley, as a particularly integral member of the team.
"So much of what schools are doing now is new. All of us working together with our communities is what makes it the best for the kids, and none of us can do it alone."
Recent Headlines
---