Ronan basketball teams heading to Alaska after winning prize trip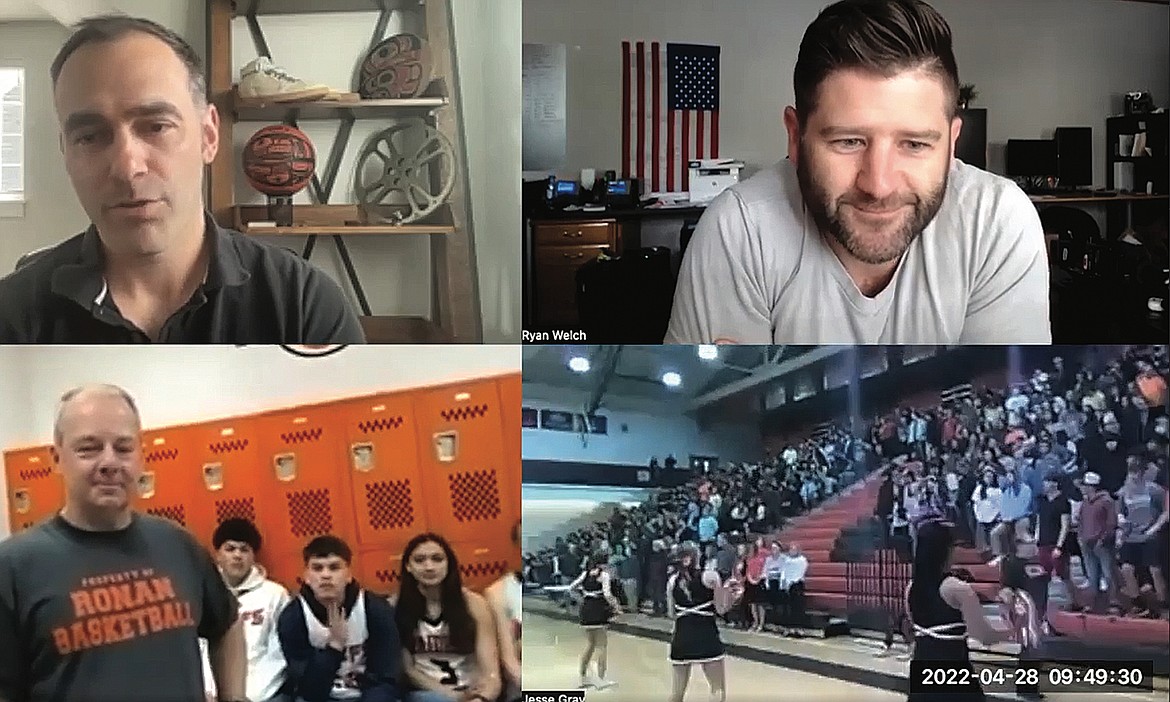 Ronan hosted a Zoom call with the filmmakers of the documentary "Alaska Nets." The school held a pep assembly to show why they should be chosen out of over a thousand schools to win a once-in-a-lifetime trip to Alaska. It was announced during the call that Ronan won the contest and would be traveling to Anchorage in January.
by
Brandon Hansen / For The Leader
|
December 29, 2022 12:00 AM
The Ronan boys and girls basketball teams will be taking the trip of a lifetime at the end of January after winning the Alaska Nets High School Movie Night Grand Prize. Because of this, Alaska Airlines will fly both the Maidens and Chiefs up to the Alaska Airlines Classic High School Basketball Tournament in Anchorage.
"The kids, parents and fans are pretty excited," Head Ronan Girls Coach Steve Woll said. "Many of the kids have never been on a plane or out of Montana so this is a great thing for them."
Ronan High School had originally screened "Alaska Nets" as a fundraiser, showing the documentary about life and basketball on Alaska's last Native Reserve in the traditional community of Metlakatla. The school had a dinner night to go along with the film and there was a good turnout. Organizers realized that there was a hoops contest that could be entered as well and decided to compete.
"It was our whole Maidens girls program from grade six to 12," Woll said. "All the parents and coaches helped along the way. We entered this contest by sending pictures and writing essays."
The school received an email back from the makers of "Alaska Nets" saying they did an awesome job with their fundraiser and Woll said he realized the school had a real chance of winning a trip to Alaska.
"They said something like 1,180 schools applied," Woll said. "I got an email later saying that we had made the final four and asking what we could do to show that we deserve this more than the other three."
Ronan held a pep assembly and Zoom call with the "Alaska Nets" filmmakers and representatives from Alaska Airlines live. After beginning the call, there were interviews with Ronan athletes, a pep assembly where the entire student body was loud and proud and a drum ceremony as well.
"Everybody was on board, it was a whole school effort," Woll said. "I couldn't hear in that assembly, they were so loud."
During the call, it was announced by the organizers that Ronan had indeed won a trip up to Anchorage to play in the Alaska Airlines Classic High School Basketball Tournament.
The Maidens will play in a four-team tournament from Jan. 17-19 where they will take on Metlakatia, Tikigaq and West Anchorage. From Jan. 19-21, the Ronan Chiefs will play in a bracketed tournament, with their first game against West Anchorage. Both tournaments take place in the West Anchorage High School Gymnasium.
Due to the addition of these games, Ronan had to drop three games within Montana to meet the requirements of the MHSA.
Woll said that both teams hope to be able to check out Anchorage while they are up in Alaska.
"We're kind of learning as we go with this but it's a great chance for our kids and we're excited to see how this goes down," Woll said. "After we get back from break we will work on getting our team ready to go and compete.
For more info about "Alaska Nets," people can go to www.facebook.com/alaskannets/.
Recent Headlines
---