Cowboy HOF inductee Hamel reflects on ranching, rodeo life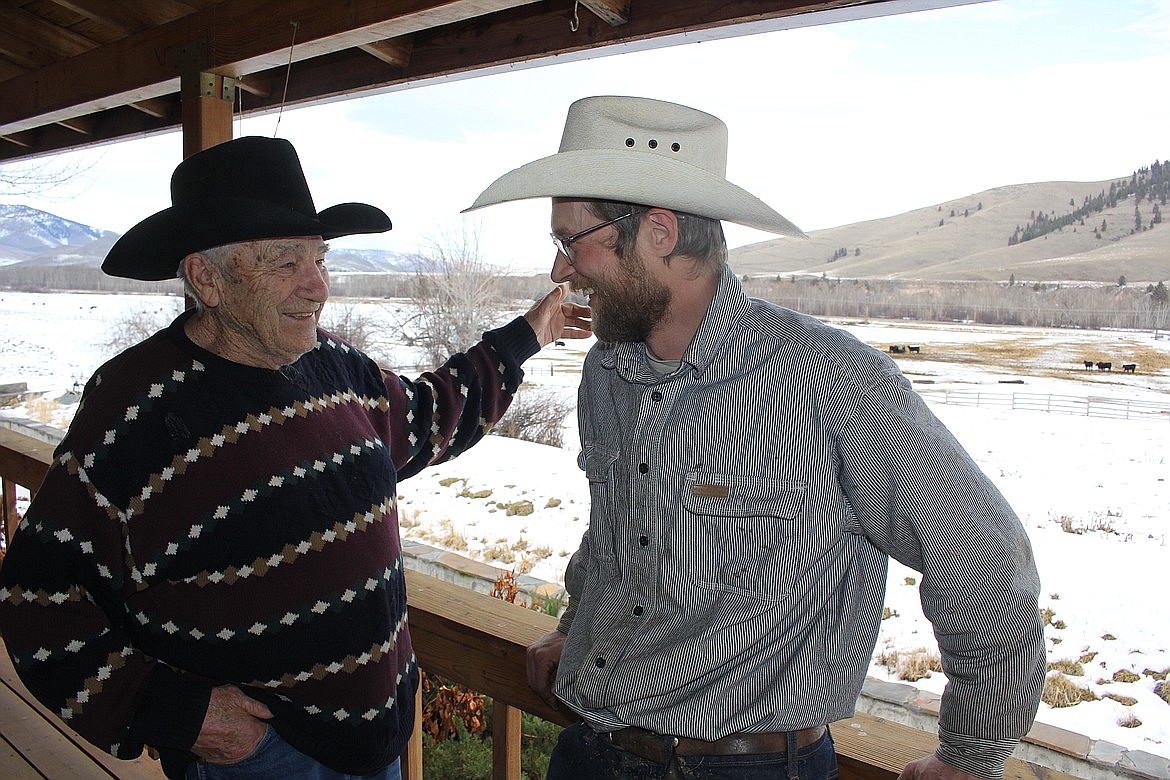 Gerald Lee "Jerry" Hamel, left, has a good laugh with Matthew Whyatt on the deck of Hamel's home. Hamel is being inducted into the Montana Cowboy Hall of Fame and Western Heritage Center in April. Whyatt is the Cattle Supervisor-North Herd of the Hamel Valley Ranch in Dixon. (Monte Turner/Mineral Independent)
by
MONTE TURNER
Mineral Independent
|
February 24, 2022 12:15 AM
His folks bought the ranch in 1944, he thinks, and moved his brother and himself there from Dixon as they were getting into trouble and running with the wrong crowd.
Mind you, Dixon was now 1.5 miles away, his brother was 9, and Gerald Lee "Jerry" Hamel was 5. The final straw had to do with a friend's early morning paper route and a bottle of booze, and we'll end it there.
"They (his parents) got us about 15 milk cows, and we went to milking cows and that was it," Hamel recalled.
It was his introduction to the cattle business and when he started high school, the ranch switched to beef as the dairy operation required too much time and it interfered with school activities.
Hamel has been chosen as a Member of the Montana Cowboy Hall of Fame 2022 class of inductees with the Annual Induction Ceremony & Western Heritage Gathering in Great Falls on April 8 and 9.
"The Hall of Fame exists to honor those who have made an impact in their part of the state and represent Montana's authentic heritage for future generations." said Bill Galt, MCHF and WHC president. "Our volunteer trustees around Montana vote on nominations that come from the district in which they reside. The process gives local communities a strong voice in who will represent them in the Montana Cowboy Hall of Fame."
Hamel resides in District 10 which is Flathead, Lake, Lincoln and Sanders Counties.
"I really don't consider myself a cowboy," he said.
"I've been a rancher longer than I was a cowboy riding in rodeos."
His rodeo life started out riding bareback and bulls in high school and it didn't take long for him to switch to timed events, calf roping and bulldogging being his favorites.
At 17, he was working at the Moiese Bison Range where his manager was an Army Reservist that convinced him to join for a little extra money each month.
"They didn't ask for a signature from my parents which was a little strange because at 19 I needed my mother's signature to get married," he smiled.
Between being a reservist and active duty, Hamel served a total of eight years in the Army. He has two daughters from his first two wives, and one is inducted into the Indian Rodeo Hall of Fame.
She and a nephew of his are the culprits who nominated Jerry Hamel to be considered for the Montana Cowboy Hall of Fame. He's a rancher, veteran, a registered member of the Confederated Salish and Kootenai Tribes and like it or not, an honest to gosh cowboy.
"My circle's not very big," said Hamel. "The farthest east I've been is St. Louis. Farthest west is Seattle. Down in California and Texas for a while. That's it."
He and his brother owned the ranch jointly until his brother was killed in a vehicle accident in 1973. The portion of the ranch between the Moiese Bison Range and Highway 200 was sold to settle with his sister-in-law so the operation today is all on the west side of the highway.
Mattew Whyatt is the Cattle Supervisor-North Herd, for Hamel Valley Ranch and you can tell these two enjoy a good laugh. Whyatt and his wife moved to Mission from New York in 2015 and he's been helping Hamel with chores and the little haying that is needed.
Hamel pre-pays his hay a year in advance so today's high price due to another drought hasn't hurt him as it has other operations. This time of year, mending fence and feeding livestock keeps Whyatt and Hamel as busy as they want to be.
"Riding all day long in a truck cab with him is a treat. He comes up with the darndest sayings that are actually full of wisdom. I should be recording them," Whyatt laughed.
Years ago, Hamel had a team roping session on Wednesday evenings at his arena that has since been removed.
"People would come from Kalispell and Missoula. About a 70-mile radius. The Warnkens and Alan and Roger Brockway would drive over from Superior," he said.
"I had steers I'd bring over from the other side of the river (Jocko) for the deal and one night I was missing one. I had a bay mare I was getting ready to take to the racetrack and I hadn't been exercising her enough, so I jumped on her to go looking."
"The weeds were pretty high as this was in August and she stepped on a board that wiggled in front of her. Man, she came uncorked and threw me up in the air and when I came down, I hit hard, and I had an out-of-body-experience. I was looking down at what looked like a squirming rattlesnake, but it was me!"
He doesn't know how long he was wandering around, but Harley Hettick, a neighbor, found him in a field, which landed him in the intensive care unit at Providence St. Patrick Hospital in Missoula for 13 days.
"I'd broken my collar bone. Fractured my wrist. I think five or six ribs. Pretty busted up," Hamel remembered.
All that being said, if he had any regrets, it would be that he didn't pursue rodeo more for a chance at becoming professional.
"I was just stringing it along as this ranch was my responsibility and I had to keep coming back to tend to it. I hated taking that risk of losing what I had. This was security."
A humble, hardworking man of character with strong values that turned 86 on Jan. 25, this newest inductee into the Montana Cowboy Hall of Fame has earned it.
Recent Headlines
---