Sorry 'Bout That half marathon results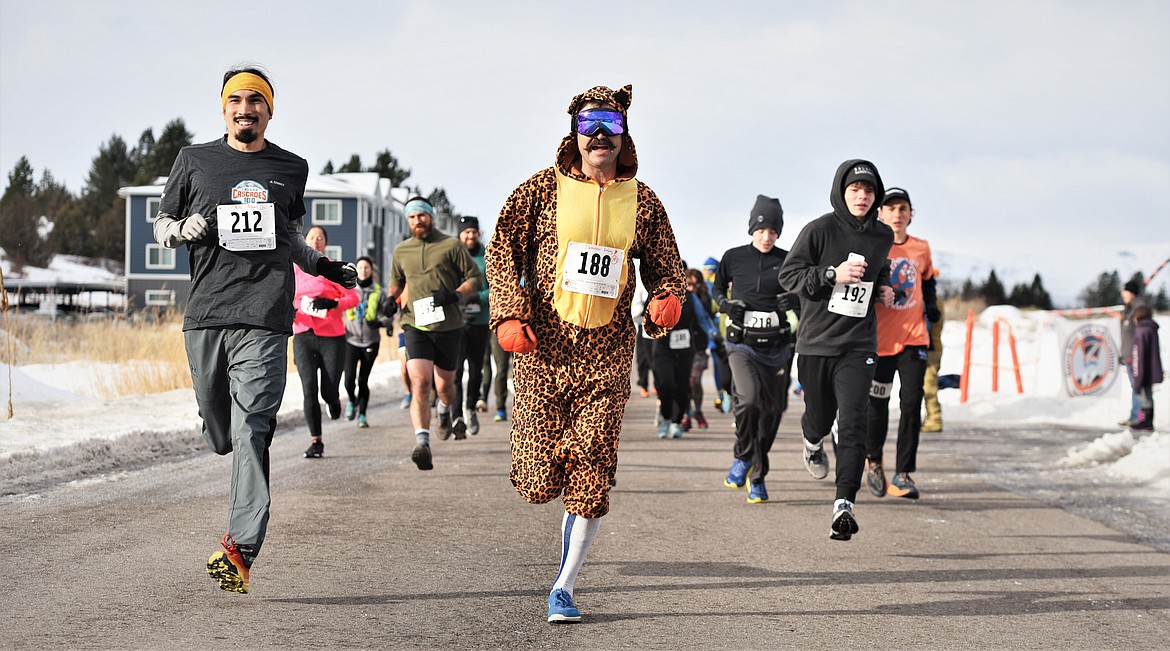 Runners begin the Sorry 'Bout That half marathon and team relay Saturday near Mission Valley Aquatics in Polson. The run was hosted by Polson Running, a local nonprofit that sponsors throughout the year, including the Thanksgiving Turkey Trot. (Scot Heisel/Lake County Leader)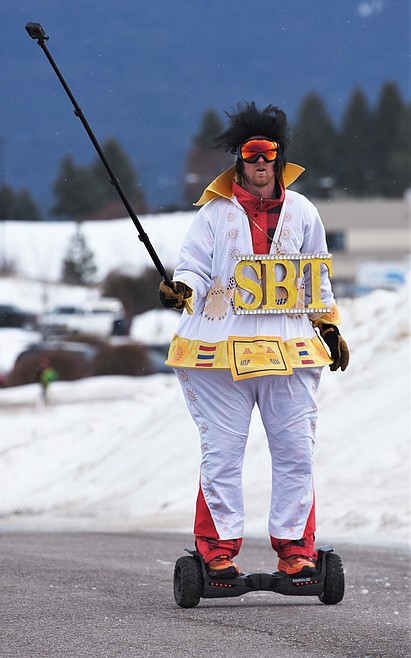 Race organizer Lou Brenner of Polson Running fires up runners and shoots some video prior to Saturday's start. (Scot Heisel/Lake County Leader)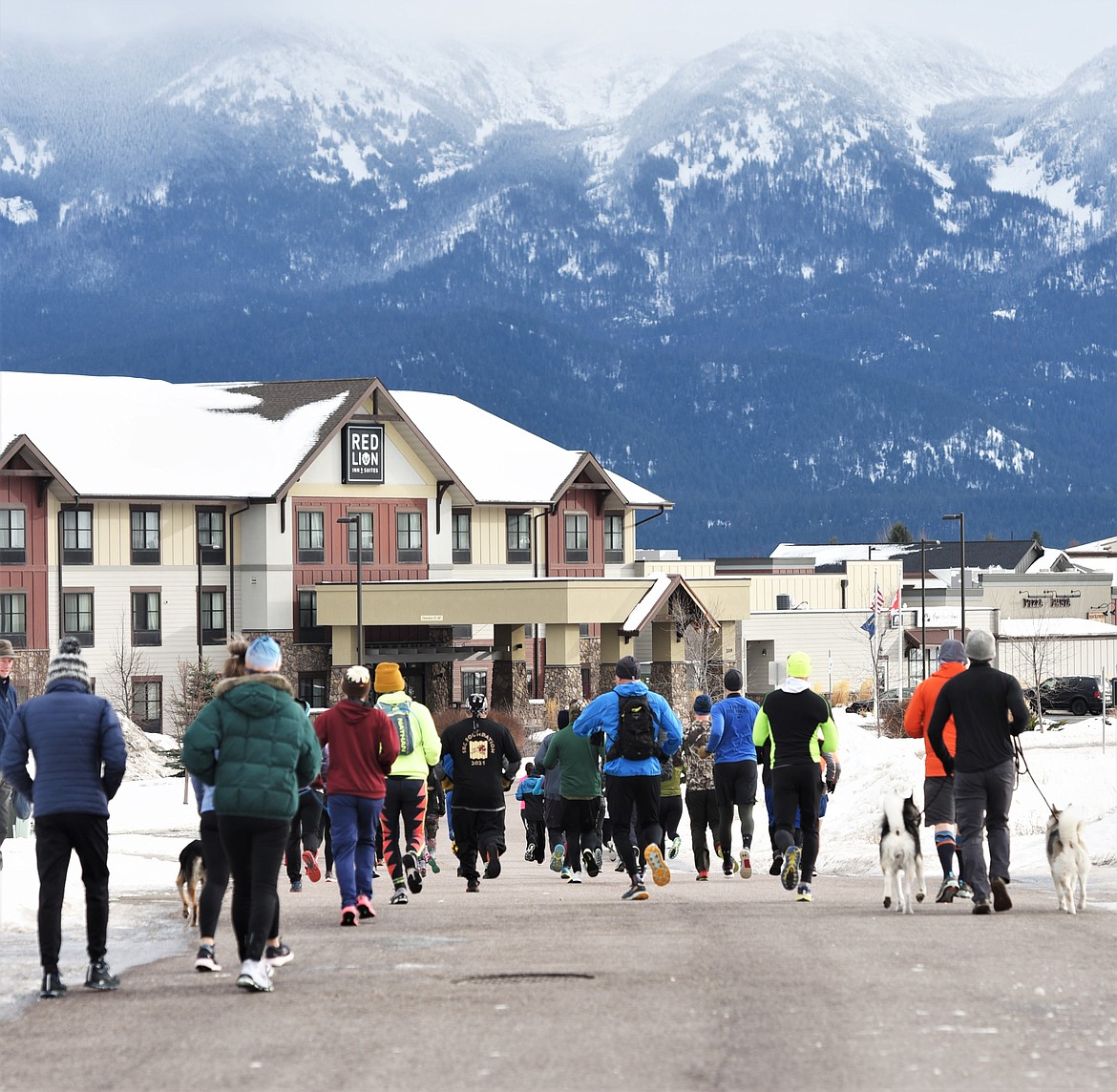 Runners head out from the start/finish area near the Mission Valley Aquatic Center. (Scot Heisel/Lake County Leader)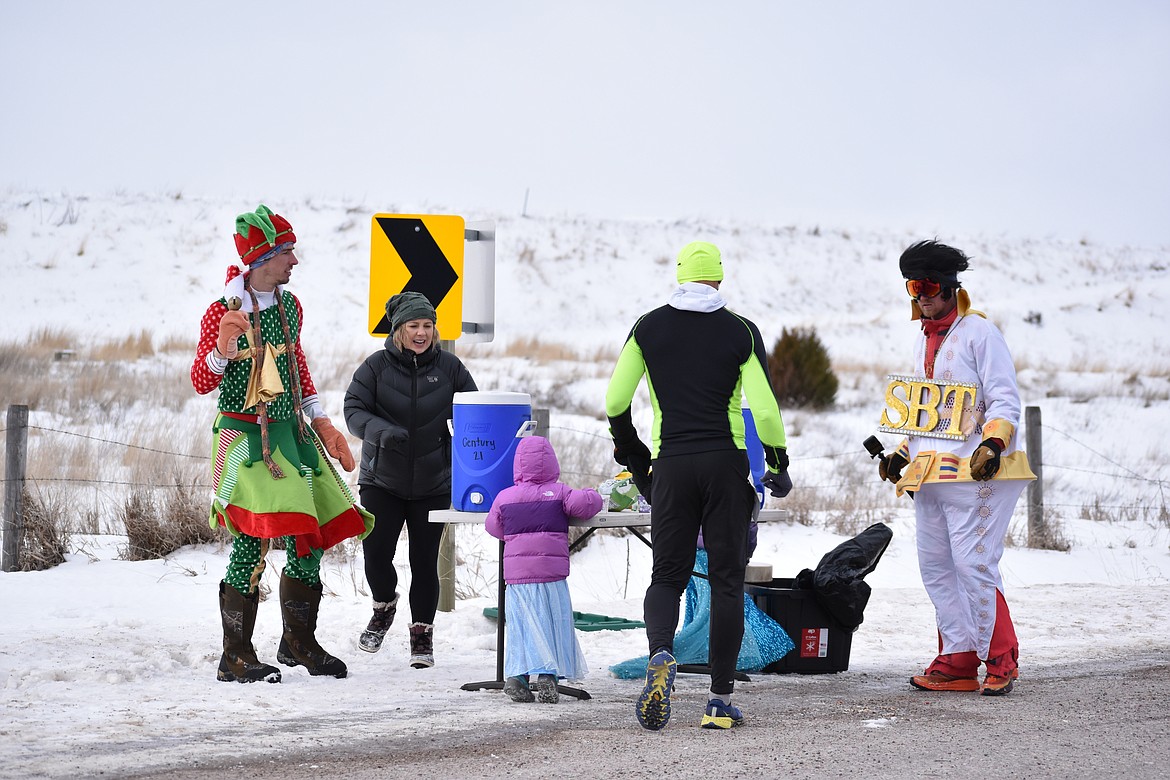 Refreshments were available at two aid stations along the half marathon route. (Emily Lonnevik/Lake County Leader)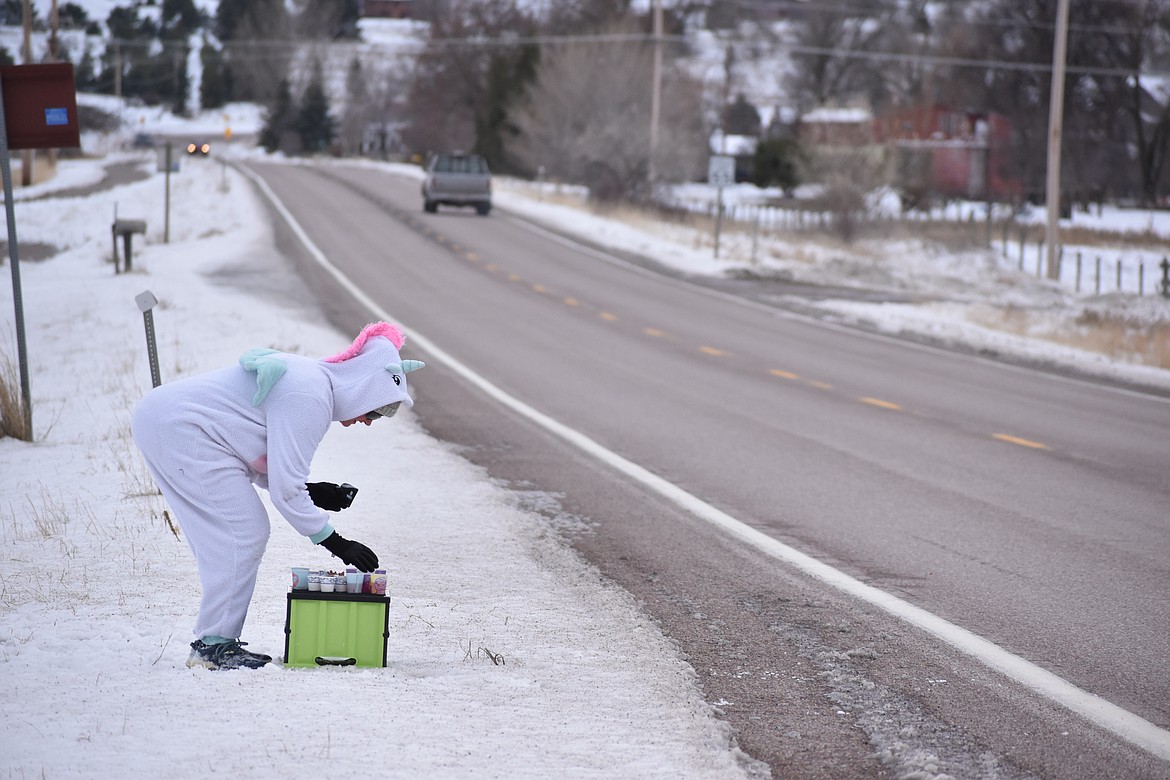 A costumed volunteer offers refreshments at one of the aid stations. (Emily Lonnevik/Lake County Leader)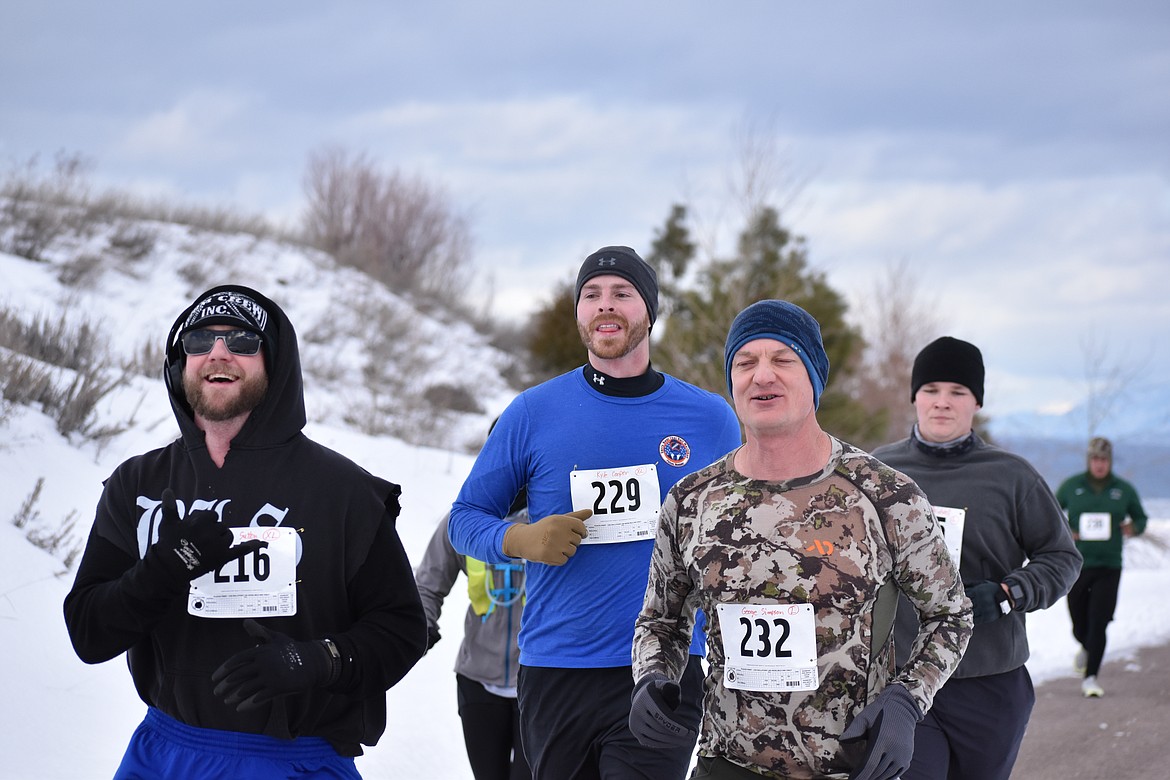 The 2022 Sorry 'Bout That half marathon. (Emily Lonnevik/Lake County Leader)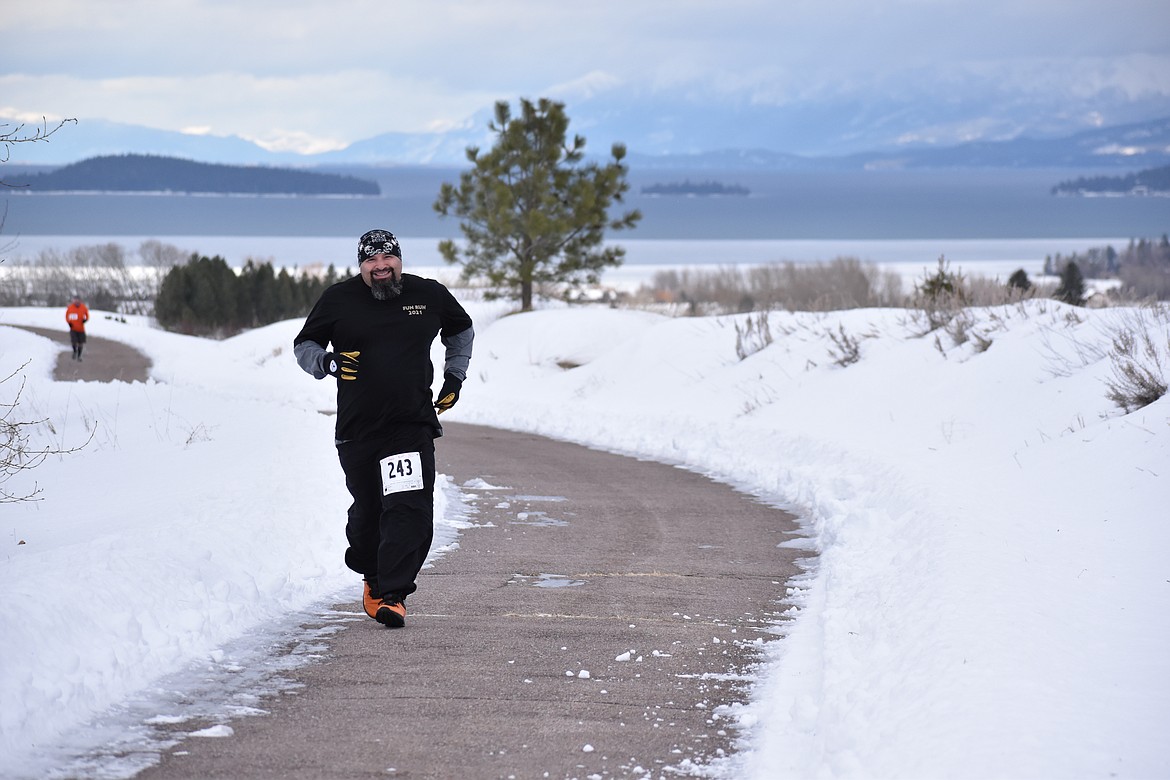 The 2022 Sorry 'Bout That half marathon. (Emily Lonnevik/Lake County Leader)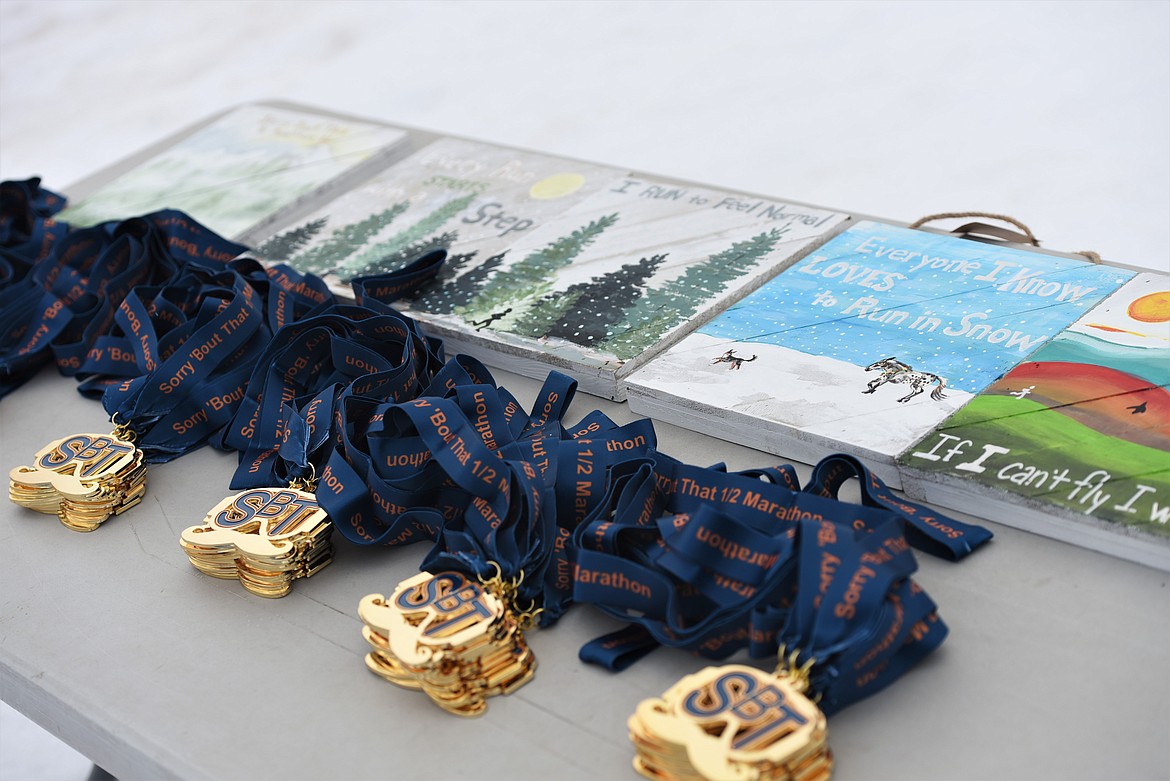 Medals and prizes at the start/finish area. (Scot Heisel/Lake County Leader)
Previous
Next
by
Lake County Leader
|
January 11, 2022 6:45 PM
The Sorry 'Bout That half marathon and team relay returned Saturday following a one-year hiatus. Runners hit the course from the start/finish area near Mission Valley Aquatics in Polson.
The run was hosted by Polson Running, a local nonprofit that sponsors throughout the year, including the Thanksgiving Turkey Trot.
The group's runs help support local nonprofits. Saturday's run was a fundraiser for Polson Running, with a share of proceeds also going to the Mission Valley Aquatic Center.
The weather wasn't too harsh for mid-January. Temperatures remained in the 30s, and there was very little participation or wind.
This was the ninth running of the race, which featured the closest first-place finish ever, according to organizers.
"Next year for number 10 we hope to have our largest race ever," Cynthia Arnold said. "It's going to be big."
Sorry 'Bout That Half Marathon and Team Relay
Saturday in Polson
Jason Delaney, 1:23:08; Mike Adams, 1:23:15; Micheal La Forest, 1:27:06; Austin Allen, 1:27:28; Alex Lavan, 1:32:06; Zoran LaFromboise, 1:36:37; Beatrix Frissel, 1:40:55; Jenni Brown, 1:44:43; Josh Krantz, 1:46:03; Bontadelli Relay Team, 1:47:12; Gary Nuila, 1:53:01; Brittany Katzer, 1:53:56; Pat Lake, 1:59:00; Harlan Leishman, 2:01:06; Robbie Nuila, 2:01:07; Emily Michaud, 2:03:04; Shanna Many Wounds, 2:03:07; Kayla Friss, 2:03:43; Ron Pezze, 2:03:58; Heidi Woxland, 2:04:12; Bonnie Dorfler, 2:04:42; Russell Lafontaine, 2:04:58; Sarah Naegeli, 2:05:41; Kimberly Sloan, 2:07:02; Scott Craigle, 2:07:34; Cory Frankovich, 2:08:05; Char Delaney, 2:08:31; James Ives, 2:09:08; Gwen Seeley, 2:23:34; Dennis Richards, 2:29:57; Lauren Shima, 2:40:04; Rod FirstStrike, 2:42:36; Kyle Cooper, 2:44:59; Aaron Sutton, 2:45:43; Mary Leishman, 2:46:11; Dakota Bridwell, 2:48:49; George Simpson, 2:48:53; Alex Nutt, 2:52:29; Abbi Nutt, 2:52:59; James Lapotka, 2:54:49; Nancy McIntyre, 2:55:36; Elizabeth Sawyer, 2:59:34; Julia Streib, 3:03:04;Jennifer Opie, 3:03:06; Shane Bird, 3:11:18; Lynn Rose Pine, 3:18:16; Claudia Bravo, 3:28:05; Victor Perez, 3:28:06.
Recent Headlines
---