Wrestling Roundup: Ronan steps up on home mats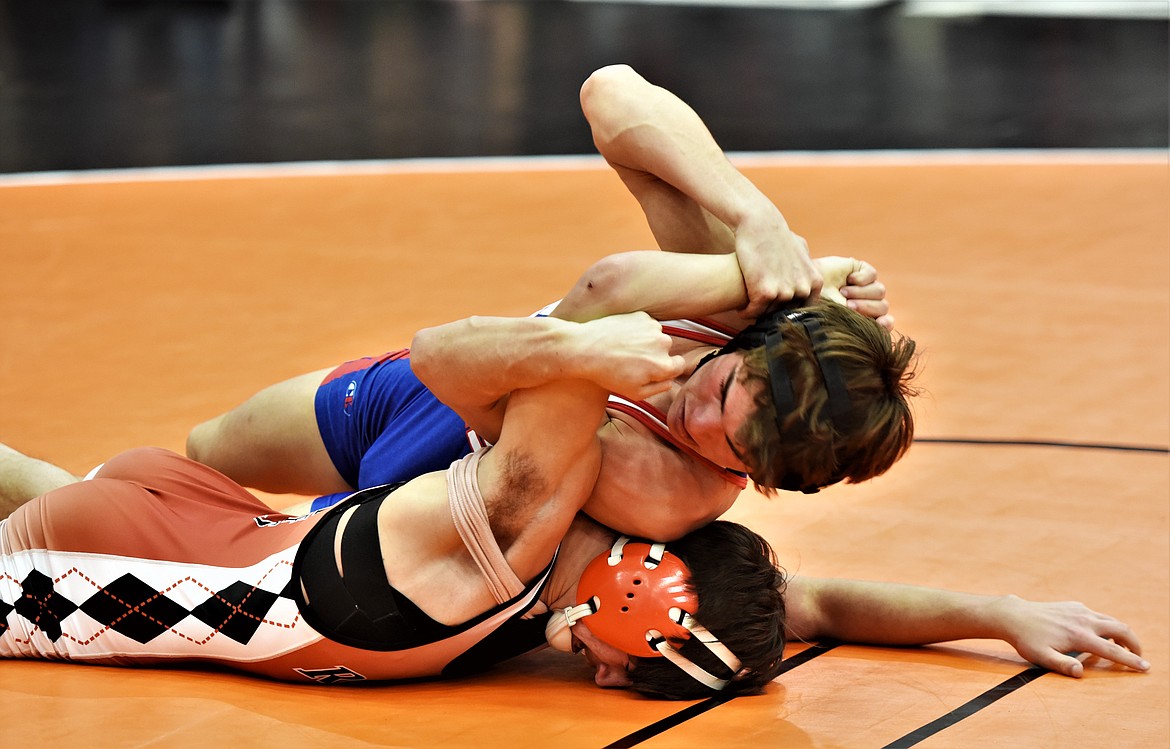 Ronan's James Kenelty, bottom, wrestles Angus Anderson of Bigfork in the 126-pound title match Saturday. Kenelty won by a 10-8 decision. (Scot Heisel/Lake County Leader)
by
SCOT HEISEL
Lake County Leader
|
January 11, 2022 6:00 PM
RONAN — The Ronan wrestling team made the most of a busy two days of matches at home Friday and Saturday as 12 schools competed in the Western Montana Duals and Ronan Invitational.
The Chiefs battled to a second-place finish in the duals bracket on Friday, then the Ronan boys and girls combined for four individual titles Saturday.
On Friday, the Chiefs cruised past Deer Lodge, 72-0, and Libby, 44-24, in their first two duals to advance to the semifinals. Against Columbia Falls in the semifinals, Ronan won seven of six matches for a close 35-34 victory and a shot at Frenchtown in the championship.
Ronan got wins from Landon Bishop, Ridge Cote, Koda King and Fortuna Silva in the final, but ultimately fell to the Broncs by a score of 48-21.
Cote, a freshman, improved to 23-1 on the season and claimed the 113-pound individual title Saturday. Cote earned a 9-2 decision over Frenchtown's Ryder Hansen in the first-place match.
Bishop also finished the weekend strong and claimed the title at 145 pounds. The sophomore grappler edged Zane Martin of Frenchtown in a 4-3 decision victory for the championship.
Junior James Kenelty made a nice run at 126 pounds Saturday and came away with an individual title after defeating Angus Anderson of Bigfork in a 10-8 decision.
Maidens wrestler Tirza Twoteeth improved to 12-3 on the year and won the girls' 205-pound title match by forfeit.
Max Morency was on the wrong end of a 2-0 decision in the 285-pound championship match against Frenchtown's Philip Herald.
Other medal winners for the Chiefs included Koda King, third at 132; Fortino Silva, fourth at 138; Caleb Cheff, fourth at 152; Tristan Fisher, fourth at 170; and Ian Dillard, sixth at 103.
Three other Maidens earned medals in round-robin competition Saturday. Saellah Hugs (103) and Juliette Cheff (126) finished second in their weight class, while Katie Dolence came away with a third-place medal at 132 pounds.
Lake County was also represented by teams from Polson and Mission-Charlo. In the duals bracket Saturday, the Pirates lost their opener 70-6 to eventual third-place finisher Flathead. They followed the loss with a 36-30 win over Browning in the second round.
Mission-Charlo opened with a 42-27 loss to Townsend, then bounced back to beat East Helena 42-12.
The Pirates and Bulldogs met in the third round, with Mission-Charlo prevailing 48-21. The Bulldogs then won their fourth dual, a 42-30 win over Plains-Hot Springs in the ninth-place match.
Four Polson wrestlers earned individual medals Saturday. At 103 pounds, Ryley Knutson was third and Braedon Iliff finished fourth. Micah Craig nabbed a fifth-place medal at 126 pounds.
Maddilyn Huffine took Polson's lone individual medal in girls matches. Huffine finished sixth at 120 pounds.
The Bulldogs' Canyon Sargent just missed an individual title at 170 pounds. Mason Doran of Flathead took a 12-7 decision over Sargent in the title match.
Also earning medals for Mission-Charlo were Kody Dillard, fifth at 103; Chance Bockman, fifth at 160; and George Ranney, fifth at 182.
Warriors' Thomas medals at Cut Bank
Arlee competed with 22 other boys teams Friday and Saturday at the Cut Bank Booster Invitational.
Tyrel Thomas advanced to the semifinals at 120 pounds and earned the Warriors' only medal with a sixth-place finish and a team-high 13 points.
Arlee also got four points from Andrew Knoll and three points each from Brodie Smith and RJ Knoll on their way to a 19th-place finish in the team standings.
Bulldogs shine at Arlee
Mission-Charlo dominated the lower weight classes Jan. 4 at the seven-team Arlee Mixer.
The Bulldogs got two wins each from Isaiah Fields (132), Codiak Killorn (145) and Charley Adams (152).
Dillion Dwelle split two 126-pound matches against opponents from Arlee. Dwells defeated Levi Conover by fall, but lost by fall to the Warriors' Tyrel Thomas.
Arlee's Drew Knoll was one of Adams' victims at 152, where Adams came away with a 13-5 decision.
Pirates struggle at Frenchtown
In a three-team meet Jan. 4 at Frenchtown, Polson was skunked, 73-0, by the host-team Broncs.
The Pirates lost to Dillon-Twin Bridges-Sheridan 42-12.
Jason Burrough defeated Dillon's Jesse Hughes by fall for the Pirates' lone victory of the meet.
Ladies head to Hamilton
Maidens wrestlers won three of four matches during a girls mixer Jan. 4 at Hamilton.
Amberli Anderson (126) and Juliette Cheff (126) each won their lone matches of the meet. Katie Dolence (132) won a match by fall and lost one by fall.
Abighail Sorrell of Polson also competed. Sorrell lost her lone match.
---