Pro-Am golfers brave the elements at Polson Bay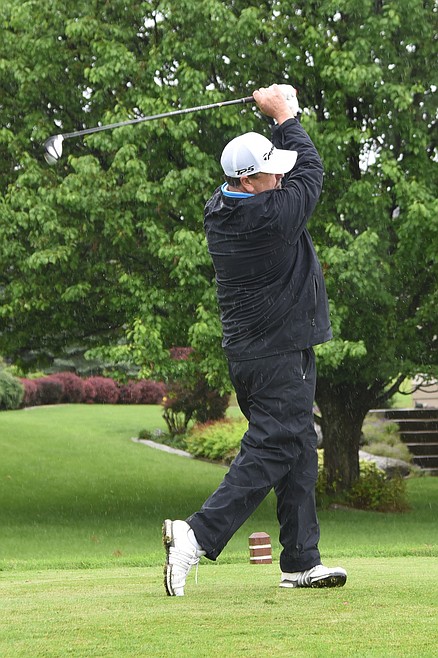 Roger Wallace tees off at the Polson Bay Golf course for a Pro-Am event on Monday. (Marla Hall/For the Leader)
The rain and chill did not deter the 25 professionals and 132 amateur golfers who gathered at the Polson Bay Golf course for a Pro-Am event Monday.

The Pro-Am events occur on Mondays at different Western Montana golf courses from April through August. The word is that the only weather situations that are cause for canceling a scheduled event are lightning storms or such excessive rain that playing the course would damage it.
The participating golfers came from various towns from all around Western Montana with each team consisting of five players from the same hometown. There was also a pro on each team.

Polson had two professionals participating, Roger Wallace and Cameron Milton, as well as several amateur golfers.
The event was an all-day event with the first team teeing off on the first hole at 7:30 a.m. and the final team finishing up around 7 p.m. The top scoring team—based on the top two scores for the team, received a purse that went to their hometown pro-shop for credit. The top pros and top amateurs also received prizes.
Recent Headlines
---