MSU student from St. Ignatius wins prestigious Goldwater scholarship
by
Carol Schmidt, MSU News Service
|
March 31, 2022 12:30 AM
BOZEMAN – Two students who have contributed to research in zoonotic diseases and optical sensing for detection of algal bloom in waterways are the two most recent Montana State University recipients of prestigious national Goldwater scholarships honoring undergraduate academic and research excellence in the fields of science, technology, engineering and mathematics.
Brooklin Hunt, a junior majoring in microbiology and biotechnology from St. Ignatius, and Shannon Hamp, a junior majoring in electrical and computer engineering from Broomfield, Colorado, are MSU's two newest winners of the scholarship given by the Barry Goldwater Scholarship and Excellence in Education Foundation.
The foundation announced last week that 417 undergraduates received the competitive scholarships honoring the top undergraduates in the country pursuing research in STEM fields. The scholarship comes with an award of up to $7,500 per year for tuition, books and room and board. MSU is one of the top colleges and universities nationally in the number of students who have received the prestigious awards with a total of 84 since the scholarship was established in 1989.
Hamp, who is from a second-generation MSU electrical engineering family, is helping develop and test imaging systems that detect algal bloom in the Optical Remote Sensor Laboratory group of Joe Shaw, Distinguished Professor of electrical engineering in the Norm Asbjornson College of Engineering. Hunt, who works in the lab of Raina Plowright in the Department of Microbiology and Cell Biology in the College of Agriculture, is researching the spread of viruses that cross species, from bats to horses or humans. Her research is applicable to understanding the origination and spread of spillover disease, which includes the COVID-19 coronavirus.
"Montana State is proud to continue preparing extraordinary Goldwater scholars," said MSU President Waded Cruzado. "We're honored that each of these two gifted scholars, who are conducting research that could have a lasting positive impact on our world, have chosen our land-grant university to help support them on their journey."
Hamp said that she became involved with research in Shaw's optics lab from the beginning of her time at MSU. Although she was raised in Colorado, Hamp's parents, Charlie and Heidi, met while students at MSU and Hamp said she has always wanted to study electrical engineering at MSU, as her father had. Additionally, Hamp's grandparents, Butch and Charlie, ran a popular store and coffee shop in downtown Bozeman called Charlie's. Former Honors director Michael Miles connected Hamp with Shaw, and she initially worked in his optics lab with research involving optical transmittance of 3D printing materials. Since then, she has been conducting research at the intersection of optics and ecology, working with hyper-spectral drones that detect images of algal bloom in rivers. This summer Hamp plans to do market research on the viability of multispectral imagers that can detect harmful river algae. Such devices may have applications including being mounted on a drone or a bridge to enable continuous algae imaging.
"Shannon has been a critical member of my research group since her first day at MSU," Shaw said. "She was my first student ever to be first author on a journal paper as a sophomore. Whether wading into a river to help with sampling, flying a drone or performing careful optical measurements in the lab, Shannon is a creative and energetic researcher."
Hamp said winning a Goldwater scholarship is validation of her work as a scientist.
"It's really a cool way to determine how far I have come in research," Hamp said.
Hamp intends to earn a doctorate in optics with a career that combines optics with applications in ecology. Hamp is a Cameron Scholar in the Honors College and is the president of the Bridger Solar Team that is building a solar-powered car. She is a member of the MSU student chapter of the International Society for Optics and Photonics and a College of Engineering Ambassador.
Hunt, a pre-veterinary microbiology and animal systems biotechnology dual major with a minor in animal genetics, is a first-generation college student who said she determined that she would attend MSU when she visited the university during a bioscience enrichment program in eighth grade.
"I loved the campus and the people immediately," she said. Her first semester she heard Plowright lecture and said she reached out to see if Plowright had room for an undergraduate in her lab. Hunt's most recent research has involved bat viruses and the processes that they take to jump species from bats to horses or humans. Understanding of these viruses, viral shedding and how bat health is related to spillover and immune systems has proven to be important to the science of the recent pandemic, she said.
"Great scientists begin at early ages," Plowright said. "Brooklin is motivated by curiosity and big questions. She developed our bat hematology research program and is an integral member of our lab. She is so deserving of this honor."
Hunt, who plans to earn a doctorate in veterinary medicine with a career in veterinary pathology, has also won a Fulbright to study veterinary microbiology at the University of Saskatchewan this summer. She is a Cameron Scholar in the Honors College and is a McNair and a TRIO Scholar.
"Learning that I won a Goldwater was an 'I made it moment' in research," she said, "As a first-generation college student, I wouldn't have guessed that I could have won this award when I was growing up. This is a great way to start off an academic career."
Hunt is also vice president of the MSU Fly Fishing Club and an avid fisherwoman.
"I am very proud of the accomplishments of our Goldwater Scholars, and congratulate them both for winning this prestigious scholarship," said Sreekala Bajwa, MSU vice president and dean of the College of Agriculture. "This is a testament to the caliber of our students, the quality of our programs and the dedication of the faculty members who train our students in the classrooms and in their labs."
Ilse-Mari Lee, dean of the MSU Honors College where both Hamp and Hunt are students, said that Hamp and Hunt are outstanding students who have been encouraged and inspired by extraordinary faculty mentors.
"It has been my privilege to watch them soar," Lee said. "Their futures are incredibly bright."
This year's 417 Goldwater recipients nationwide were selected from a pool of 1,242 natural science, engineering and mathematics students nominated by 433 academic institutions. For more information about the Goldwater Scholarships, visit goldwaterscholarship.gov.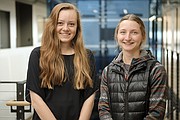 Recent Headlines
---