Mission falls to Belt in 8-man championship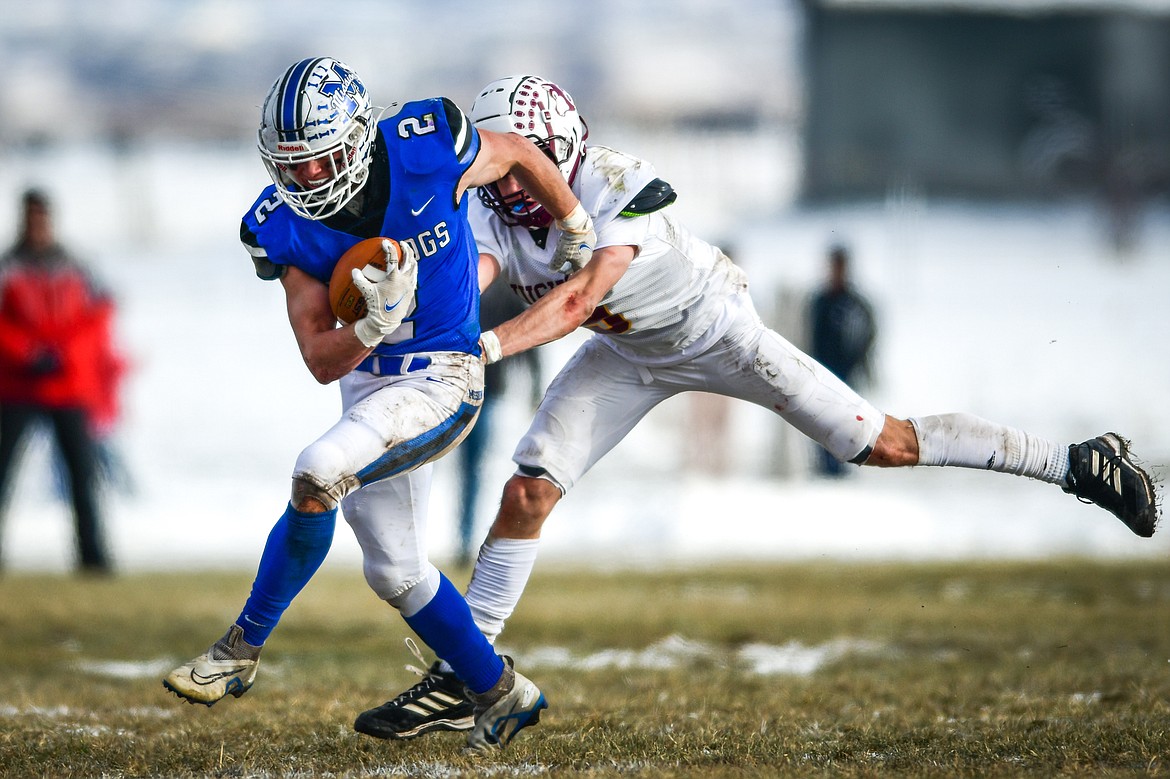 Mission running back Canyon Sargent (2) tries to fend off Belt defender Ethan Triplett (9) on a first-quarter run during the 8-man championship at St. Ignatius High School on Saturday, Nov. 19. (Casey Kreider/Daily Inter Lake)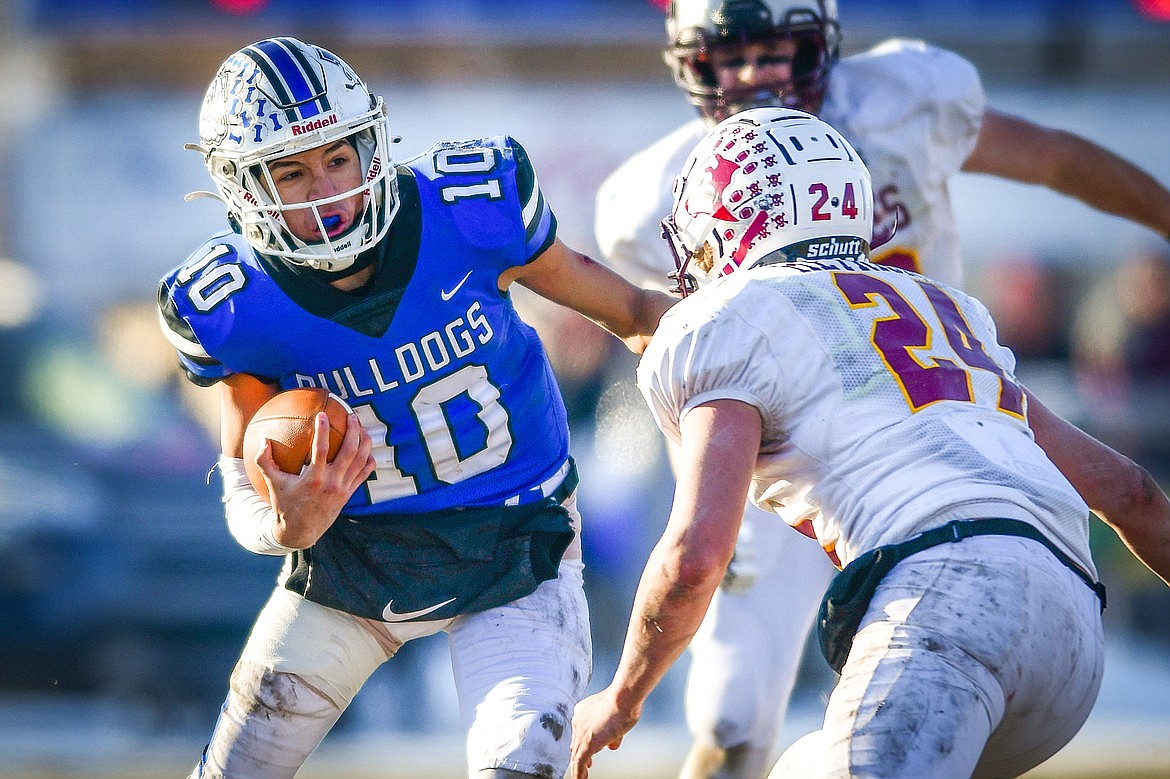 Mission quarterback Kellen McClure (10) looks for running room in the third quarter against Belt during the 8-man championship at St. Ignatius High School on Saturday, Nov. 19. (Casey Kreider/Daily Inter Lake)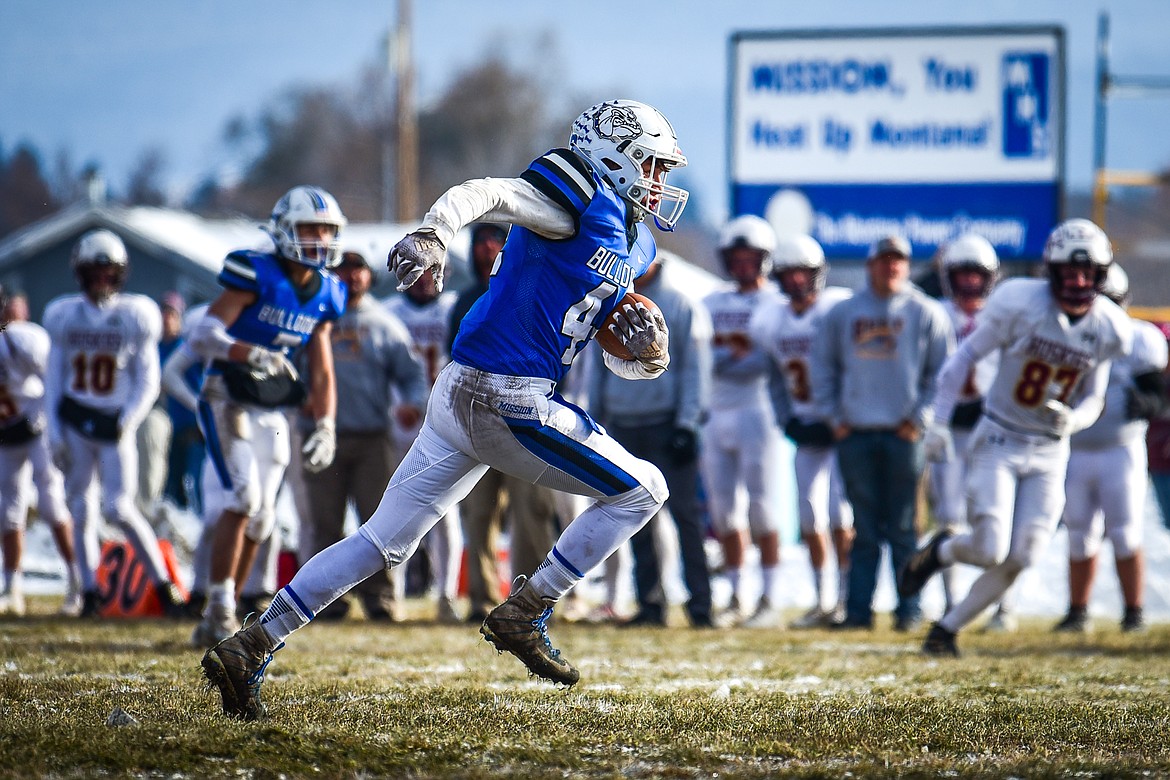 Misson defensive lineman Chance Bockman (42) returns an interception for a touchdown in the second quarter against Belt during the 8-man championship at St. Ignatius High School on Saturday, Nov. 19. (Casey Kreider/Daily Inter Lake)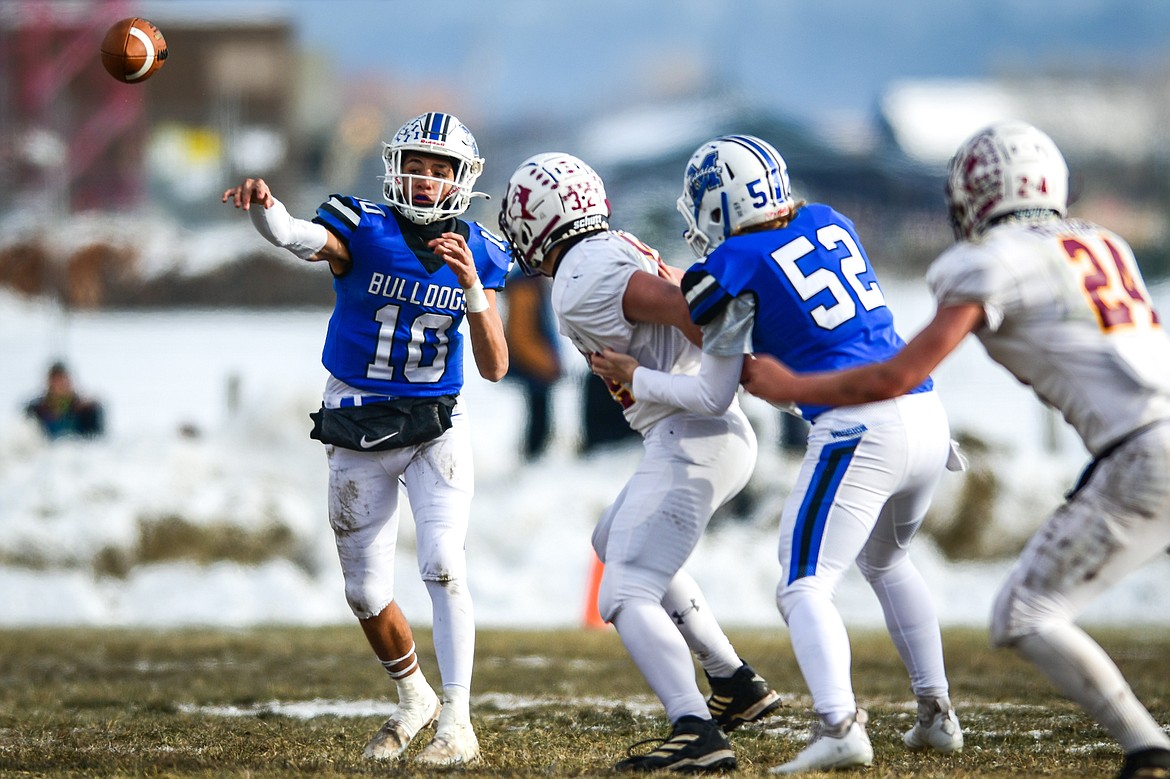 Mission quarterback Kellen McClure (10) throws a pass in the first quarter against Belt during the 8-man championship at St. Ignatius High School on Saturday, Nov. 19. (Casey Kreider/Daily Inter Lake)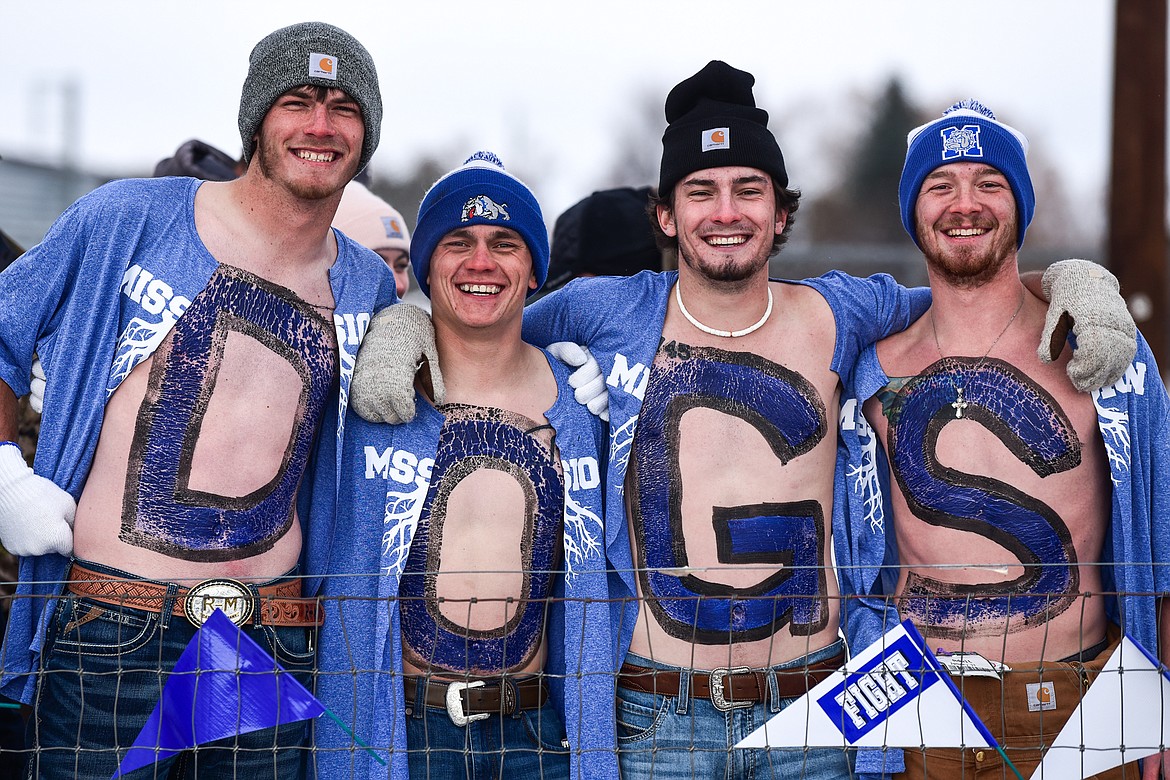 Mission fans show their support in the chilly temperatures as the Bulldogs take on Belt in the 8-man championship at St. Ignatius High School on Saturday, Nov. 19. (Casey Kreider/Daily Inter Lake)
Previous
Next
by
KATIE BROWN
Daily Inter Lake
|
November 24, 2022 12:00 AM
ST. IGNATIUS — The Belt Huskies broke out in the second half of the Class C 8-Man championship game at Mission High School to top the Mission Bulldogs 52-24 and claim their first title since 1994.
Garett Metrione scored four rushing touchdowns to lead Belt, including three in the second half. Ethan Triplett added two rushing scores.
A frigid first half tilted in Mission's favor, and no doubt the cold temperature presented its own challenges for those catching and throwing the ball.
The Bulldogs' first score came from a blocked punt that Canyon Sargent pounced on and ran the 10 or so yards in.
This was after the teams traded interceptions in that first quarter that neither were able to turn into points.
Belt answered in the second quarter with a 1-yard rush by Metrione, and led 8-6 after a successful 2-point conversion.
Kenny Ness scored the first of his two TDS at 6:26 of the second, and Mission led 12-8 after a failed 2-point conversion. The Bulldogs were unsuccessful converting any of their 2-point attempts
Belt reclaimed its lead with a 35-yard rushing TD from Jeremy Nebel with 5:09 left in the half.
Then Chance Brockman ran back an interception 8 yards to give Mission an 18-14 lead going into halftime.
In the second half Belt seemed to break out like the sun from the clouds, scoring on nearly every possession while Mission faltered on both sides of the ball.
Metrione scored twice in the third, both short runs, to build the Huskies' lead to 30-18.
Metrione struck again to start the fourth, and the rout was on. Triplett scored on a 26-yard run on Belt's next possession, and the Huskies led 46-16.
The Bulldogs showed some life when Kellen McClure hit Ness for a 40-yard touchdown reception, but that was all they could muster. Triplett scored again, this time a 6-yard run, and the Huskies padded their lead to 51-24.
Belt was 5-for-7 on its 2-point conversions.
Mission was aiming for its first 8-man title (the Bulldogs won a 6-man title in 1948 but it is not recognized by the MHSA), and ended its season 13-1. The Bulldogs played without running back Bryce Umphrey.
Belt completed its season 13-0.
Two members of the 1948 Bulldogs 6-man team, Joe McDonald and George Biggs, were invited to do the coin toss.
Belt 0 14 16 22 – 52
Mission 6 12 0 6 – 24
Mission — Canyon Sargent 10 blocked punt return, 2:48, 1Q
BEL — Garret Metrione 1 run (Metrione run), 10:29, 1Q
Mission — Kenny Ness 6 pass from Kellen McClure, 6:26, 2Q
BEL — Jeremy Nebel 35 run, 5:09, 2Q
Mission — Chance Bockman 8 interception return, 1:06, 2Q
BEL — Metrione 3 run (Bridger Vogl pass from Reese Paulson), 5:42, 3Q
BEL — Metrione 2 run (Ethan Triplett run), 2:01, 3Q
BEL — Metrione 2 run (JD Shepard run), 11:56, 4Q
BEL — Triplett 26 run (Zach Feldman pass from Vogl), 8:32, 4Q
Mission — Ness 40 pass from McClure, 7:37, 4Q
BEL — Triplett 6 run, 4:26, 4Q
Recent Headlines
---