Remembering Ronan's 1974 State Champs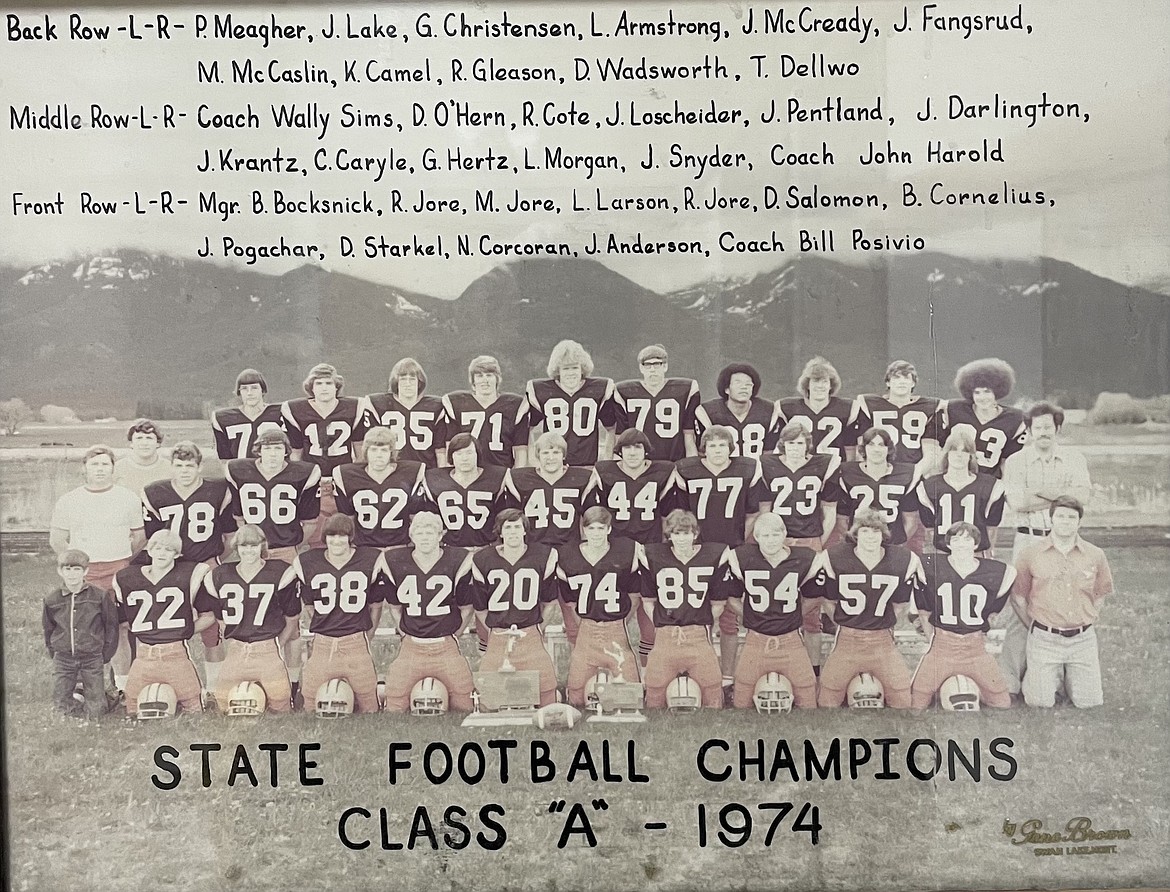 The 1974 Ronan Chiefs remain the only unbeaten and State Championship football team in school history.
by
Gale Decker
|
November 24, 2022 12:00 AM
Title fever struck the community of Ronan midway through the 1974 football season following a 40-0 shellacking of Stevensville. After the win and a record of 6-0, the Chiefs stood atop the Western A standings and had already defeated the defending champ, Columbia Falls, 27-7. Four wins later the fever intensified when Ronan was crowned the Western A champion and headed into post season play.
Featuring a triple option offense installed by Head Coach Wally Sims, the Chiefs used a bruising running attack and a small, but fast and hard-hitting defense to steamroll opponents. Quarterback Gary Christensen used running backs Rick Jore and Jim Darlington to pound opponents on the ground, and then threw to a receiving corps of Jim Fangsrud, Jay Krantz, Dan Salomon and Ken Camel when opponents stacked their defense to stop the run. An inexperienced offensive line was a question mark heading into the season but developed into a team strength as the season progressed.
Post season play began in Cut Bank and the Wolves proved to be no match for the Chiefs and found themselves on the short end of a 27-0 beating. Next stop was in Glasgow for the State Championship tilt to take on the number-one ranked and favored Scotties. Bursting out to a 30-8 halftime lead, the Chiefs brought home the school's first State Championship with a 33-22 win.
Eleven Ronan players were named to the Western A All-conference teams upon completion of the season. First team honors went to Christensen, punter Rick Jore, offensive tackle and kicker McCready, guard Jerry Loscheider, halfback Darlington, nose guard Jim Pentland, linebacker Krantz, and safety Roger Jore. Center Doug Starkel was named to the second team along with defensive lineman Mick McCaslin, linebacker Lonnie Armstrong, and fullback Rick Jore.
In addition to the all-conference players, varsity team members included: Pat Meagher, Jack Lake, Jim Fangsrud, Ken Camel, Ron Gleason, Dan Wadsworth, Tom Dellwo, Doug O'Hern, Randy Cote, Craig Carlyle, Greg Hertz, Lee Morgan, Jesse Snyder, Mike Jore, Lucky Larson, Dan Salomon, Bill Cornelius, John Pogachar, Nick Corcoran, Jim Anderson, manager Brian Bocksnick, and coaches Wally Sims, John Harold and Bill Posivio.
This team remains the only unbeaten and State Championship football team in school history.
Recent Headlines
---