CSKT Division of Fire to conduct prescribed burns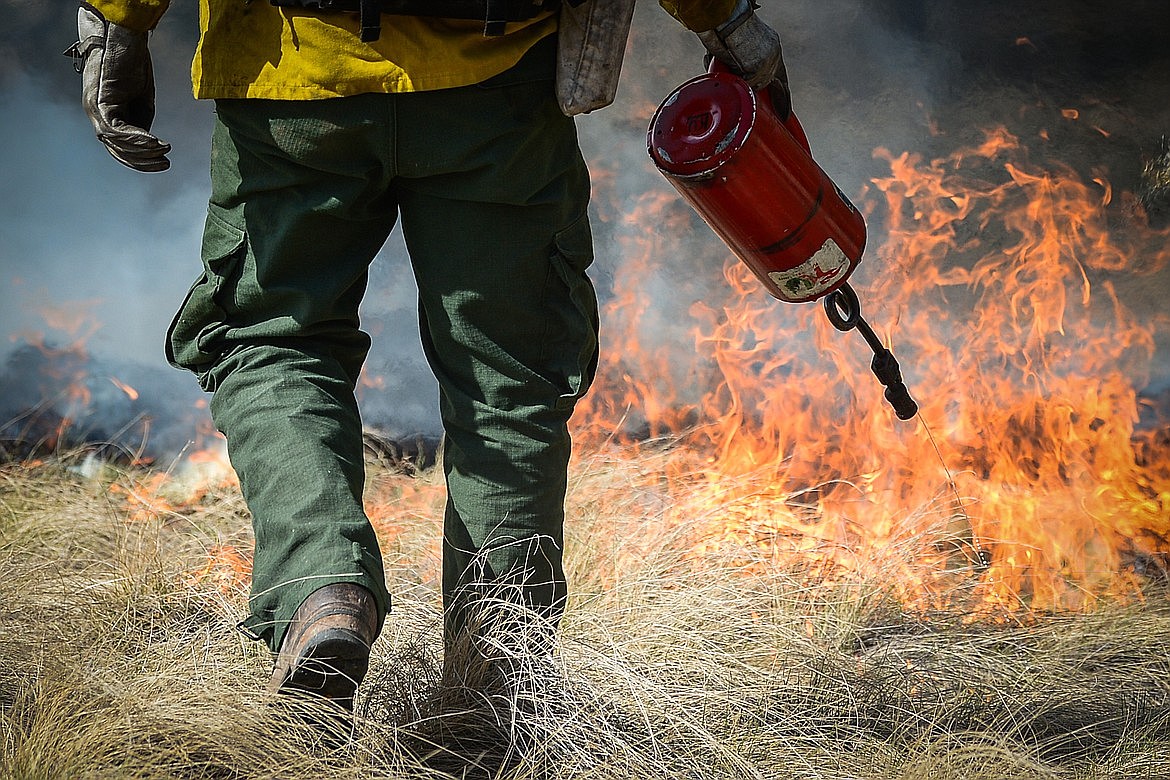 Nick Aschenwald, with the Montana DNRC, uses a drip torch to ignite bunch grass during a prescribed burn at Lone Pine State Park in Kalispell on Thursday, April 7, 2022. (Casey Kreider/Daily Inter Lake)
With the summer wildfire season winding down, firefighting crews and leadership from the CSKT Division of Fire will shift their focus to prescribed burning operations this month.
Pending favorable conditions, prescribed burn operations could take place as soon as next week, according to Division of Fire officials.
251 acres of broadcast and understory burns are planned at St. Mary's 4 miles southeast of St. Ignatius, and 292 acres of understory burns are planned at Dog Lake 5 miles southwest of Hot Springs.
Pile burning is planned at 17 areas across 7,169 acres.
Prescribed burning operations will only be conducted if conditions are favorable. Favorable conditions include correct parameters for temperature, wind, fuel moisture, and ventilation for smoke. When prescription criteria are met, fuel crews implement, monitor, and patrol each burn to ensure it meets forest health and public safety goals.
The goal of the prescribed burns is to reduce hazardous fuels, restore wildlife habitat and better protect communities from future wildfires.
According to tribal fire officials, underburning and pile burning will be conducted this fall in previous treatment areas to eliminate slash/woody debris and promote nutrient recycling in the soil. Underburning ignites vegetation under the forest canopy and focuses on the consumption of surface fuels.

"Frequent, low-intensity fire is essential for improving habitat conditions for wildlife by regenerating fire adapted vegetation and encouraging the growth of new forage for wildlife browse," a press release from the Division of Fire stated.
Officials also note that prescribed fires help to reduce crown fire potential by elimination dead and diseased vegetation and ladder fuels. Ladder fuels provide opportunity for a surface fire to move into the tree canopy creating a crown fire. Crown fires are much more difficult to control during wildfire responses.
Recent Headlines
---