Strong wind fuels fires in Mission Valley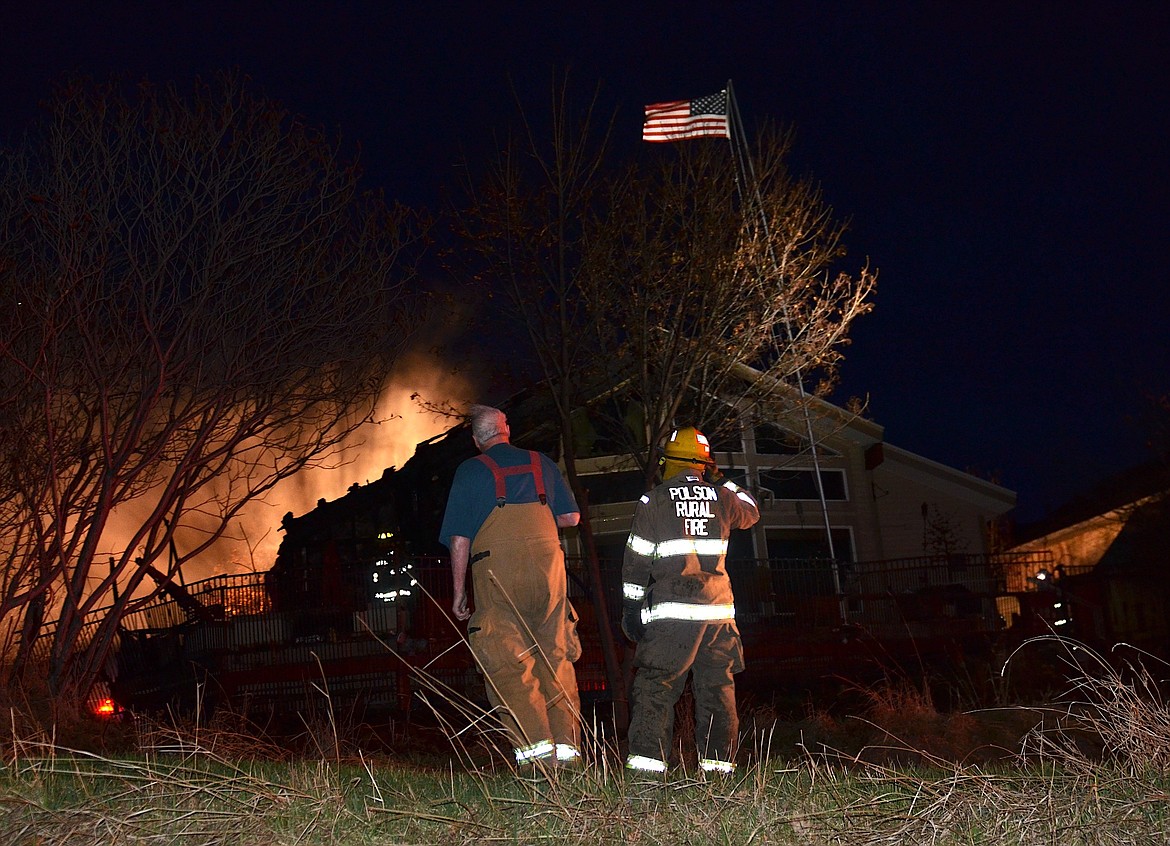 Strong winds Sunday night kept firefighters busy, including city and rural departments that responded to a house fire at Hillside Court in Polson. (Kristi Niemeyer/Leader)
by
KRISTI NIEMEYER
Editor
|
April 20, 2023 12:00 AM
The wind that walloped the Mission Valley Sunday evening kept firefighters busy responding to a house fire in Polson and several runaway grass fires.
According to Polson City Fire Chief Clint Cottle, the department was dispatched to a house on Hillside Court at around 8:30 p.m. when owners reported their outdoor barbecue was on fire. The response was upgraded to a structure fire when reports came in that the house was also ablaze.
In a press release, Cottle said that engines from Polson Rural Fire, Finley Point
Fire, and Ronan fire also responded. The fire was constrained to the house and deck, although firefighters were concerned that it could spread to neighboring structures, pushed by a wind estimated at up to 40 mph.
Cottle said the home incurred significant damage. The homeowners were there when the fire erupted, but were able to escape unharmed.
Meanwhile, calls were raining into the Lake County Dispatch Center about out-of-control controlled burns.
Polson Rural Fire Chief Gordon Gieser said his crew responded to six fires at locations east, southwest and north of town. His crew also lent a hand with Polson's structure fire.
"Yes, we were busy, like all of the county fire departments were this past weekend," reported Ronan Fire Chief Chris Adler.
Most of the department's 10 calls pertained to wayward grass fires. "No structures were affected or threatened," he said.
The St. Ignatius Volunteer Fire Department's Facebook page reported four recent calls last week, including two grass fires – one that caught a structure on fire – and a burning tree.
Crews at Mission Valley Power were busy in the Ronan area Sunday night as falling limbs caused outages.
"It wasn't really as devastating" as other weather events have been said Superintendent Craig Morigeau. Power was returned to all households by 3 a.m.
Open burning season continues through April 30. Fire chiefs unanimously urged landowners to check the weather forecast and watch for sudden changes in weather conditions when burning.
"Be careful, be alert and be prepared," advised Adler. "Have the proper tools and a water supply and know the forecast – as we have seen, Mother Nature can throw all four seasons at us in a single day."
"A morning rain can be dried out by an afternoon wind and cause fuel conditions to change quickly," he added.

He also cautioned that a property owner who loses control of a fire that spreads to someone else's property is responsible for the damages it might cause.

For more information pertaining to open burning seasons and burn permits visit www.lakemt.gov/248/Burn-Information.
Recent Headlines
---