The Wizard of Pablo: The artist, the businessman and the teacher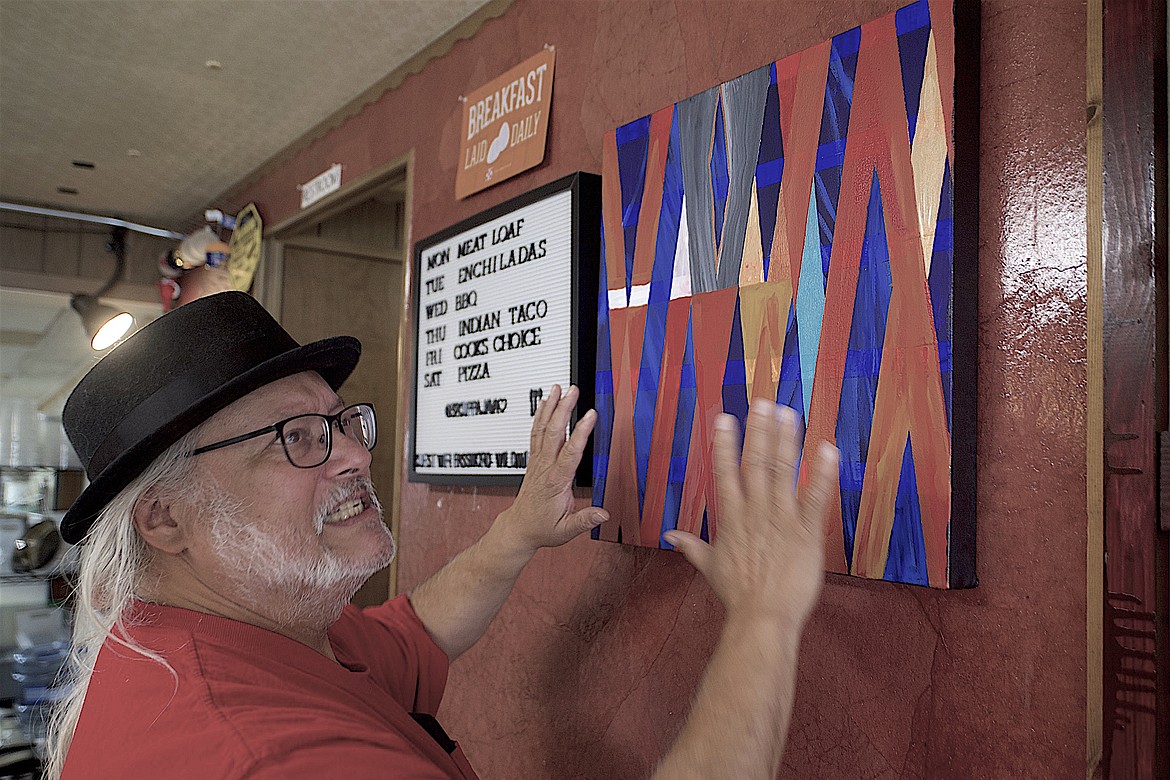 Frank Finley displays one of his paintings in his coffee shop, 32 Cuppa Java. He said he loves using metallic paints for his work. (Max Dupras/Leader)
Pablo is a small town with a storied history in the Mission Valley. With so many stories based in one place, it seems odd to have just one person be dubbed the "Wizard of Pablo." But for local artist and business owner Frank Finley, that's just the name he's earned.
Finley is the owner of 32 Cuppa Java, a small coffee shop and diner that is connected to his art studio of a similar name, 32 Pair of Scissors.
He has been in Pablo most of his life, traveling a bit when he was younger before settling back in the place where his family was originally from.
Finley is a member of the Confederated Salish and Kootenai tribes and said that a big part of his life was making art and connecting with his culture. Walking through the diner on a sleepy summer afternoon will expose visitors to some of Finley's many creations.
"Doing this art, running the coffee shop and being a part of this, even working at the college and all of the jobs and all of the work I've done is to serve the community," he said. "I'm trying to make, provide services to the community – if I need to teach or if I need to do whatever, I'm available for those things."
He is a man of many talents. From silver-working to painting to even making a cup of joe, Finley is truly a jack of all trades, and he will tell you that himself.
"I'm always adding things in the kitchen," he said. "We're always making something new and I'm always creating art. I just kind of shift gears and I'm doing one thing or the other, one thing or the other. And that's the way it goes."
There were a number of jobs Finley occupied throughout his life that helped him become the multitalented person he is today. He started off doing many odd jobs and attended Salish Kootenai College, where he hoped to achieve his goal of becoming a nurse before pursuing a career in chemistry. After suffering from asthmatic bronchitis, he decided to return to school and get his degree in environmental science.
He took some time away to try and finish a master's degree before returning to Salish Kootenai College where he taught many different disciplines. The college also offered him an opportunity to teach art classes and show off creations he had been making for years.
After years of teaching, Finley was let go at the college and decided to pivot towards making his art studio and coffee shop a full-time gig, something he never initially thought would grow to the point that it did.
"I bought the coffee machine and some syrups and stuff, and we got started with that," Finley said. "So we were doing the coffee and we were delivering because it was COVID. Nobody was coming in anywhere and we started delivering and people would ask for simple stuff like a bagel or a breakfast burrito. So we started cooking those things and then people wanted lunch specials."
Finley's operation grew and now he serves many in Pablo while still cultivating the artistic side of his business. Even with the success of his coffee shop, he still finds time to pursue his passion for art and is transferring it to places like Missoula where a painting will go up downtown on a power box.
And, while he is not teaching in a formal setting anymore, Finley still hopes to inspire others to create and carry on a culture of making what they love.
"I have a lot of skills. I have lots of things that I do and lots of things that I know from a cultural perspective, from the tribe," he said. "It's making sure that I teach people those things so that stuff carries on."
Recent Headlines
---