A look inside the Lake County jail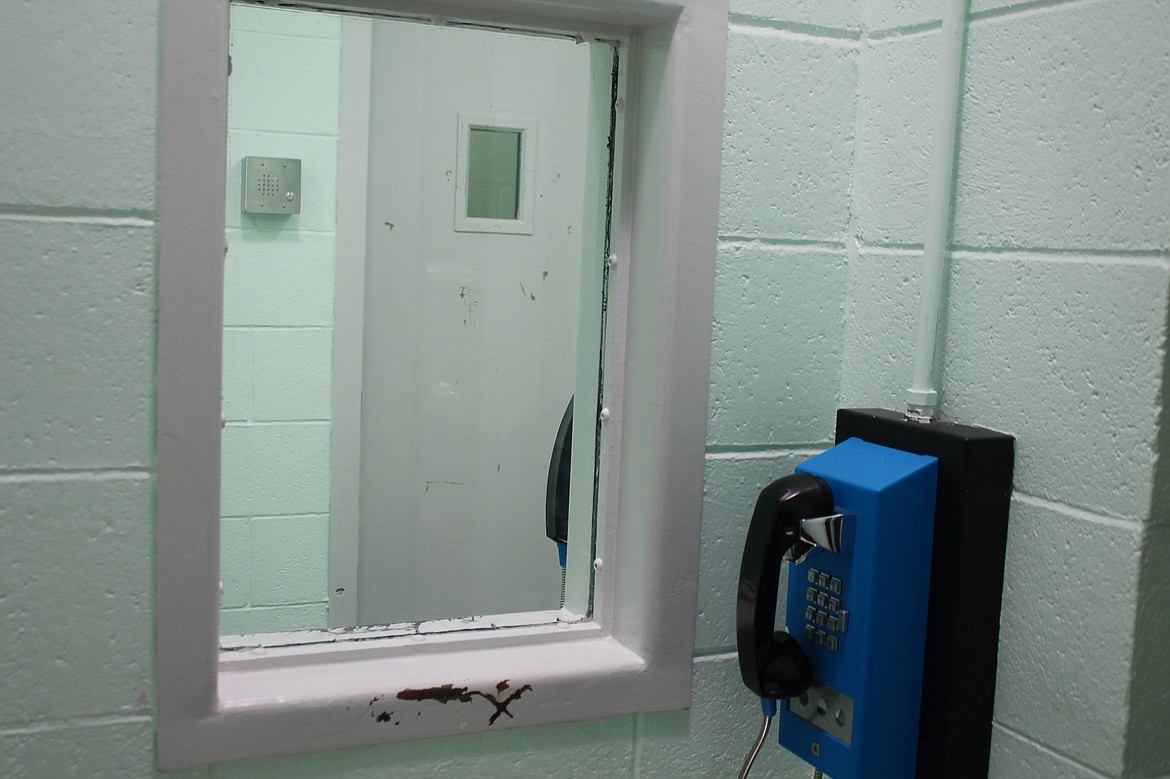 The jail's visitation room, that sometimes temporarily houses inmates, as seen with some graffiti etched into the paint on Jan. 17, 2023.
by
HAYDEN BLACKFORD
Daily Inter Lake
|
February 2, 2023 12:00 AM
On a recent visit to the Lake County Jail in Polson, County Commissioner Steve Stanley walked me through nearly $800,000 worth of improvements made to the county jail – currently the subject of a class-action lawsuit that alleges, among other things, little exercise, overcrowding and unhealthy conditions.
Lake County has argued that the suit lacks credibility because inmates did not exhaust administrative remedies before filing the lawsuit.
Initially, five inmates, including one named Aloysius Blackcrow, filed a lawsuit on Sept. 3, 2021, against Lake County and Governor Gianforte. Since then, Judge Donald Molloy has certified the class-action lawsuit, but has limited those that can file to inmates incarcerated at the jail from Sept. 3, 2021, to the present. The judge found Gianforte immune to suit, and all claims against him were dismissed.
One of the plaintiffs' lawyers, Constance Van Kley, said about 50 people have filed in the class-action suit since it began, and continue to file.
The repairs to the jail began in August 2021, and have addressed many parts of the jail that are targeted in the lawsuit. Most of the funding for these repairs has come from American Rescue Plan Act funds or the CARES Act. All that extra money was funneled into the county's facilities, Stanley said.
"The lawsuit did not drive the effort to improve the jail," Stanley said.
The Lake County jail holds inmates for less than three years, and it is used to confine pre-trial inmates who have been charged with a criminal offense and are awaiting a criminal trial. The jail is a source of contention between Lake County and the State, as Lake County publicly admits that they are not able to fund the jail adequately, but attributes that to the demands of Public Law 282 – an agreement that gives the state felony criminal jurisdiction over Native Americans on the Flathead Reservation. Under the law – which the county has announced that it will withdraw from – Lake County investigates and prosecutes all felony crimes involving Native Americans, but receives no reimbursement from the state to do so.
Van Kley estimates 50% of the jail's population are Confederated Salish and Kootenai Tribal (CSKT) members. She added that another 20-30% of the total class may be descendants of members or are members of other tribes, although the population changes overtime.
The jail is located in the basement of the county courthouse, and prisoners are never allowed outside during their time at Lake County Jail, other than for medical reasons or transfers. One inmate, booked into the jail on April 21, 2021, has served the longest sentence of the jail's current population, Van Kley said.
To start our tour on Jan 17, 2023, Stanley pointed out some graffiti in the small visiting room and explained that it had recently been repainted. The class-action suit alleges this visiting room is used for solitary confinement on occasion.
In a response to another lawsuit filed against Lake County by Russell Breton, the county admits the room is used to temporarily hold intoxicated individuals and there is limited room to walk, but they deny it is used as a solitary confinement cell. According to the class-action lawsuit, at least one inmate has died by suicide, using the phone cord in this room.
The Jail
During my tour with Stanley we were escorted by a guard through the jail. From my observations the facility was clean, there were maintenance workers on site and emergency devices such as AEDs.
We walked past an office which was historically a laundry room; it had just been refurbished four days before my visit. The jail's laundry is now sent to Missoula, Stanley said.
In another room Stanley pointed out a cell in which bars were replaced with windows to reduce noise.
Stanley admitted that a year-and-a-half ago, prior to the renovation, he was embarrassed by some things concerning the jail.
"We've raised the bar," he said.
Across from the newly quieted cell where two inmates were watching television screens was a row of frosted glass windows. These, Stanley said, were recently frosted. Before this they were covered by curtains to allow the inmates privacy since the building is located in the center of the city, and pedestrians could easily look inside.
"I couldn't believe how dark it was down here," Stanley said.
One of the allegations that the class-action suit makes is that the jail lacks reasonable access to fresh air and sunlight.
"There is a strong line of precedent establishing that refusing to provide any access to exercise, the sun, and fresh air constitutes unlawful punishment. For inmates in Lake County, the failure to provide recreation and access to the outdoors is compounded by the prevalence of mold throughout the Jail," Van Kley said.
I did not see any mold on my tour of the jail and Lake County denies there is mold growing on mattresses in their response to Breton's lawsuit. I would not describe the air as fresh, but I did not enter the recreation room where Lake County's response to Breton says there are large windows that open.
The Rec Room
The recreation room is strictly used to house inmate overflow, Stanley said. I was told there was one inmate in the room at the time, and through the window I could see they were provided with a "boat," or a type of temporary bed or bunk that resembles a mattress on the floor. In other rooms, some inmates choose to sleep on boats rather than their bunks, Stanley said.
The room has no exercise equipment after an incident where an inmate was killed by an exercise bike, Stanley said.
"It's just a larger room for them to move around in," he said.
While Stanley and I stopped to converse in the hallway, an inmate, who will remain anonymous, yelled through an opening before being quieted by the guard that accompanied the commissioner and myself.
"We haven't had rec in three months," the inmate said. "Quit filling the rec room with prisoners."
In Lake County's response to Breton's lawsuit, which alleges similar exercise constraints to the class-action suit, they deny there is little or no opportunity for exercise or recreation. In lieu of equipment, inmates can play handball, or exercise in their day rooms.
In the jail's monitoring room, a screen showed every room that housed inmates in the jail. It was possible to see inmates exercising in their day rooms on the screen. Per Stanley's request the inmate who contacted us in the hallway was brought up on the screen and could be seen pacing wildly. He was in solitary confinement.
"He's in there for a reason," Stanley said.
The inmate's cell was unkempt, and the camera in his cell appeared to have been damaged. He continued pacing quickly for several minutes. Van Kley did not know the inmate's situation but offered her own perspective on the situation.
"Unfortunately, being deprived of recreation for weeks to months is not an uncommon experience for inmates at the Lake County Jail. And being placed in solitary confinement also is not uncommon – even for inmates with no history of misbehavior," Van Kley wrote in an email. "These conditions do not comport with constitutional or regulatory standards. They would make a healthy person unwell; they make mentally ill or withdrawing inmates far worse and cause severe emotional distress."
Monitoring at the jail
The improvements to the jail's monitoring system have helped keep it sanitary, Stanley said. Previously, the jail's intercom system would be blocked-up with toothpaste, and before all of the modern cameras were functioning, it was more common for inmates to flush foreign items that would clog toilets. Stanley was adamant that the sewage issue was not as bad as the class-action suit alleged, and he said that inmates flush things like jumpsuits that cause the jail to spend large amounts of money cleaning up sewage.
Many of the improvements at the jail were funded by the CARES Act. For instance, last fall, a new intercom system was installed, and the jail installed new cameras, Stanley said. The jail is now operating the intercoms at a different standard than before, and they have plans to continue to expand communication options, Stanley said.
Upgrades to the courthouse building have been done to hopefully save taxpayers money down the road, Stanley said. In addition to improvements to the jail, federal funds have been used to improve the electrical system and the Dispatch Center upstairs, which received a $1 million upgrade last year.
He also said that sliding doors were installed in one area of the jail which now enable guards to lock prisoners in their cells remotely. Before those doors it was like "inmates ran the facility," Stanley said.
The jail's problems are exacerbated by a population increase in Lake County, Stanley said.
"Now, we just have to hold the worst."
In the class-action lawsuit, it alleges that Native American inmates are denied access to traditional religious ceremonies, tribal and religious leaders and ceremonial materials. This is compounded by the layout of the jail, which is so small some inmates are allegedly forced to listen to a Christian pastor, Van Kley said.
This is another thing Lake County pushed back on. Native American ceremonies like smudging are not allowed in this jail, like many jails, because the smoke would affect other inmates, Stanley said.
What happens next?
The commissioner has clearly worked hard to improve conditions at the jail, and said he dreams of adding space to the facility, and hopes to build a new kitchen. However, he notes, Lake County voters soundly rejected a levy in 2020, which would have financed a new detention center.
The class action suit is slated for a bench trial in 2024, according to Sarah Nagy, courtroom deputy for the U.S. District Court of Montana in Missoula. The other suit Lake County is facing over the jail's condition, filed by Russell Breton, will go to trial in summer 2023.
The class action suit does not seek damages. Instead, it aims to get a judicial consent decree that will end alleged violations of inmates' rights.
This is something Lake County is familiar with. In a similar lawsuit, Lozeau v. Lake County, in 1996, Lake County did not comply with the terms of the negotiated consent decree, Van Kley said, and the county was subject to three contempt actions. She is skeptical of the county's claim that the recent improvements have nothing to do with the current lawsuit, as it has been 25 years since the last lawsuit and they have just begun taking action one month before the recent class action suit was filed.
"The current lawsuit was initiated in part by inmates who had been incarcerated in the '90s and knew that Lake County was required by law to change its practices," Van Kley wrote in an email. "Those inmates found that conditions are even worse today than they were when Lozeau was brought."
Recent Headlines
---