Six Mission Valley Wrestlers Ranked in State A Poll
by
Brandon Hansen / For The Leader
|
January 5, 2023 12:00 AM
Ronan Wrestling has five wrestlers ranked in the most recent Class A wrestling poll for the entire state. The Chiefs finished sixth in the state in team scoring last year at the State A Wrestling Tournament, but are quietly working away to power through brackets once again. They know, like so many wrestlers find out: early season poll rankings can change in a hurry.
"The rankings aren't very important to our wrestlers," Ronan Head Wrestling Coach Dylan Kramer said. "Our kids know that these rankings don't win matches and they have to go out there and prove it."
Kramer said he did think both Ronan's boys and girls teams have the potential to make some noise at the state tournament.
"They made great progress last year and we are hoping to build on that success from last season," Kramer said.
The Ronan girls have already strong performances in tournament play and are definitely a team to watch this year.
"We hope to have as many kids back and healthy after Christmas break so they can continue to get better each weekend by competing at these tough tournaments," Kramer said.

Polson senior Jaren Keene is ranked No. 6 in the state at 170 pounds after winning two matches at last year's Class A State Wrestling Tournament. The only wrestler in the Western A Conference ranked ahead of him is Rowdy Crump of Columbia Falls, who is No. 5 in the wrestling poll.
At 103 in the Class A state poll, August Courville of Ronan is ranked No. 3 behind Gordan Knapp of Sidney and Caleb Smith of Miles City. Libby's Riley Osborn is ranked No. 6 and is the other Western A wrestler in the poll.
Ronan sophomore Ridge Cote finished second in the State A 113-pound bracket last year and this year in wrestling at 120 pounds and is currently ranked No. 2 in the state behind Lockwood's Cole Krutzfield. In the Western A, Pita Fish from Browning is ranked No. 5.
A fellow Ronan sophomore, Kada King, won two state matches at the State A wrestling tournament last year and is ranked No. 5 in the state. He is also the top-ranked Western A wrestler with Libby's Cael Schwindt ranked No. 6.
At 160 pounds, junior Landon Bishop placed fourth for Ronan and is ranked No. 3 in the state for this season. He is ranked just behind Whitefish's Henry Bennetts who is No. 2 in the wrestling poll.
Ronan's Cole Dalke is ranked No. 6 at 182 pounds just behind Western A foe Matthew Niemi of Libby.
RONAN
103: Gordan Knapp, Sidney; Caleb Smith, Miles City; August Courville, Ronan; Kona Fardrich, Lockwood; Colt McCord, Lewistown; Riley Osborne, Libby.
120: Cole Krutzfield, Lockwood; Ridge Cote, Ronan; Corbin Long, Frenchtown; Brody Keysor, Sidney; Pita Fish, Browning; Payton Gaskins, Miles City.
145: Sean Mehling, Hardin; Currey Brown, Miles City; Aden Winder, Laurel; Reinhard Bold, Havre; Kada King, Ronan; Cael Schwindt, Libby.
160: Espyn Hostetler, Glendive; Henry Bennetts, Whitefish; Landon Bishop, Ronan; Kaden Wise, Sidney; Beau Mares, Laurel; Brady Schmill, Corvallis.
182: Noah Rausch, Frenchtown; Quinn Boogman, Lewistown; Nathan Hansen, Frenchtown; Easton DeJong, Miles City; Mathew Niemi, Libby; Cole Dalke, Ronan.
POLSON
170: Camden Johnson, Laurel; Wyatt Elam, Lewistown; Kale VanCampen, Havre; Andrew Frederick, Hamilton; Rowdy Crump, Columbia Falls; Jaren Keene, Polson.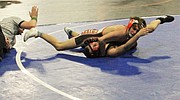 Recent Headlines
---