Mission woman found guilty of elder exploitation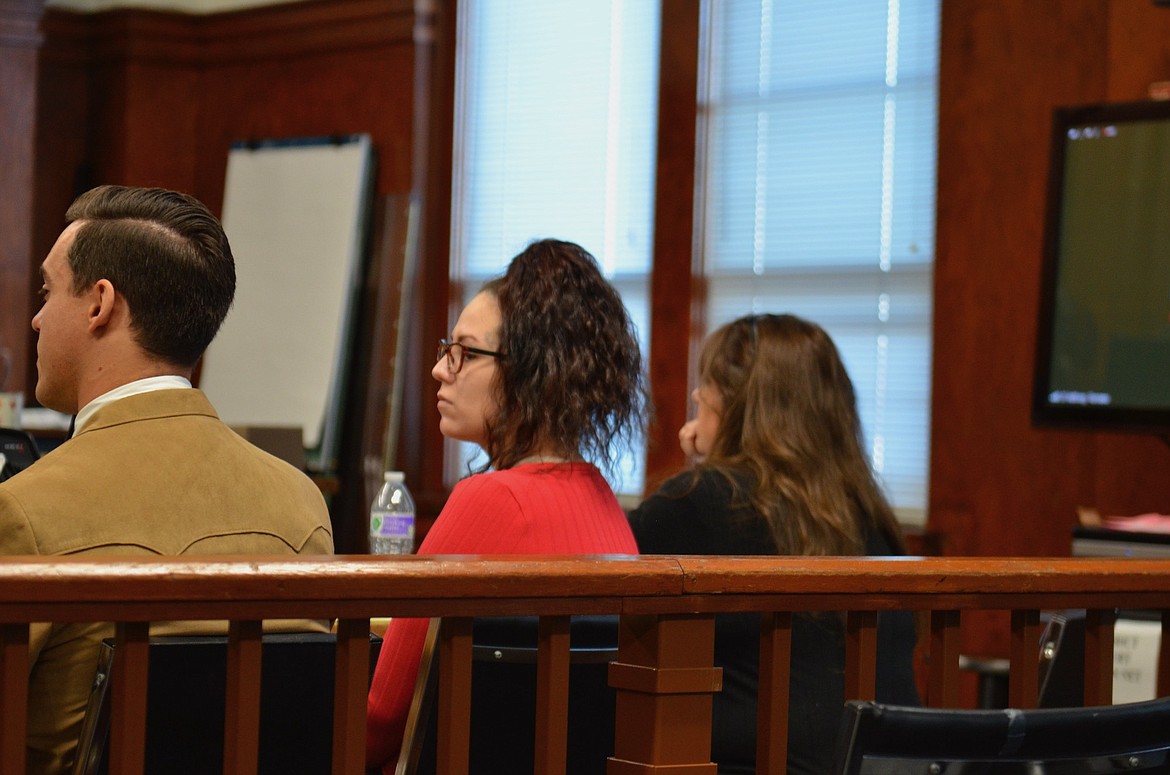 Defendant Shaylynn Reid with her defense attorneys during court proceedings Tuesday. (Kristi Niemeyer/Lake County Leader)
by
KRISTI NIEMEYER
Editor
|
January 12, 2023 12:00 AM
ShayLynn Reid, a St. Ignatius woman who is already serving time for bail jumping, forgery and theft of identity, was found guilty in District Court Tuesday morning of criminal exploitation of an older or incapacitated person.

The charges date back to 2020, when Reid was employed as a caregiver for Patricia Murphy, an 87-year-old woman suffering from paranoid schizophrenia and dementia. She was cared for at home by her son, Terrance Murphy, who had been her conservator since 2007.
In an interview with Dan Yonkin, a detective with the Lake County Sheriff's Office, Reid was asked about a series of unauthorized withdrawals from Patricia Murphy's account, made from May through September of 2020.
During the recorded interview, which was played twice by prosecutor Ben Anciaux, Yonkin went through the list of debit card withdrawals, asking Reid which ones were authorized by her employer, Terry Murphy, and which ones she made to purchase scratch cards, a form of gambling.
During August and September of 2020, the volume increased substantially with amounts from $60-$300 withdrawn from ATMs in Missoula and the Mission Valley on a regular basis. As Reid went through the bank statement with Yonkin, she indicated which withdrawals were not authorized by her employer by shaking her head or saying "not OK."
It wasn't until the family noticed significant overdraft fees that Murphy finally confronted Reid. In text messages, she admitted using the money to buy scratch cards.
In his testimony, Murphy told the jury his mother had died April 7, 2021, and was cared for at home until almost the end of her life. Reid had helped with shopping, meal preparation and some personal care.
According to Murphy, the two had established a budget "and when she wanted to use the debit card for something else, she'd call or text and I'd authorize it."
"We trusted her," he said.
He also said her misuse of the card came to light "because the account got drained," and added that she left her post after being confronted by the family and admitting in a conversation with Murphy and via text that she had a gambling problem.
Defense attorneys Colton Risinger and Suzanne Marshall asked the jury to take "a wider view of the evidence." They questioned Murphy's handling of his mother's financial affairs and questioned whether he had submitted the annual financial reports required of conservators.
They also asked the jury to review bank statements from May through September, noting that deposits to the account came from many sources other than Patricia Murphy's income from Social Security and Teacher's Retirement.
In his closing statement, Risinger told the jury that the banking account was "a melting pot," with income and withdrawals made by a variety of people. He also said Reid thought of the account as belonging to Terry instead of his mother.
"The state has to prove that it was Patricia's money," Risinger said. Without that evidence, "you can't know beyond a reasonable doubt that exploitation occurred."
Anciaux, who pointed out that Patricia Murphy's name was clearly on the account, countered that the defendant "deceptively took assets of this 87-year-old woman, used those assets for herself, and knew it was wrong."
He estimated that Reid had made 23 unauthorized withdrawals, totaling around $3,000. Mrs. Murphy, he added, "didn't deserve to have the assets she's going to use to finish her life be stolen by someone she trusted."
Judge Kim Christopher presided over the trial, which lasted all day Monday and concluded Tuesday. Sentencing is scheduled for Feb. 16.
Reid is currently serving a 10-year sentence with the Department of Corrections dating back to 2021, when she pleaded guilty to felony bail jumping, felony burglary, misdemeanor forgery and misdemeanor theft. Although she was released as part of a plea bargain, her three-year deferred sentence was revoked after she was arrested again a short time later for forging checks.
Recent Headlines
---