Ronan has head-turning weekend at Western Montana meets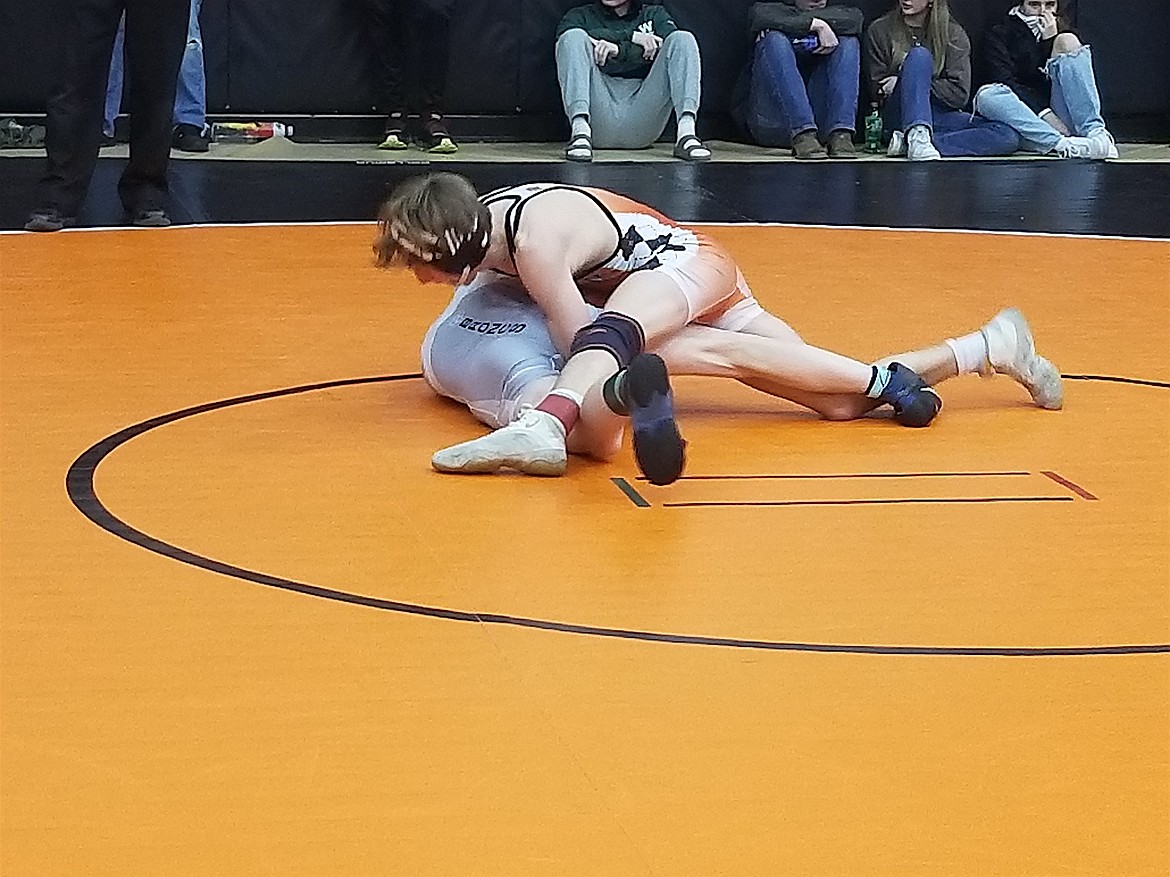 Chief Ridge Cote won the 113-pound championship last week's meet in Ronan. (Ellen Kaphammer/For the Leader)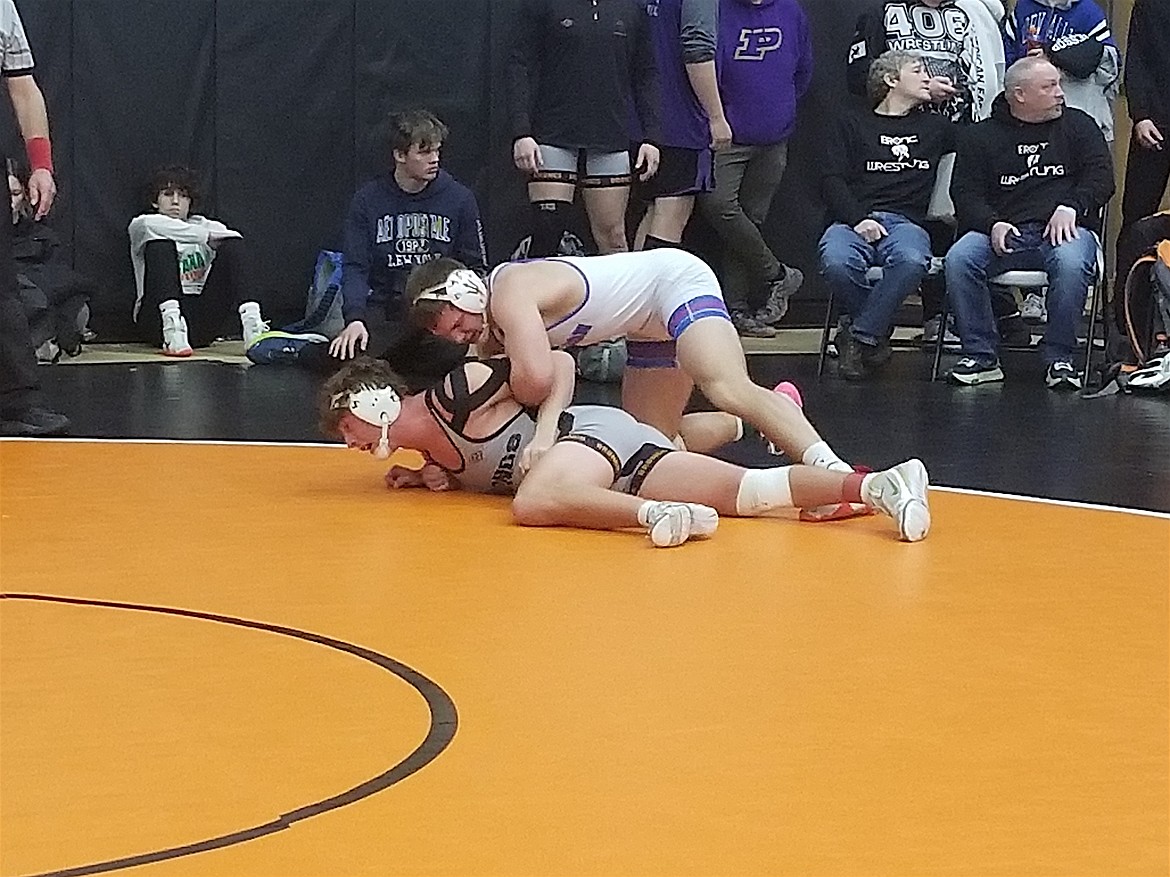 Mission-Charlo's Canyon Sargent won the 170-pound championship in the Boys' Invitational. (Photo by Ellen Kaphammer/For the Leader)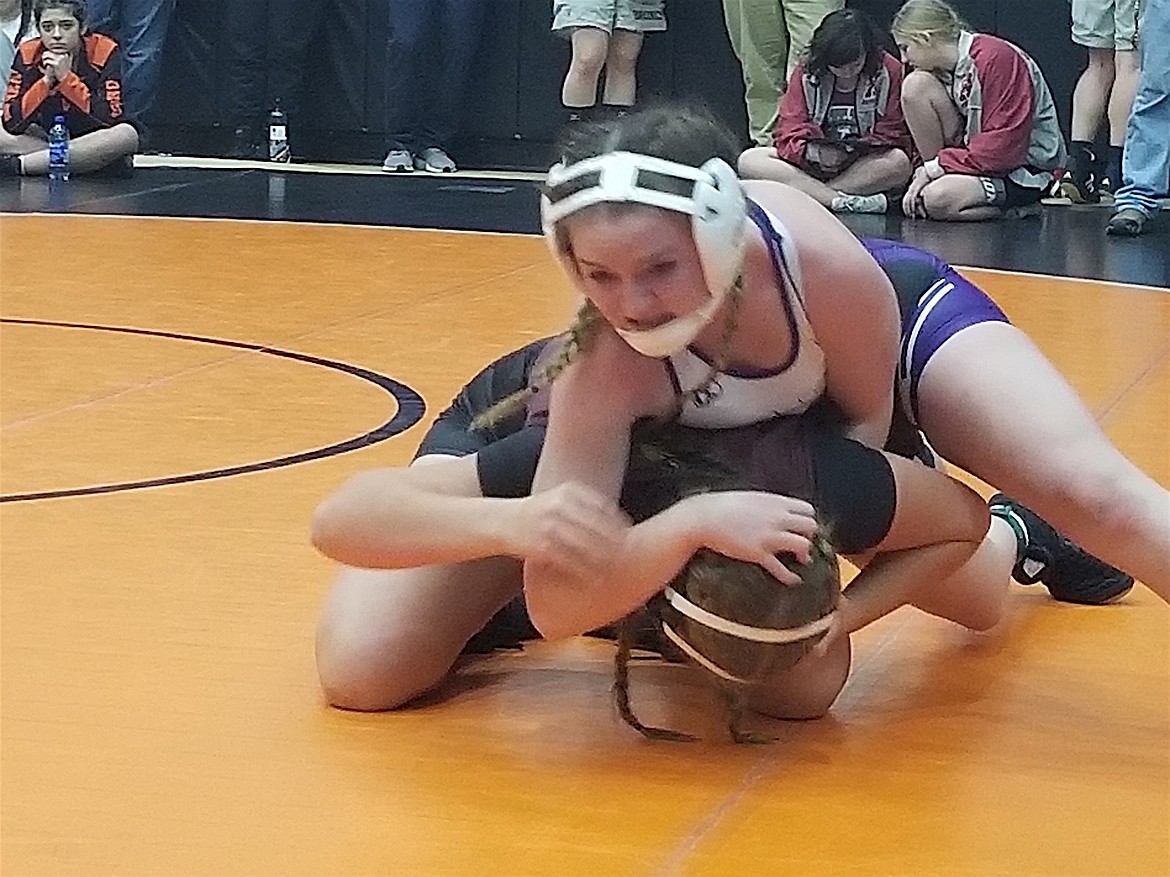 Lady Pirate Harli Kinney took second at the Girls Invitational in Ronan. (Ellen Kaphammer/For the Leader)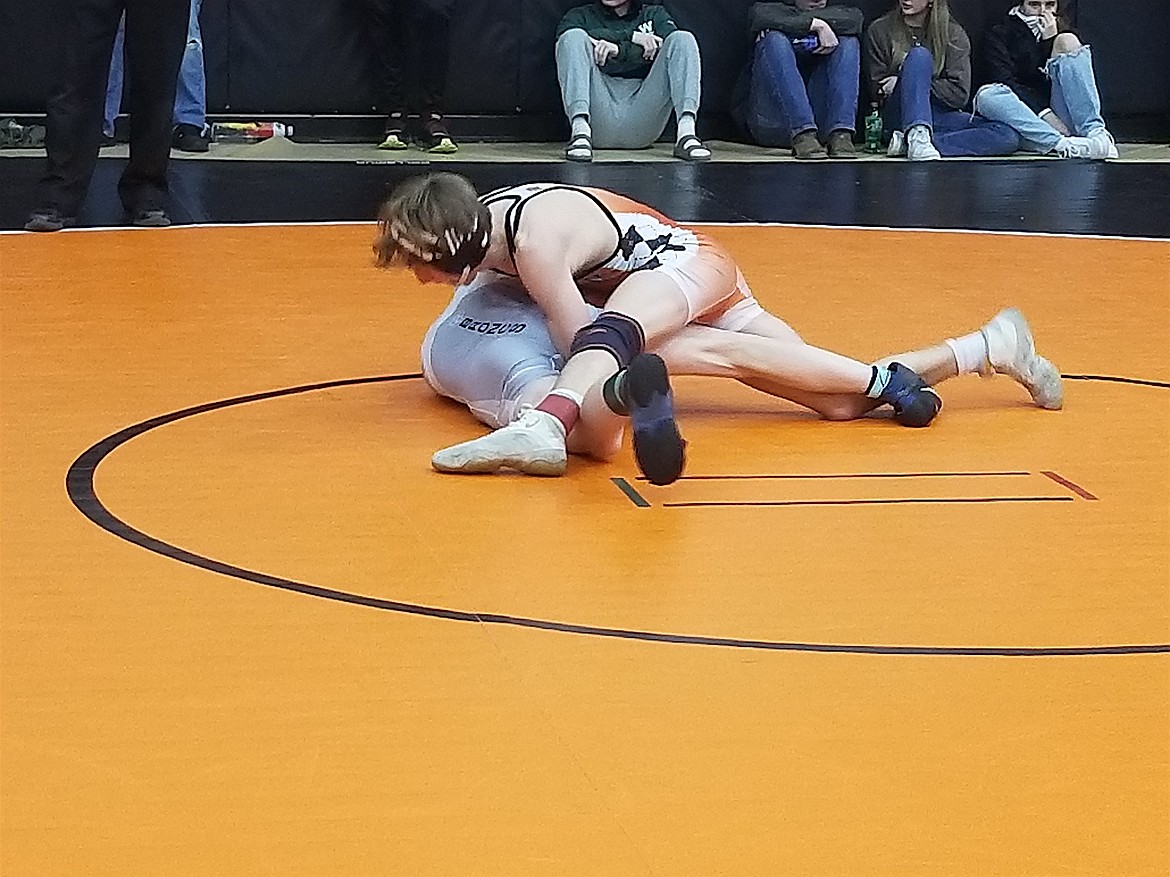 Chief Ridge Cote won the 113-pound championship last week's meet in Ronan. (Ellen Kaphammer/For the Leader)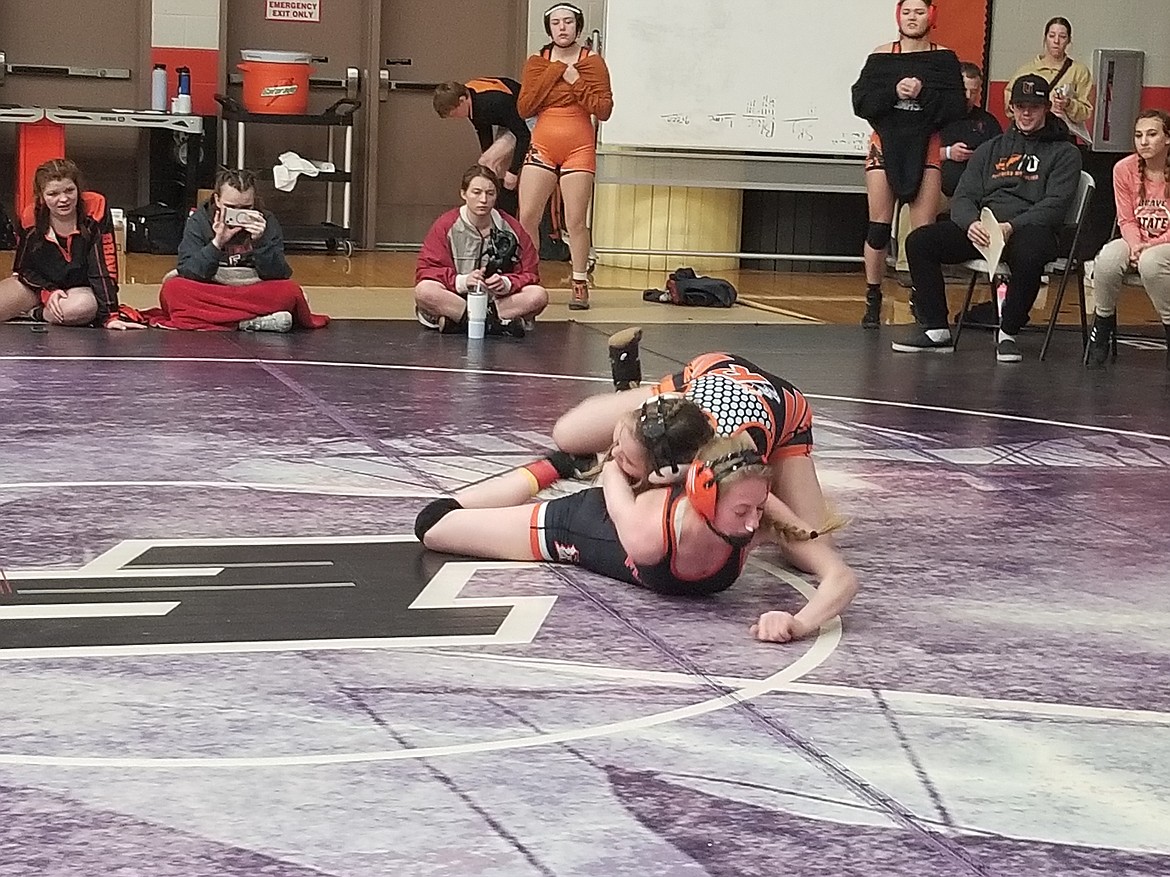 Ronan's Brynn Courville was first in the 132-pound bracket in the Girls' Invitational. (Ellen Kaphammer/For the Leader)
Previous
Next
|
January 12, 2023 12:00 AM
WESTERN A MONTANA INVITE
Ronan finished third at the Western Montana Invite, notching several placers, including Ridge Cote's 113-pound championship.
The Ronan girls placed third in the girls invite, with Saellah Nomee, Katie Dolence and Brynn Courville each placing first.
"This weekend is great because you can see the progress the kids made over Christmas break, and it's a good preview of the Divisional tournament because most Western A teams are present," Ronan Head Wrestling Coach Dylan Kramer said. "The entire weekend is a pretty big blur, to be honest ... what does stand out was that every time a Ronan kid wrestled, there was a great effort in the match. The kids scrapped it out this weekend, and it was fun to watch."
Boys Invitational
Ridge Cote won a championship for the Chiefs at 113-pounds, picking up three pins. All three falls came in less than 30 seconds. Cote won a 9-0 major decision in the championship match over Frenchtown's Corbin Long.
At 103 pounds, Ronan's Ian Dillard placed second after picking up two pins and a 6-0 decision. At 120 pounds, Luc Cheff placed fourth for Ronan, getting a tech fall and a 6-5 decision before getting pinned in the third-place match. Ronan's Jairyn Krause was fifth at 126 pounds, getting a 4-1 decision and then a pin. At 132 pounds, Koy McAllister took second for Ronan. McAllister notched a pin, a major decision, and another pin before falling in the championship match.
Ronan's Fortino Silva notched a third-place finish at 138 pounds. He picked up pins in the first two rounds before falling in the semifinals, 6-4. He bounced back with two more pins for third-place. Koda King placed second at 145 pounds, picking up three pins before losing by decision in the championship match.
Polson 152-pounder Daniel Peterson placed second for the Pirates, getting a technical fall, and two decisions before falling in the championship match.
Ronan's Dominique McKay was fifth at 152 pounds, wrestling up the consolation bracket after a first-round loss. He notched a pin, won by injury default, and after a consolation semifinal defeat, notched a decision victory.
At 160 pounds, Mission-Charlo's Chance Bockman was fifth. Canyon Sargent won the 170-pound championship picking up two decisions and a pin for the title.
In the 205-pound bracket, Ronan's Lomar Wandering Medicine placed sixth.
Bordy Buletter placed sixth for the Pirates in the 285-pound bracket.
Girls Invitational Ronan's Saellah Nomee won the 100-pound bracket, picking up three pins along the way. Juliette Cheff placed third for the Maidens at 120 pounds, notching four straight pins in the bracket. Katie Dolence won the 126-pound bracket for Ronan, getting a decision, pin, major decision and then another pin for the championship.
Ronan's Brynn Courville was first in the 132-pound bracket, notching three pins. LouRasia Weatherwax was sixth in the 138-pound bracket.
At 145 pounds, Polson Harli Kinney placed second, picking up two pins. At 152 pounds, the Lady Pirates Abighail Sorrell placed fourth, notching two pins working through the bracket.
Venessa Wheeler was second for the Pirates at 165 pounds, notching a pin before falling in the championship match.
Mission-Charlo's Alexis Lamere was sixth, picking up a pin in the 165-pound quarterfinals.
Polson's Pepper Featherston was first at 185 pounds, defeating Columbia Falls Camas Brown-Fortin via pin.
WESTERN MONTANA DUALS
The Ronan boys placed third during the Western Montana Duals on Friday, facing up against some familiar Class A foes.
"I think the boys and girls both wrestled very well," Kramer said. "The girls took second in the first-ever dual tournament, and that they won every match except one in the championship dual was very exciting."
The Ronan boys thumped Whitefish 57-16 in the first round, then defeated Corvallis 59-10 in the quarterfinals. After falling to Frenchtown, 45-24, the Chiefs defeated Libby 43-24 for third place.
The Polson boys fell to Frenchtown 60-12 and then to Browning 40-30.
On the girls' side, the Ronan girls placed second, facing up against AA schools in the Duals bracket. Ronan advanced through the bracket with a 36-6 quarterfinal win over Columbia Falls, then defeated Glacier 28-24. In the first-place duel, Ronan lost to Flathead 34-30.
Polson fell to Glacier 36-28 but bounced back to defeat Columbia Falls 36-18. In the fifth-place matchup, Corvallis defeated the Lady Pirates 40-24.

Mission-Charlo dropped both their matches, falling to Flathead and Corvallis High School.
"I wanted to give a big shout and thank you to the Ronan Community for helping support the wrestling program," Kramer said. "Seeing the community come out and support and back the wrestling program is always great."
Recent Headlines
---