Marshall L. Bjork, 85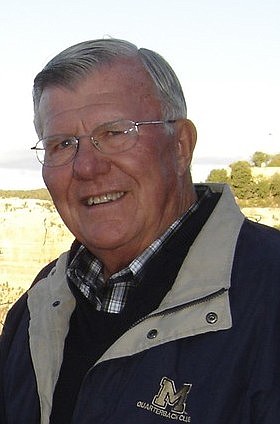 |
January 19, 2023 12:00 AM
Marshall Loren Bjork passed peacefully in his home in Polson on Jan. 8, 2023 at the age of 85.
Marshall was born to Earl and Clara Bjork in Great Falls and spent his early years in Malta and Lincoln before the family settled in Stevensville, where he graduated from high school in 1955. He graduated from Montana State University in 1959 with a degree in Industrial Engineering. It was during his time in Bozeman that he met Betty Louise Eager, whom he would marry in 1960 and spend the rest of his life with.
He was accepted into Officer Candidate School for the United States Marine Corps following graduation; he served three years in the Marines and resigned his commission in 1962 with the rank of captain. It was also during this time that he and Betty started, and completed, their family with the births of Kristin (1961), Gregory (1962), and Darryl (1963).
For the next 10 years, Marshall achieved success in the manufacturing industry, receiving numerous promotions, but also numerous transfers, as the family relocated more than a dozen times to cities in California, Nevada, Colorado, and Arizona. In 1972, Marshall & Betty decided it was time to return home to Montana after a summer fishing trip to Lake Mary Ronan, during which they fell in love with the Flathead. In October of '72, they purchased Carl's Union Service from Carl and Peggy Seifert in Polson, moving the family there that fall. It would be their last big move as Marshall and Betty would become fixtures in the Polson community for the next 50-plus years.
In 1980, Marshall and Betty found a beautiful property on Flathead Lake near Big Arm and went to work turning it into their own private paradise. In 1989 they built their dream home, designed by Marshall, on the property and remained there until 2017, when they moved back into Polson. They both loved Placid Cove, the unofficial name of the property, and they especially enjoyed sharing it with their family and friends.
In retirement Marshall was involved with numerous charities, including Cheerful Heart, Toys for Tots, and Meals on Wheels. All who knew Marshall were well aware of his love for MSU and the Bobcats; he and Betty were regulars at Bobcat football games, traveling to Bozeman for almost every home game for nearly 20 years. The couple also created the Marshall and Betty Bjork Rural Student Teacher Scholarship.
Marshall & Betty traveled extensively but were especially fond of their winters in Puerto Vallarta, Mexico, along with many of their Polson-area friends. Marshall also enjoyed any time spent with his four grandchildren, Madeline, Colton, Lauren and Rachel, as well as his two great-grandsons, Weston Gerke and Braxton Bjork.
A service to honor Marshall's life will be held at Immaculate Conception Church in Polson, at 11 a.m. on Wednesday, Jan. 25, 2023. All are welcome. Memories and condolences may be sent to the family at www.lakefuneralhomeandcremation.com.
Arrangements are under the care of The Lake Funeral Home and Crematory.
Recent Headlines
---