Local hospitals celebrate New Year's babies
|
January 19, 2023 12:00 AM
Sometimes it pays to be first. That was certainly the case for the first babies of the year born at Providence St. Joseph in Polson and St. Luke Hospital in Ronan.
Matteo Kyson Andrew was the first baby born in Lake County in 2023, arriving at 5:24 p.m. Jan. 6, at Providence St. Joseph Medical Center's Nesting Place in Polson. He was 20.5 inches long and weighed 8 lbs., 10 oz.
Matteo's parents are Mary Nicolai and Gabe Andrew of St. Ignatius. His maternal grandparents are Delinda Nicolai and Frank Nicolai and his maternal great-grandfather is Joe Finley.
Paternal grandparents are Jenn Birthmark and Willie Andrew and paternal great-grandparents are DeeDee Birthark and Leo Collier, and Loretta and Tab Hoots.
Brecken Daniel Clapp, the first baby of the New Year born at the St. Luke Community Healthcare New Beginnings Birth Center in Ronan, arrived Jan. 8, weighing 7 lbs. 10 oz. and measuring 21 inches long at birth. His parents are Grant and Shelby Clapp of Polson. Paternal grandparents are Jack and Jane Clapp of Polson and maternal grandparents are Dan Clairmont and Misty Lohn of Ronan.
Baby Brecken was delivered by Dr. Tyler Thorson, who serves the Mission Valley from the St. Luke Community Clinic – Southshore in Polson, with help from OB Nurses Kerianne Evans and Casey Houk.
In honor of showing up first, Brecken and his family were showered with gifts from local businesses "in celebration of life and the promise of the New Year."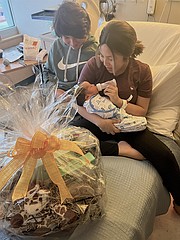 Recent Headlines
---