Wrestling Roundup: Ronan frequents podium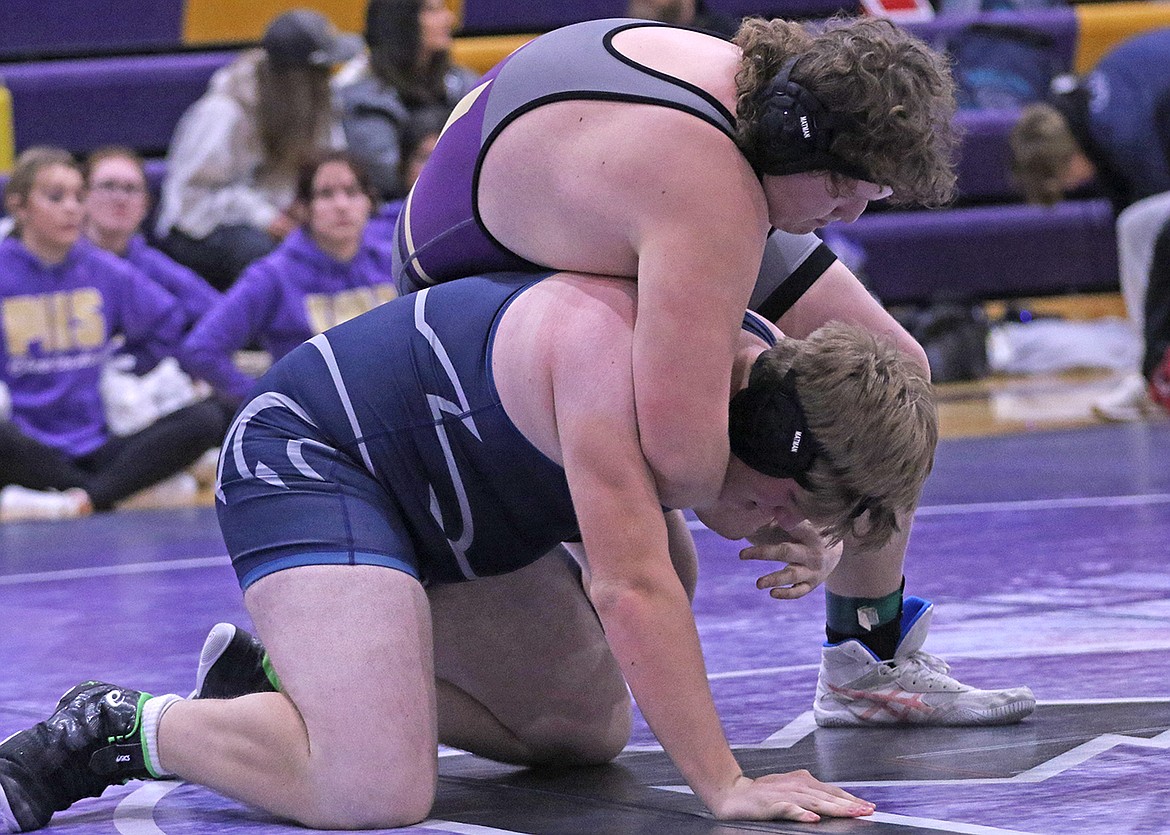 Pirate Brody Bulett wins with a pin during the meet in Polson last Thursday. (Bob Gunderson Photo)
by
Brandon Hansen
|
January 19, 2023 12:00 AM
BOYS WRESTLING
Ronan Frequents Podium At Jug Beck Rocky Mountain Classic
Ronan and Mission-Charlo wrestlers brought back some hardware at the Jug Beck Rocky Mountain Classic Wrestling Tournament over the weekend.
"The boys and girls wrestled well this weekend, the Rocky attracts some of the best teams in Montana, Idaho, and Washington, and everyone wants to wrestle well there," Ronan Head Coach Dylan Kramer said. "It's also the last time we get to see some different competition besides class A for the season, so it is important for the kids to go out and compete, which they did."
At 103 pounds, August Courville placed 7th for Ronan with a major decision, a technical fall, and a pin. Teammate Ridge Cote was fourth with a fall, and three decision victories in the 120-pound bracket.
Ronan's Koda King improved his record to 24-7 and notched three decisions, one pin, and then a 3-2 decision in the 145-pound third-place match.
"Our three boys who placed … showed tremendous grit on Saturday with going out and scrapping out some tough wins," Kramer said.
Mission-Charlo's Canyon Sargent was sixth in the 170-pound bracket, getting three pins along the way.
Polson's Daniel Peterson notched a pin and a major decision in the 145-pound bracket. Brody Bulette also collected a pin in the 285-pound bracket.
Polson notches dual win over Whitefish in mixer
Polson's Duals Mixer saw the Pirates picking up a dual victory over Whitefish while falling to Columbia Falls and Lake City.
Against Columbia Falls, Polson fell 60-15 but got pins at 145 pounds from Daniel Peterson and Jason Burrough at 285 pounds.
Against Whitefish, a dual Polson won 30-24, the Pirates picked up four forfeits and a pin by Daniel Peterson at 145 pounds.
The Pirates fell to Lake City 59-15 despite pins at 145 pounds by Daniel Peterson and Brody Bulette at 285 pounds.
Ronan powers past Polson in dual
Ronan recorded nine pins in a 66-6 Northwest A Conference Dual against Polson on Tuesday, Jan. 10.
Koda King (145), Nate Young (160), Cole Dalke (205), Ian Dillard (103), Luc Cheff (113) all picked up official pins for the Chiefs, while in an exhibition matchup's Ronan's Tyson Lake (126), Will Courville (160) and Thomas Dillard (113) notched pins.
Ronan's Jairyn Krause (126), Dominique McKay (152), and Brady Hout (170) notched major decisions.

Polson's six points came from a forfeit. In exhibition action, Daniel O'Roake (145) picked up a pin for the Pirates.

RONAN 66, POLSON 6 126: Jairyn Krause (RONA) over Izayus Prewett (POLS) (MD 13-3) 132: Tyson Lake (RONA) over (POLS) (For.) 138: James Kenelty (RONA) over (POLS) (For.) 145: Koda King (RONA) over Daniel Peterson (POLS) (Fall 3:48) 152: Dominque McKay (RONA) over Daniel O`Roake (POLS) (MD 16-7) 160: Nate Young (RONA) over Jack Sherry (POLS) (Fall 2:48) 170: Brady Hout (RONA) over Kyrin Doty (POLS) (MD 15-6) 182: Issac Rodriguez (RONA) over (POLS) (For.) 205: Cole Dalke (RONA) over Durai Mahkuk (POLS) (Fall 1:25) 285: Brody Bulette (POLS) over (RONA) (For.) 103: Ian Dillard (RONA) over Koal Wardall (POLS) (Fall 0:42) 113: Luc Cheff (RONA) over Gerardo Alverez (POLS) (Fall 1:41) 120: Ridge Cote (RONA) over (POLS) (For.)
GIRLS WRESTLING
Ronan finishes third at Hellgate Invite
At the Hellgate Girls Wrestling Invite last weekend, Ronan finished third in the team, scoring 160 points, and was the highest-finishing A school in the tournament.
"As a team, our girls were trading spots in the top three with some of the best girls teams in the state and for them to be so close to winning, it was a great confidence boost to know they can compete with anyone," Ronan Head Coach Dylan Kramer said. "Especially with our three girls champions, Saellah, Brynn, and Tirza."
Ronan's Saellah Nomee was first in the 100-pound bracket, notching three falls. At 120 pounds, Juliette Cheff was second with a pin and two decisions. Teammate Destiny Finley was sixth in the same bracket, notching two pins before falling in a decision to Cheff.
At 126 pounds, Katie Dolence was fifth for Ronan by snagging three pins and two decisions in a busy bracket.
Brynn Courville was first for the Maidens at 132 pounds, collecting three pins. Tirza TwoTeeth was first at 235 pounds with two falls and then a decision to bring home the top trophy.
"Our wrestlers [boys and girls] need to focus on getting into really good shape and peaking at the right time," Kramer said. "They also need to get into the right mindset for competing in the postseason."
Polson's Harli Kinney placed second with four straight pins in the 138-pound bracket. Teammate Abighail Sorrell placed fifth coming up through the 152-pound consolation bracket, notching two pins and getting an injury default in the fifth-place match.
In the 165-pound bracket, Pepper Featherston was fourth, notching two pins over the invite for Polson.
Mission-Charlo's Aubrey Sharbono was fourth at 138 pounds, picking up two pins and a forfeit.
Ronan girls secure win over Polson
The Ronan girls wrestling notched three pins and scored 30 points off forfeits in a 42-6 dual victory over Polson on Tuesday, Jan. 10.
Katie Dolence (132), Brynn Courville (138), and LouRasia Weatherwax (145) each picked up pins for the Maidens in the matchup.
RONAN 42, POLSON 6: 132: Katie Dolence (RONA) over Brylie Reum (POLS) (Fall 0:32) 138: Brynn Courville (RONA) over Harley Kenney (POLS) (Fall 1:48) 145: LouRasia Weatherwax (RONA) over Emma Smith (POLS) (Fall 0:38) 152: Abighail Sorrell (POLS) over (RONA) (For.) 165: Double Forfeit 185: Double Forfeit 235: Double Forfeit 100: Saellah Nomee (RONA) over (POLS) (For.) 107: Double Forfeit 114: Gracie Fullmer (RONA) over (POLS) (For.) 120: Skyla Nielsen (RONA) over (POLS) (For.) 126: Destiny Finley (RONA) over (POLS) (For.)
Recent Headlines
---