Ronan superintendent earns regional recognition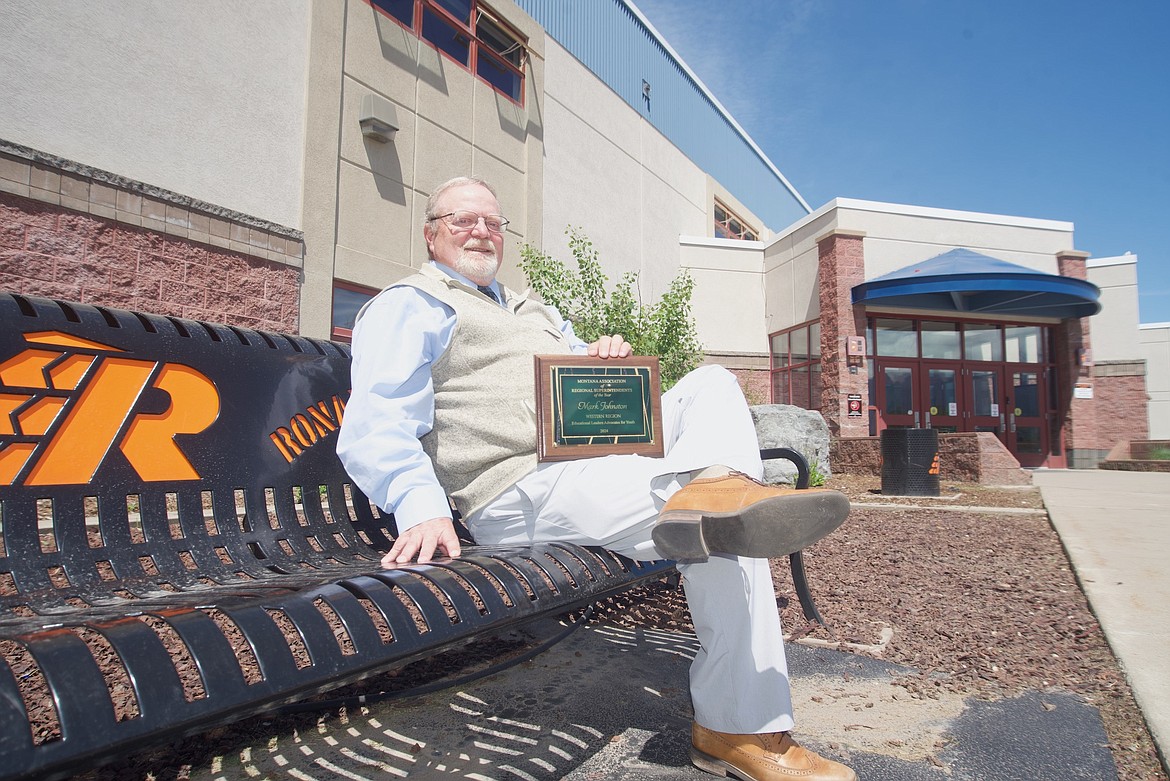 Ronan Superintendent Mark Johnston was voted Superintendent of the Year for the western district by his fellow administrators. (Kristi Niemeyer/Leader)
by
KRISTI NIEMEYER
Editor
|
June 8, 2023 12:00 AM
"If you surround yourself with the right people, good things happen," says Ronan Superintendent Mark Johnston. "You can't do it by yourself."
Johnston was recently recognized by his peers in the western region of the Montana Association of School Superintendents as the area's Superintendent of the Year. The nod puts him in the running for Montana Superintendent of the Year – a title currently held by another Lake County administrator, Arlee Superintendent Mike Perry. The western region, one of nine, is comprised of around 40 school districts from Ronan to Darby, and Philipsburg to the Idaho border.
Johnston first joined the Ronan School District in 2008 as vice principal at the high school. He was offered the job of middle school principal in 2010 and hired as superintendent in 2018.
Johnston says his decision to become a teacher took root in his hometown of Butte, where he grew up in a trailer court, the son of divorced parents. He earned a full-ride wrestling scholarship to Montana State University in Bozeman, but "I bombed out after a year and a half and went back to Butte."
He began working as a roofer and doing substitute teaching and custodial work for local schools.
"By the time I was 23, I had three kids, a wife and no steady job," he recalls. "I always wanted to go back to school, but how?"
With the support of his wife and family, grants, "and begging, pleading and borrowing," he enrolled at the University of Montana Western in Dillon, driving 130 miles roundtrip every day. Eventually, he graduated with a teaching degree and the family moved to Ekalaka, where he taught math for three years.
His second teaching job took him north to Glasgow, where he taught and headed the wrestling program for 17 years. Under his guidance, the district won five state championships and produced more than 30 state champions and 130 state placers.
He calls that success "a good run," adding the community played a large role in those accomplishments.
"A lot of people stepped up and helped," he says. "It wasn't the Mark Johnston show, it was the Glasgow community show."
Looking for new challenges, he set his sights on school administration. He earned his principal endorsement from the University of Phoenix, and moving to Ronan as vice principal for the high school.
"It was a big change for me – my whole life was coaching and teaching, and then to go to this whole other level where you're dealing with discipline."
In 2015, he earned his superintendent's endorsement from MSU Bozeman, and after a stint as interim superintendent in Ronan "got the full-time gig."
As superintendent, Johnston has opportunities to "make some changes for the whole community, the whole area," he says. But not without a buy-in from the school board, the administrators, teachers, staff and community.
"You find out in a hurry you can't do it by yourself," he says. "If you try, you either get run out in a hurry or burned out in a hurry."
Beyond the boundaries of his own district, Johnston enjoys positive, supportive relationships with superintendents across the Lake County. "Over the last few years we've developed a great relationship throughout our valley and that's been beneficial for our kids all the way through," he says.
That cooperative spirit was apparent during the recent legislative session, when several educational bills caused consternation at the local level, including ones that mandate open enrollment – an agreement that Lake County schools have had in place for years – and allow the creation of independent charter schools, which could draw resources and funding from already strapped public schools.
"A lot of the stuff that happened at the Legislature this year challenged us a little bit," says Johnston. "As superintendents we try to make decisions that are in our community's best interest. We're just waiting to see the impact of some of those bills that were passed."
Meanwhile, he plans to continue surrounding himself with good people.
"Right from the school board on down, it's neat to have a group that really does care about kids," he says. "It makes my job a lot easier."
Recent Headlines
---