Mission Mountain All-Star Game showcases plenty of local talent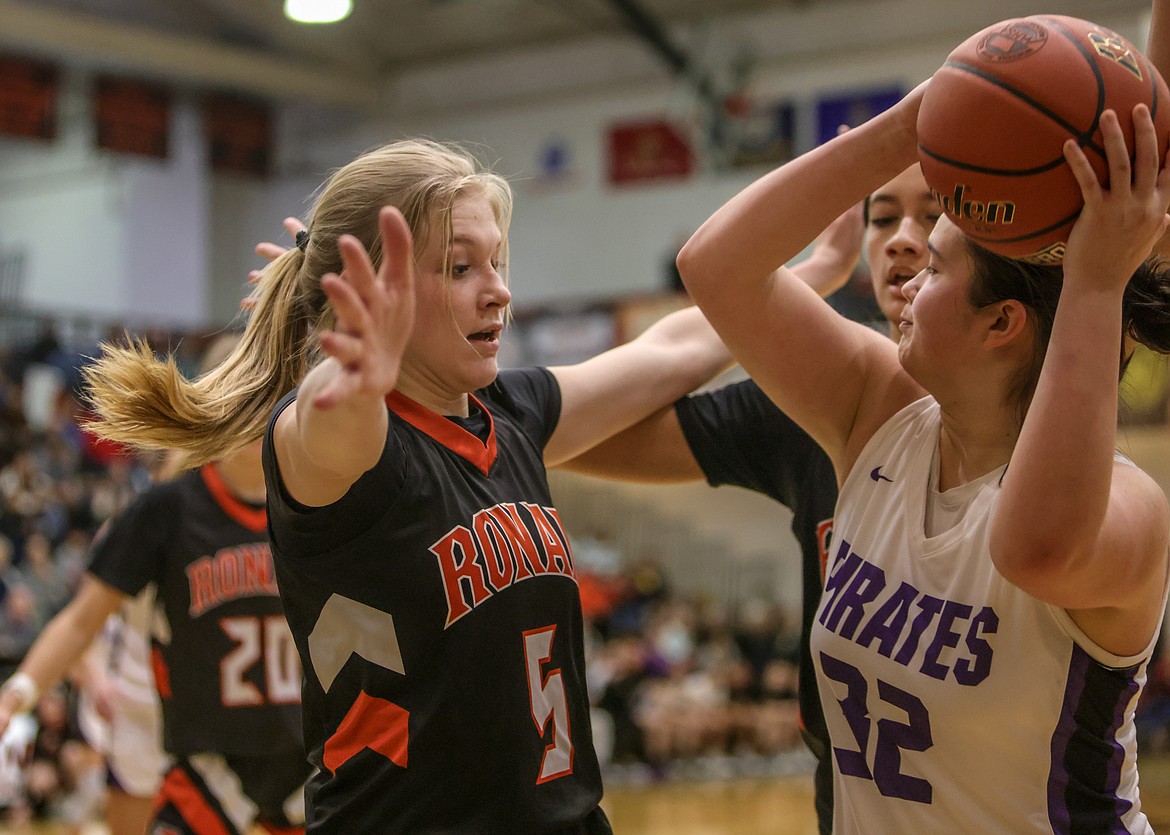 Maiden Lauryn Buhr and Lady Pirate Mila Hawk, who faced off in the recent Class A Divisional Tourney in Ronan, join forces in the Mission Mountain All Star Game as members of Team B. (JP Edge/Hungry Horse News)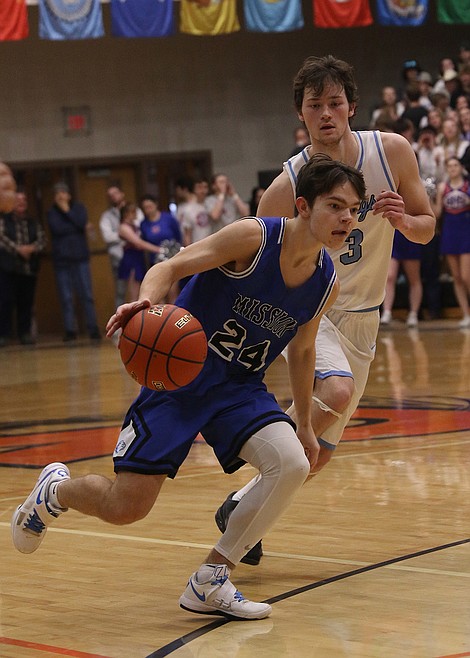 Mission's Zoran LaFrambois drives by Bigfork's Izak Epperly during the Class B Regionals challenge game on Feb. 27. The two are teammates Saturday during the Mission Mountain All Star Game in Ronan. (Bob Gunderson photo)
Previous
Next
by
Brandon Hansen / For The Leader
|
March 9, 2023 12:00 AM
March brings the NCAA Tournament, which is a great way to see the best college basketball players in the country face off.
But if you want to see the best players in the Mission Valley, you'd better head to the Ronan Event Center on March 14 for the 26th Mission Mountain All-Star Game. This year's all-star contests are jam-packed with talent, with state powers and local stars on each roster.
For the All-Star Girls Team A, Mission sophomore Kason Page and junior Izzu Evans will join fellow Class B star, senior Princess Bolen of Arlee. This year, the Lady Bulldogs were 17-7 and a power in the Western 7B League. Also on Team A is Charlo senior Hayleigh Smith and Polson senior Grace Simonich, and three Ronan players: senior Olivia Heiner, senior Margaret Cordova and sophomore Arianna Zepeda.
Facing off against them will be Team B, which includes Mission senior Kooper Page and teammate Cora Matt, a freshman. Team B is loaded with Class A talent, with Polson senior Mila Hawk, Ronan senior Leina Ulutoa and sophomore Lauryn Buhr, Two Eagle senior Sarah Gardipe, and Charlo senior Sidney Bauer on the roster.
Mixing up the Charlo players should be a fun change-up after the Lady Vikings went 16-8 this year and advanced to regionals.
On the boys' side, Team A will also be loaded with Charlo talent. Junior Wesley Anderson, senior Keaton Piedalue, and junior Quincy Styles-Depoe will undoubtedly bring a little English from their 15-8 season. Mission junior Landon Walks Over Ice, senior Kenny Ness, and Arlee junior Dallas Swab bring a Class B flavor to the squad.
Class A talents for Team A include Polson star and Montana Tech QB commit Jarett Wilson and Polson junior Espn Fisher. Ronan freshman Kolby Finley and junior Marlo Tonasket Jr. are also on the squad, as is Two Eagle star Thomas Spotted Eagle.
On Team B, region-leading scorer Zoran LaFrombois will take the floor to represent Mission as a senior. The team includes Arlee top scorer and junior Ben Old Person-Harlow, Two Eagle senior Cai Burke, Charlo senior Stetson Reum, Mission senior Kellen McClure, Polson senior Trent Wilson, Ronan junior Ted Coffman III, and Two Eagle junior Malachi Piapot.
The full rosters can be seen at the end of the story.
If eight players or fewer are on a roster, then the halves for the game will be 16 minutes; if it's nine or more, then halves will be 20 minutes. Man-to-man defense is allowed only in the game, and if it goes into overtime, there will be a sudden-death free-throw shoot-off with five players from each team shooting in alternating fashion.
The girls' All-Star game will be at 6:30 p.m., while the boys will tip off at 8 p.m.
There will also be a three-point shooting contest for both the boys and girls at the halftime of each game. Each All-Star team coach will get to choose two shooters that will represent each team.
Admission is $5, and family passes are $20.
MISSION VALLEY ALL-STAR TEAMS
GIRLS 2023 ALL-STAR, 6:30 p.m.
TEAM A (Light): Braeden Gunlock (So.) Bigfork; Kason Page (So.) Mission; Hayleigh Smith (Sr.) Charlo; Madison Chappius (Sr.) Bigfork; Lauryn Aldridge (Jr.) Hot Springs; Olivia Heiner (Sr.) Ronan; Grace Simonich (Sr.) Polson; Izzy Evans (Jr.) Mission; Princess Bolen (Sr.) Arlee; Margaret Cordova (Sr.) Ronan; Arianna Zepeda (So.) Ronan; and Josie Uski (Sr.) Hot Springs
TEAM B (Dark): Patten Gunlock (Fr.) Bigfork; Kooper Page (Sr.) Mission; Mila Hawk (Sr.) Polson; Scout Nadeau (Sr.) Bigfork; Leina Ulutoa (Sr.) Ronan; Lily Detienne (Sr.) Hot Springs; Sarah Gardipe (Sr.) Two Eagle; Cora Matt (Fr.) Mission; Kassidy O'Keefe (Sr.) Plains; Ava Davey (So.) Bigfork; Lauryn Buhr (So.) Ronan; and Sidney Bauer (Sr.) Charlo
BOYS 2023 ALL-STAR, 8 p.m.
TEAM A (Light): Bryce Gilliard (Sr.) Bigfork; Wesley Anderson (Jr.) Charlo; Keaton Piedalue (Sr.) Charlo; Quincy Styles-DePoe (Jr.) Charlo; Landon Walks Over Ice (Jr.) Mission; Kenny Ness (Sr.) Mission; Jarrett Wilson (Sr.) Polson; Espn Fisher (Jr.) Polson; Kolby Finley (Fr.) Ronan; Marlo Tonasket, Jr. (Jr.) Ronan; Dallas Swab (Jr.) Arlee; and Thomas Spotted Eagle (Sr.) Two Eagle
TEAM B (Dark): Ben Old Person-Harlow (Jr.) Arlee; Cai Burke (Sr.) Two Eagle; Isak Epperly (Sr.) Bigfork; Nick Walker (Sr.) Bigfork; Stetson Reum (Sr.) Charlo; Garth Parker (Sr.) Hot Springs; Zoran LaFrombois (Sr.) Mission; Kellen McClure (Sr.) Mission; Darren Standeford (So.) Plains; Trent Wilson (Sr.) Polson; Ted Coffman III (Jr.) Ronan; and Malachi Piapot (Jr.) Two Eagle.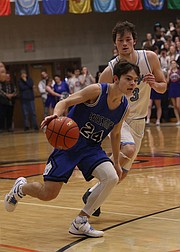 Recent Headlines
---