FLOW Swimmers post national rankings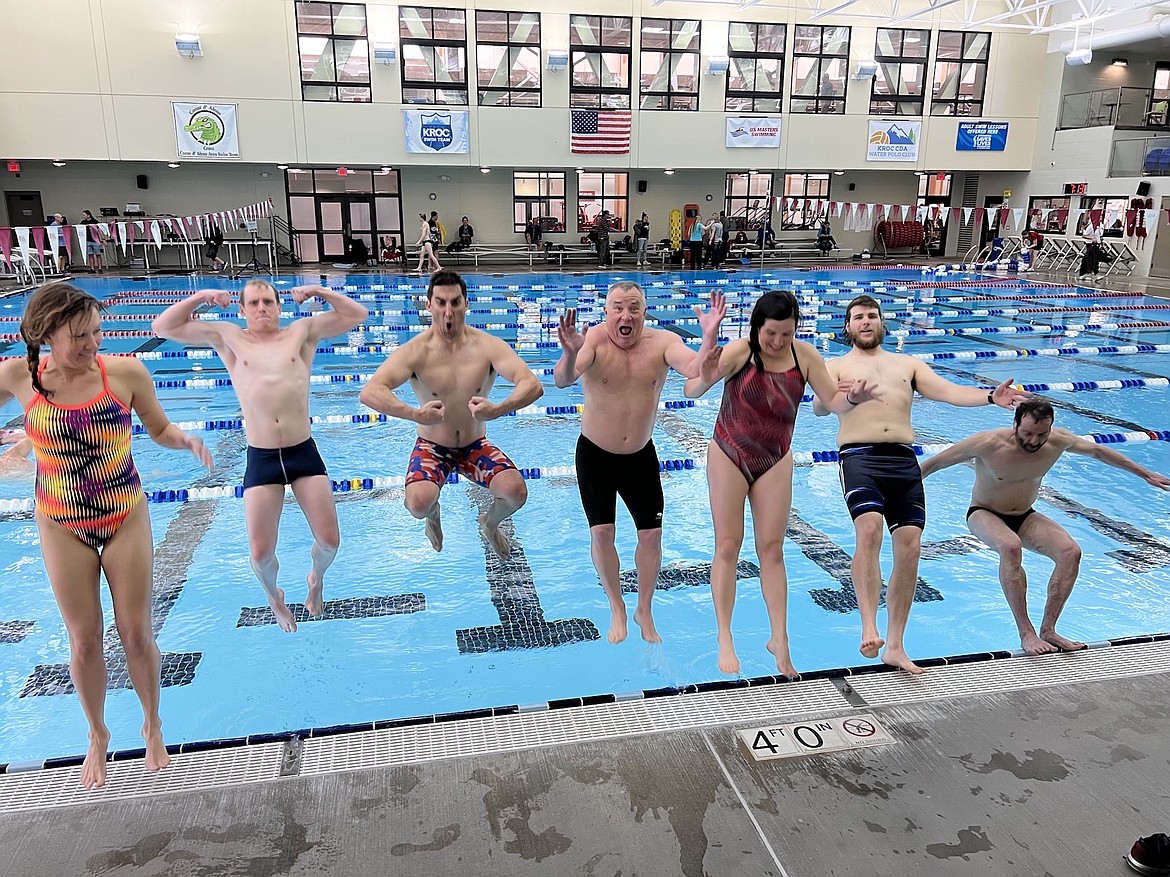 Coach Mark Johnston (center) and a group of Montana FLOW Swimmers celebrated their wins during last spring's April Flowers competition at the Kroc Center in Coeur d'Alene.
by
Lake County Leader
|
March 16, 2023 12:00 AM
The Flathead Lake Open Water Swimmers (FLOW Swimmers), based in Polson, head into this weekend's 2023 Montana State Masters Championship, March 18-19 in Butte, with several national accomplishments to their credit.
FLOW Swimmers is a loose-knit group of 20 master swimmers who primarily focus on open water swimming, but they occasionally dip into the competition pool. Their outstanding performance in 2022 shows that they can excel in both arenas.
Six of their members teamed up to place in the top 10 in the United States Masters Swimming (USMS) national rankings in five different relay events in 2022. The swimmers, including coach Mark Johnston, Kate Sheridan and Lewis Wright of Polson, Patrick Gilmartin of St. Ignatius, Marcie Bochman and John Cole of Kalispell and Wendy McNamara of Whitefish, competed in the April Flowers meet at the Kroc Center in Coeur d'Alene last spring, as well as last year's Montana Masters.
Relay teams ended the 2022 season ranking third in the Men's 800-meter Free Relay; sixth in the Men's 400-meter Medley Relay; tenth in the Mixed 400-meter Free Relay; tenth in the Mixed 400-meter Medley Relay; and seventh in the Mixed 800-meter Free Relay.
In addition to the relay events, McNamara, Cole and Johnston earned 2022 National Top 10 honors in several individual events, including Johnston's number-one ranking and All-American recognition in the 200-meter Freestyle and 100-meter Butterfly.
"It's amazing to see our local swimmers achieve such great results at the national level," says Coach Johnston. "Our team has been training hard all year, and it's nice to see their dedication pay off in such a significant way."
"We essentially all train independently, on our own, but come together for these events and, in particular, for the relays," he adds.
During the winter months, members train at their local pools: Mission Valley Aquatics in Polson, The Wave in Whitefish, and Logan Health in Kalispell. During the summer months, they take to open water, swimming primarily in Flathead Lake but also in Whitefish Lake and Foys Lake.
The FINA World Rankings are set to be published soon, and the coach predicts that some of the FLOW Swimmers' relays, as well as Johnston and McNamaa's individual swims, could rank in the Top 10 worldwide.
"This achievement is a testament to the hard work, dedication, and teamwork of FLOW Swimmers," says Johnston.
He began open-water swimming in 2008 while living in Colorado and training for an attempt to swim the English Channel. "Unfortunately, we were blown out and never made it off the beach," he recalls.

He and his wife, Dana, moved to Polson in 2013, attracted by the wide expanse of Flathead Lake. Since around 2016, he has led trips and groups around the world for open water training and competitions in Greece, Spain, Sweden and Switzerland.

"I love the freedom and adventure of open water swimming," he says.
In May, 20 athletes from around the world will represent FLOW Swimmers in Mallorca, Spain, on the Mediterranean for the seven-day, eight-event Best Fest Open Water Swimming Festival. Since the event is far afield, Johnston has assembled a group of teammates from around the world, including swimmers from Italy, England, Australia, Spain and California joining swimmers from Polson, Whitefish, Kalispell and Great Falls). The weeklong Best Fest attracts 300 to 400 international swimmers.
"The Best Fest is an excellent location for our team to compete and maximize the fun," says Johnston, who will join his team in competing at this fifth Best Fest.
For more information on FLOW, email Coach@FlowSwimmers.com or call 406-298-FLOW.
Recent Headlines
---