Governor and First Lady visit Meuli Ranch in Dayton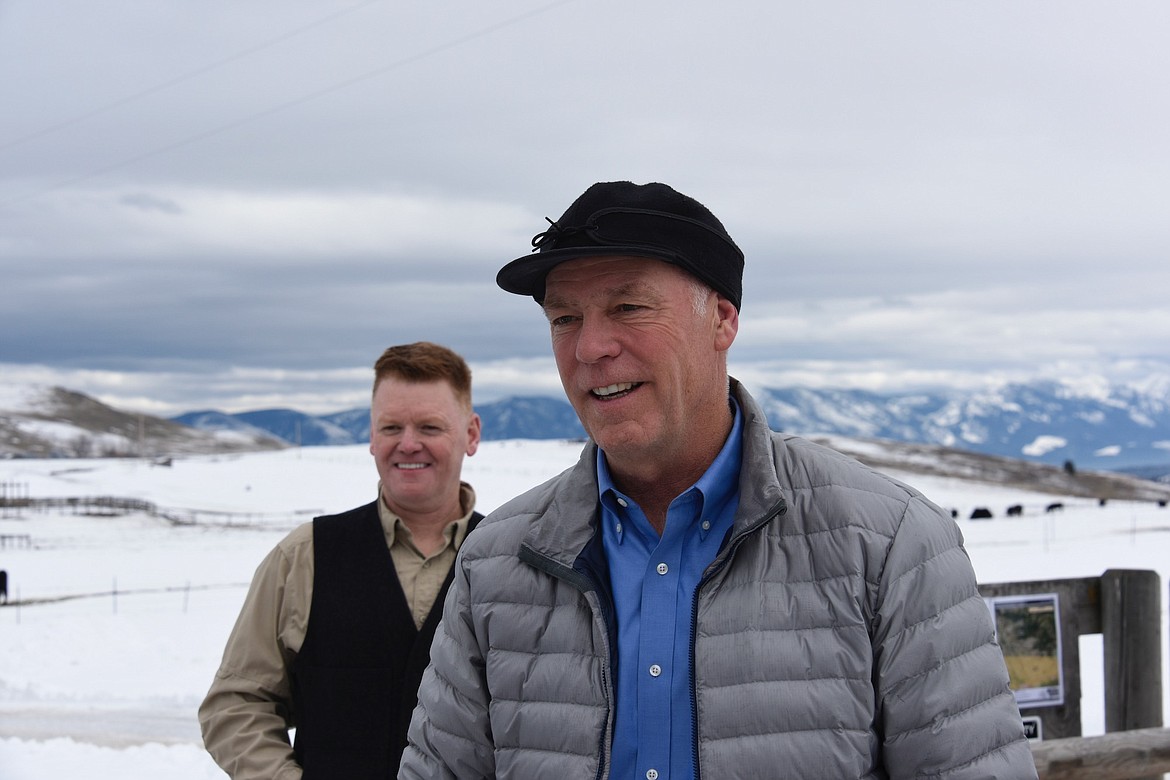 Gov. Greg Gianforte and MFWP Region One Supervisor Lee Anderson extoll the virtues of the Block Management Program at the Meuli Ranch near Dayton. (Berl Tiskus/Leader)
by
Berl Tiskus/Lake County Leader
|
March 16, 2023 12:00 AM
Black cows finished the hay on the feedground as ranchers Mike and Nancy Meuli welcomed Montana Governor Greg Gianforte and First Lady Susan Gianforte to their ranch west of Dayton Monday.
Governor Gianforte shook hands all around and said he had two reasons to be at the Meuli's ranch.
"First, to express appreciation to the Meuli's," for their continued operation of a family-owned ranch for over 120 years, Gianforte said. He also thanked them for their participation in the Montana Fish, Wildlife, and Parks Block Management Program.
The Meuli family has allowed people to hunt on selected areas of their property for 26 years, even before the block management program. Deer, elk, and wild turkeys are the main animals hunted on the ranch, which is not on the Flathead Reservation.
Block management is a "cooperative program between private landowners and FWP," according to the FWP website, fwp.mt.gov/hunt/access/block management. The program "helps landowners manage hunting activities and provides the public with free hunting access to private land, and sometimes to adjacent or isolated public lands"
The governor also brought up Senate Bill 58, which is wending its way through the Montana State Legislature. The bill would raise the cap on compensation for landowners who participate in the block management program.
Landowner participation in block management is voluntary. Contracts are negotiated annually in the spring and summer. After enrollment is complete, FWP publishes a Hunter Access Guide, which lists all block management opportunities available to you for the current season. Block Management guides are made available on or before Aug. 15, annually, said Macy Dugan, FWP Region 1 Access Manager.
Asked why he supports the block management program, Mike Meuli replied, "I've always loved people coming to share the hunting. The public has been amazing; people respect the land."

He and Nancy enjoy seeing kids going hunting to get their first deer with their mom or their dad. Before block management, he said they kept a list of who came to hunt. Now a sign-in box and a parking area on the road to their ranch house allow hunters to register so ranch owners know who's hunting.

Gianforte, his wife, and staff continued on to Kalispell for a visit to a farm-to-table store, The Farmer's Daughter, and attended a FWP Block Management banquet on Monday evening.
Recent Headlines
---