Ronan Students Report: New path of Highway 93 aims to fix congestion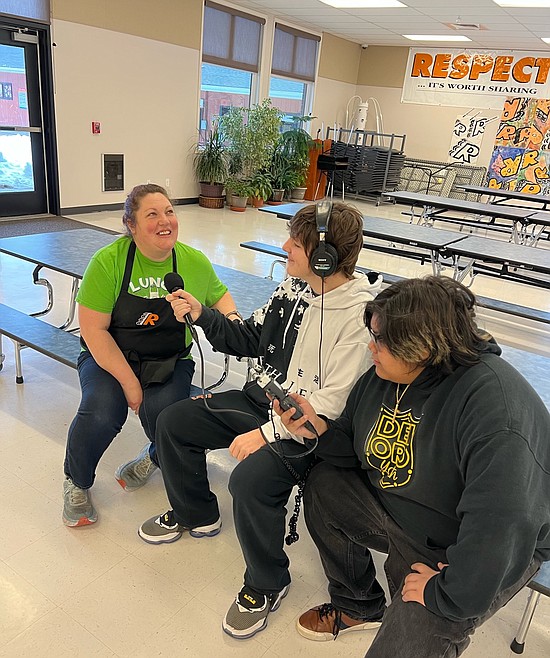 Ronan High School students Parker Nolen (left) and Nikolas Dominguez (right) interview a community member about the highway construction project. (JoVonne Wagner photo)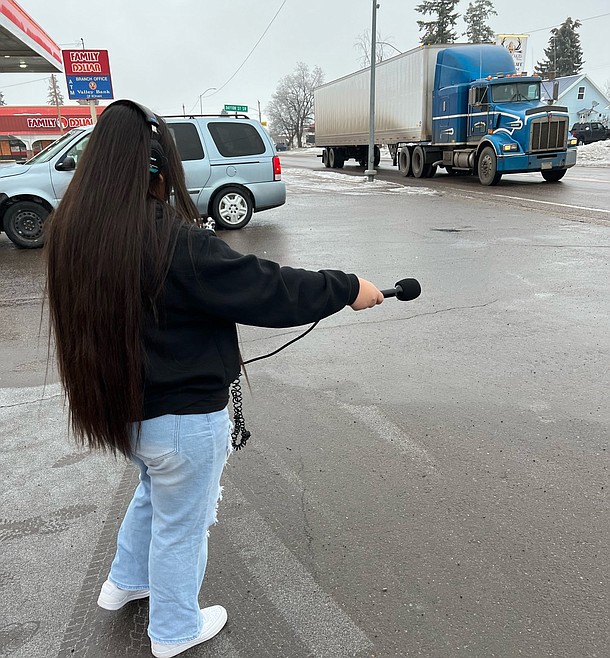 Ronan High School student Judasha Ellsworth gathers sounds from Highway 93 in Ronan for student reporting project. (JoVonne Wagner photo)
Previous
Next
by
Gordon Stewart, Robert Haggard, Justin Velasco, Parker Nolen, Nikolas Dominguez, Stacia Aquino, Judasha Ellsworth and Lei Hoyt
|
March 16, 2023 12:00 AM
Contractors broke ground this winter on a Highway 93 construction project that will reconfigure the road's route through the town of Ronan in western Montana.
As a major corridor for tourists and recreationists traveling to Glacier National Park and the Flathead Valley, the highway is often congested – a problem made worse in the summer months when travelers head north to the lakes and park. The Montana Department of Transportation expects traffic to increase significantly in the years to come.
The new path of Highway 93 is intended to reduce congestion for those who travel through Ronan and the town's roughly 2,000 residents, according to MDOT Project Manager Jason Livingston.
"You won't be sitting through two, three cycles of the lights," he said. "We're gonna add capacity to get the vehicles through Ronan quicker than what they are right now."
Livingston added that the changes will improve safety near the road. "You're going to get upgraded sidewalks, so your pedestrian traffic, it's going to meet all the ADA requirements. So when your disabled people that live in town, they'll be able to commute safely through it all."
The current phase of the project will affect the highway north of Ronan. Plans include widening the highway to four lanes, installing a new traffic light, closing a road and constructing a new pedestrian path. A short two-lane segment will be installed on the residential 1st Ave.
In the future, MDOT plans to widen 1st Ave. for use as the U.S. 93 southbound lane through Ronan. According to that plan, the north and southbound lanes will be separate, with businesses and homes between the two lanes. According to the Department of Transportation, that phase of the project is still being designed and a start date has not been set for construction.
Since Highway 93 cuts through the middle of Ronan, road-side businesses could be affected by its new path.
Lily Irenya is an employee at Java Junction, a coffee drive-through on the highway in Ronan. She says she's worried that reduced traffic could lead to fewer drivers stopping by.

"It can bring revenue but I'm also kind of worried that it might just bring people through Ronan faster and then, you know, there's no reason to stop anymore, like Arlee," Irenya said. "I mean Ronan is such a small town, it might become a ghost town."
Trinity Rosenbaum owns The Ronan Mill, a flower and gift shop near Highway 93. Her business is nestled one block from the existing highway. According to plans for the new highway design, when construction is completed, Rosenbaum's shop will be located between the northbound and southbound lanes of Highway 93.
"I'm actually really excited about it. I think it'll be good for business," Rosenbaum said. "We're going to have a stop sign or a stop light right out in this intersection. And I think it'll draw more people in and with some signs and stuff, I think it'll be really good for Ronan."
Ronan is located on the Flathead Indian Reservation. Rob McDonald works for the Confederated Salish and Kootenai Tribes as a Compact Implementation Officer. The Tribes provided input on the highway project based on cultural values. McDonald said the new highway will have limited impact on wild animals, thanks to CSKT's input.
"The wildlife are critically important to the Tribes, to our way of life, and taking care of the animals is one of the pathways to sustaining our culture," McDonald said. "So it's critically important to us. This is an extension of tribal values into this process of enhancing.
"The other realities, you know, commerce, getting to the doctor's appointments, getting our kids to school, and bringing in customers to the businesses that we all have here" will be served too. "We're doing our part as a tribe to enhance the entire community," he added.
McDonald said the state did a good job of incorporating tribal input into the project and he's looking forward to seeing the outcome.
"I mean, it's a treasure and I believe if this new highway works out with the state collaboration and feds collaboration, we will have a gem of a stretch of road," McDonald said.
The project is scheduled to be completed this fall. Updates are posted on the Montana Department of Transportation website.
Ronan High School students Gordon Stewart, Robert Haggard, Justin Velasco, Parker Nolen, Nikolas Dominguez, Stacia Aquino, Judasha Ellsworth and Lei Cunningham-Hoyt reported this story during a workshop with the UM School of Journalism's Montana Media Lab. It was produced in partnership with Montana Public Radio.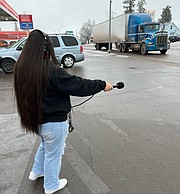 Recent Headlines
---