Small but Mighty: Polson sends student to National Speech and Debate Finals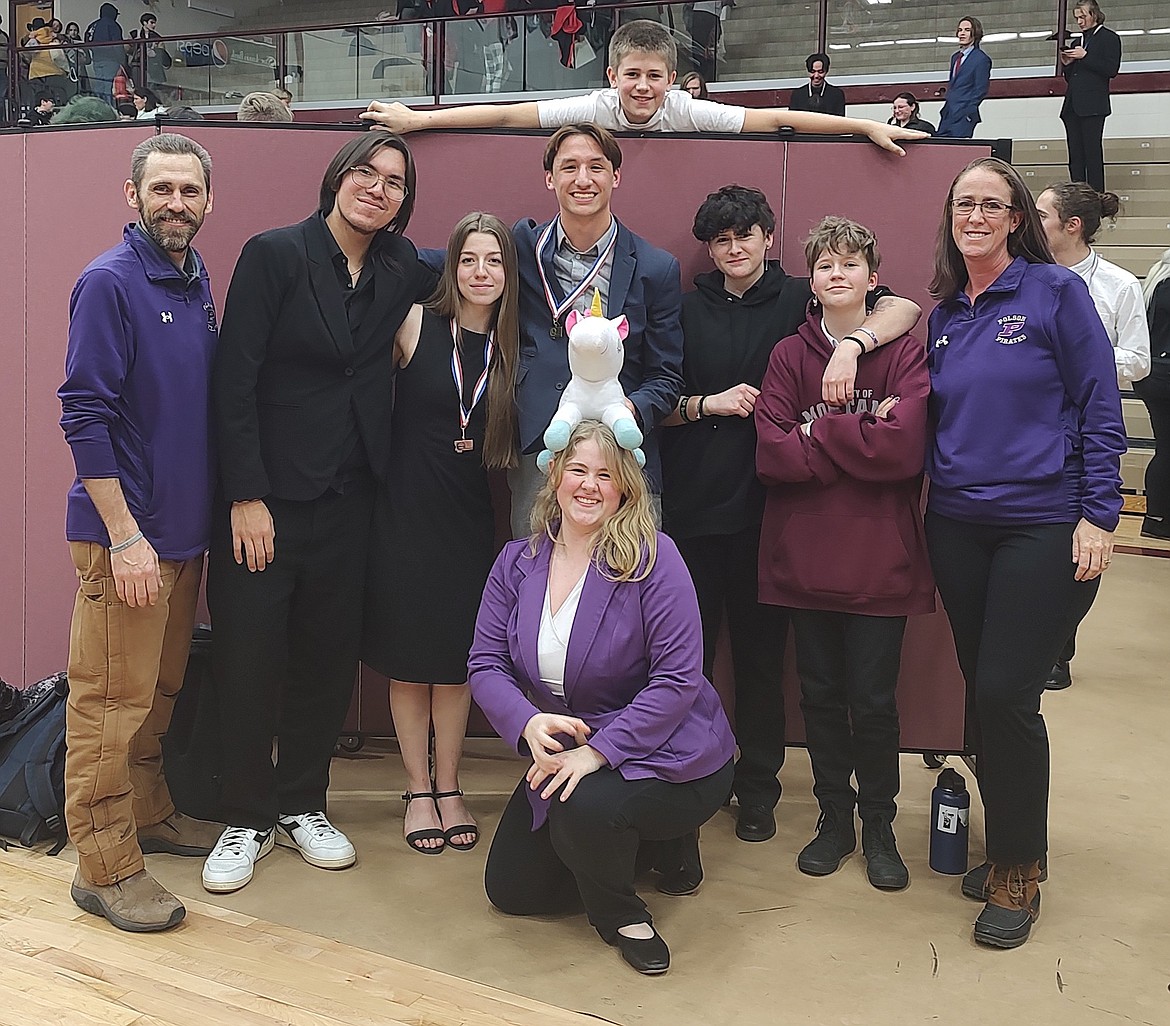 Polson Speech and Debate placed 10th at the state tournament in Sidney. Members include (left to right): assistant coach Brett Butler, Wica-ta-wi Brown, Hope Morrison, Kai McDonald, AutumnMist Skillicorn, Chloe Anderson, and head coach Mel Butler. Bethany Butler is front center (with team mascot Butterfinger) and 8th grader Tristan Butler, a volunteer runner for all tournaments this year, is back center.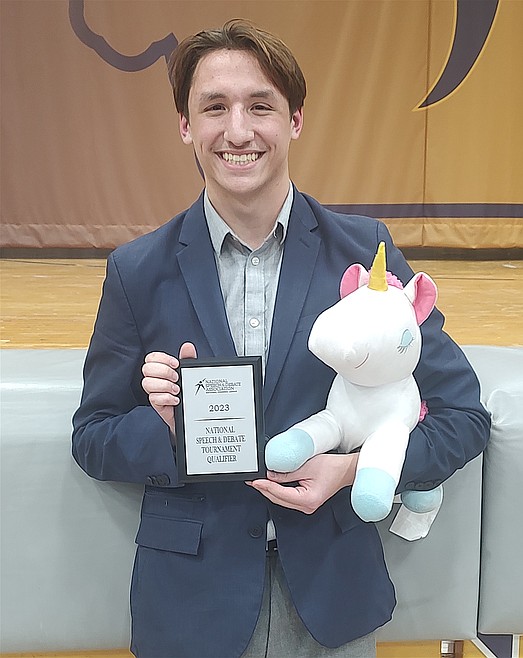 Polson Speech and Debate's Kai McDonald (shown here with team mascot Butterfingers) won first at the National Speech and Debate Association District Qualifier in Missoula, making him the first-ever student from the Polson School District to qualify for the national competition.
Previous
Next
Polson Speech and Debate coach Melesa Butler was in the tabulation room at Sentinel High in Missoula when she heard the news.
"I just broke down crying," she said.
The tears weren't precipitated by sorrow. Instead, they were the happy kind, flowing because Kai McDonald had just claimed first place in Humorous Interpretation, earning Polson High its first-ever berth in the National Speech and Debate finals.

The journey began last spring, when Butler's husband, assistant coach Brett Butler, applied for a Pay It Forward Grant from the National Speech and Debate Association (NSDA). The grant covered the cost of Polson High's membership in the organization, individual fees for the team's members, and a resource packet.
Membership matters, because without it – and despite the team's strong showing at the Class A State Tourney in late January – students wouldn't have been allowed to compete in the NSDA's Montana West District Qualifier, held Feb. 10-11 in Missoula.
At that tournament, five Polson High students competed in four events, with McDonald taking first place with his piece titled "Movie Mania" – the same routine that earned him first at the state contest in Sidney, and one the Polson High junior has performed more than 30 times this season.

The piece depicts a clingy movie clerk who greets customers in a video rental shop with impressions from classic movies, including "Terminator" and "Gone With the Wind." At one point he writhes on the floor, mimicking an alligator attack, and at another, leaps into the air and clicks his heels.
"I use as much of the room as I can," McDonald said. "It's definitely crazy and its main purpose is to make people laugh."
He succeeded, winning over and over this season. The dramatic inflection McDonald brings to his performances probably stems from the training he's received acting in four Port Polson Players' productions, including three in a lead role.
"I'm comfortable in front of an audience and I'd developed a better sense of interpreting a script," McDonald said of how his theater experience amplified his performance.
Hope Morrison, who placed seventh in Extemporaneous Speaking at the state tourney, wasn't able to compete at the district qualifier because it coincided with the state swim meet. She will, however, get a second chance with an online "last chance" qualifier in April.
In addition to McDonald, the team gets to take two additional team members, although they won't be official competitors, to the national finals this June in Phoenix, Ariz.
The intrepid team has come a long way. To qualify for the state tourney, competitors had to place in the top 12 at Divisionals, held in Columbia Falls. All six team members qualified for state in every event they competed in and did well enough in Sidney to compete at the national qualifier in Missoula. In addition to Morrison and McDonald, those team members include: Wica-ta-wi Brown, Dramatic Interpretation; Bethany Butler, Informative Speaking; and Chloe Anderson and AutumnMist Skillcorn, Duo Interpretation.
Butler, who competed in Speech and Debate as a middle schooler in Texas, brought a passion for the pursuit to Polson, where she teaches middle school special ed. She judged Speech and Debate initially, and when a position opened up for assistant coach four years ago, she applied. Two years ago, she took the helm of a diminished program, forced online by COVID.
The school hadn't been a member of the NSDA since the 1990s, she says, although she notes "we used to have 30 to 40 bringing home state trophies." By 2016, participation had dwindled to 15 and this year, to six.
Still, Kai's dad, Rob McDonald, speculates that the speech-and-debate bug runs in the family. Kai's brother, Joseph McDonald, and teammate Davis Smith were state champs in 2020 for Public Forum debate. Because the school wasn't a member of NSDA then, the pair couldn't compete in the national qualifier.
Butler hopes the success of this year's small but mighty team will help attract more students to the program.
"I'd love to see it build back up," she said. "It offers so many opportunities for the kids – it's great for resumes, and kids get the skills they need to write applications. Plus, for public speaking, the nervousness goes away."
Another benefit is the friendships students form with their compatriots across the state. According to Butler, the Ronan and Polson teams became especially close, often traveling to games together. In fact, Ronan student Jaslyn Frost, who placed second at state in Humorous Interpretation, helped Kai work on his piece, and members of that team will also travel with Polson to Phoenix.
Cooperation seems to trump competition, with students often emerging from a match offering each other tips on how to improve. "It's about making friends, getting lasting relationships," said Butler. "The coaches do same thing – 'what can we do to help you? What do you need?'"
Preparations are already underway for the trip to Phoenix. The team has rented a house and will travel south in an RV. Butler anticipates students will engage in fundraising efforts between now and then, both for the trip and to make sure that next year Polson is again on the NSDA roster.
"We're looking at Nationals as an experience – let's see what we can learn," she said.
McDonald heads to Phoenix with a similar attitude. "We've never gone before so I have no idea what's going to happen," he said. "I can prepare my piece the best I can and just have fun."
His experience at the National Qualifier in Missoula, where he competed with students from much larger schools, helped him prepare to face kids from across the U.S. "I'm nervous but I'm looking forward to it."
"It's an opportunity that I never thought I'd have. I used to be the kid that never said much," he added. "Now I'm going to perform in front of a large crowd."
For his coach, the rewards revolve around seeing kids grow and exceed expectations.
"I don't like seeing a cap put on success," Butler said. "I just think we should support them. If they want to put the work in and go for it, we should be there to help them."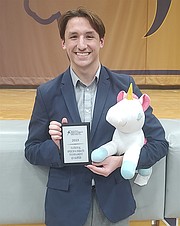 Recent Headlines
---