Community meeting explores dangers of fentanyl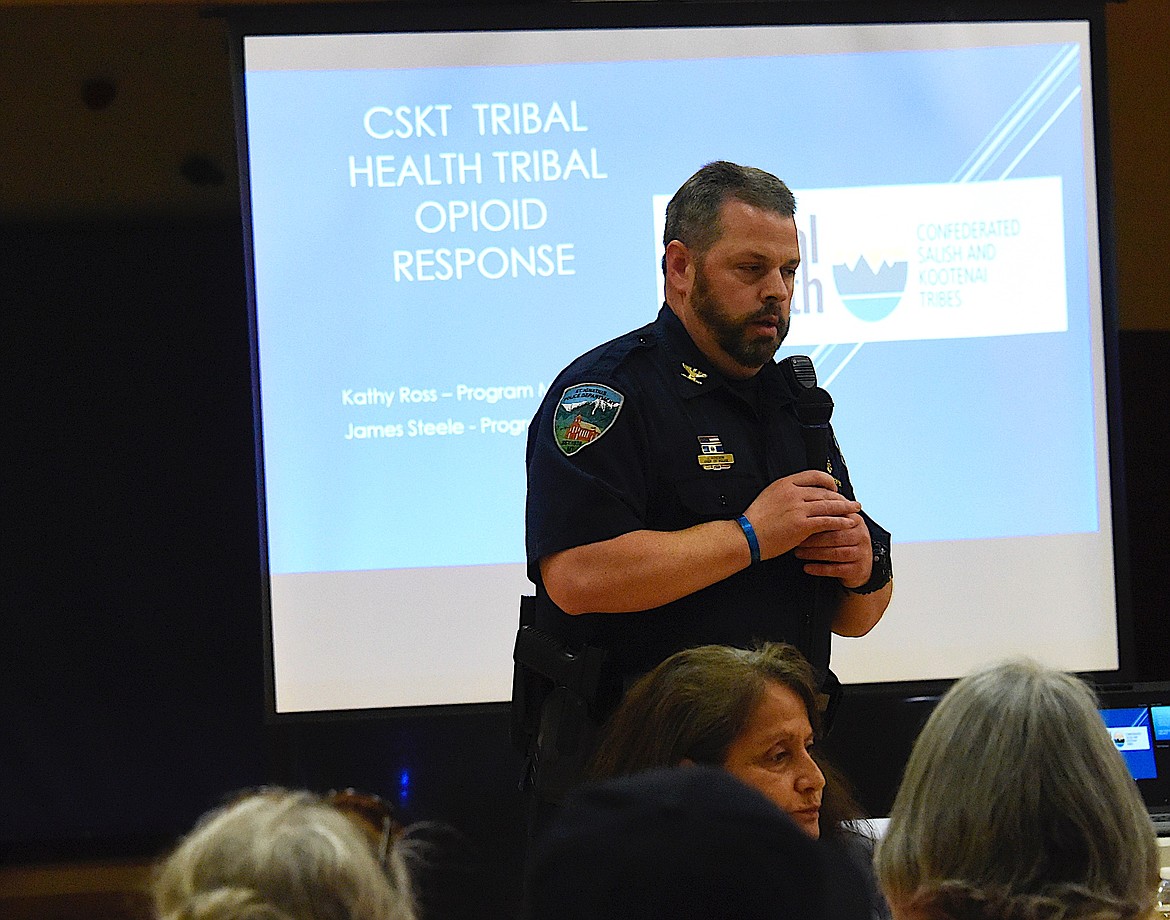 St. Ignatius Police Chief Jason Acheson warns community members to use surveillance cameras if they have them and to lock vehicles and store bikes inside. (Berl Tiskus/Leader)
by
BERL TISKUS
Reporter
|
May 25, 2023 12:00 AM
Fentanyl has hit the Mission Valley hard, and fentanyl overdoses are becoming more commonplace, according to officials who spoke at a community meeting in St. Ignatius last Wednesday.

The gathering, organized as part of the Tribal Opioid Response Project, was held May 19 at the St. Ignatius Community Center. About 45 people were on hand to learn more about fentanyl and how to administer Narcan – the drug that can counteract overdoses.
Indian tacos with all the fixings started the meeting off, and then St. Ignatius Police Chief Jason Acheson presented a chilling fact: fentanyl is 100 times more potent than morphine and 50 times more potent than heroin. Acheson also cautioned people to put their bikes away, lock up valuables, and use security cameras to keep homes safe. He said people are stealing items to sell and use the cash to buy drugs.
Fentanyl was developed in 1959 and was introduced in 1960 when it was used as an intravenous anesthetic, according to a Department of Justice fact sheet. Northwest Drug Task Force investigators for the Tribes said they first saw fentanyl showing up on the Flathead Reservation in 2021.
Investigators showed slides of the massive amounts of drugs they've confiscated in arrests on the reservation, including counterfeit pills and multi-colored fentanyl pills.
A young girl in the crowd asked, "How can you tell if it's candy?'
Investigator Vern Fisher replied that a person shouldn't eat anything unless he or she knew the person who gave it to them. And even then, he urged audience members to be cautious.
Fentanyl is an opioid, and opioids are pain relievers, said Kathy Ross, director of the Tribal Opioid Response Project. They have legitimate uses, such as preventing pain after surgery, "but a lethal dose of fentanyl is two milligrams, about the size of a few grains of salt."
She also said a person's tolerance for opioids increases as they take more, adding that the only safe medications come from a licensed pharmacist or a medical doctor.
Patricia McClure Buffalo, manager of the Tribal Health Addiction Treatment Program, advised those seeking treatment for addiction to make sure their patient registration is up-to-date so they're eligible for services.
A common complaint, McClure Buffalo said, is that a person calls her office and no one calls back. She said if people don't get help, they need to "walk in our front door and tell everybody."
Currently, she added, Montana has six inpatient treatment centers that offer stays of 21 to 30 days, and they don't all accept Medicaid. Many people struggling with addiction say that time period is not long enough, she added, so "now we can go outside Montana for 90 to 100 days."

Amber Landowski of CSKT Tribal Public Health shared some of the ways to tell if a person has overdosed on fentanyl. The person may make gargling sounds, stop breathing, or have pinpoint-sized pupils and cold, clammy skin.

Using a mannequin and a model, Landowski taught people how to administer Narcan (naloxone) – an easy-to-administer nasal spray that works in three to five minutes to reverse the effects of a fentanyl overdose. Narcan doses were given to people who attended the meeting. To register for a free Narcan training, call 406-745-3525 ext. 6161.
Ross plans to offer community meetings once a month around the reservation; for information follow Tribal Health on Facebook.
Other resources include www.getsmartaboutdrugs.com and DEA.gov/OnePill.
Recent Headlines
---