LaFrombois signs with Providence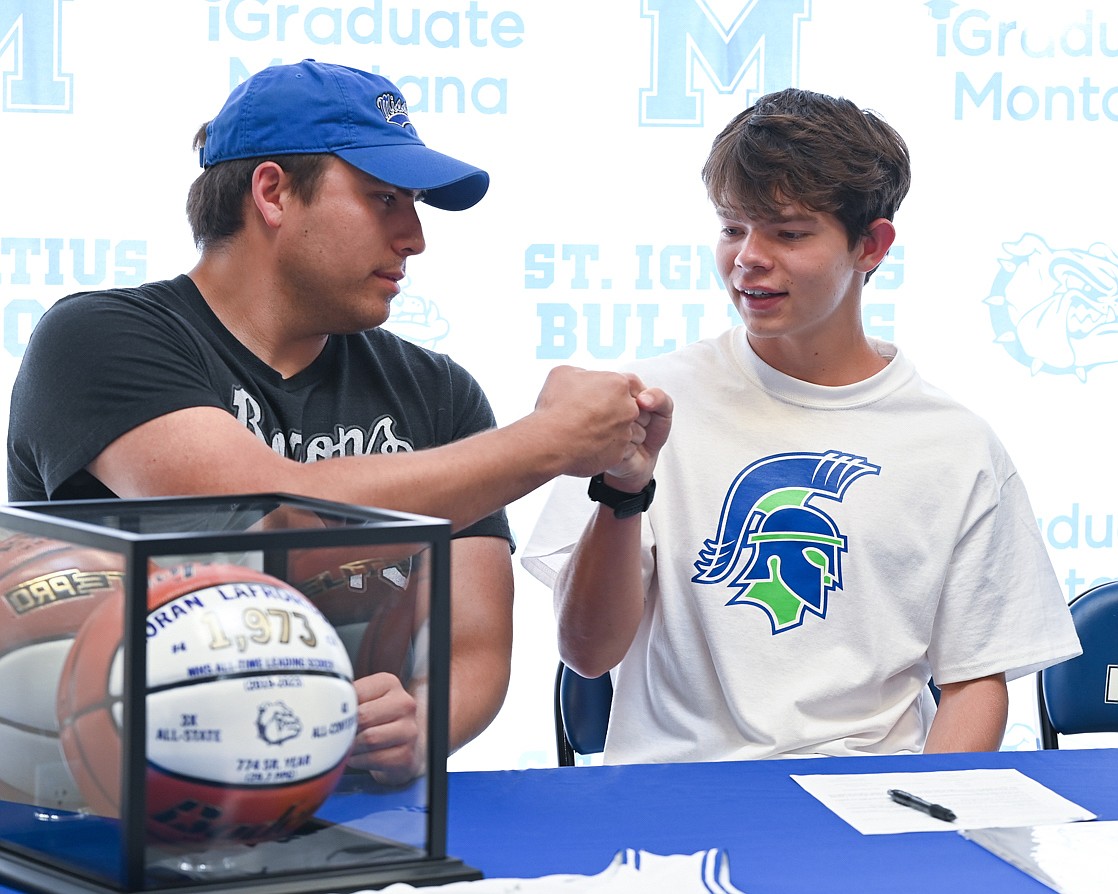 Zoran LaFrombois celebrates signing to Providence with his Bulldog basketball coach Stuart Grant. The stand-out athlete will also participate in cross-country and track.
by
Brandon Hansen / For The Leader
|
May 25, 2023 12:00 AM
Mission multi-sport athlete Zoran LaFrombois signed with Providence University in Great Falls recently, where he will have the opportunity to pursue both basketball and cross country/track, fulfilling his passion for both sports.
LaFrombois said coming from a small school made it hard to be noticed, but he was able to make the step forward.
"I feel like there wasn't a lot of recruiting (due to) being undersized and at a small school with little success," LaFrombois said. "It was hard to get coaches' attention, especially for basketball. Cross country was a little easier to get coaches' attention because the times speak for themselves."
Ultimately, LaFrombois chose Providence University because it offered him the chance to pursue both sports without sacrificing one for the other. This was a crucial factor in his decision-making process.
Additionally, his older sister's experience playing softball for the Argos made the choice even more appealing. Sharing the college experience with his sister and easing the burden on his parents by having both siblings in the same place was an added bonus.
"Both coaches were open to how I split my time with both sports," LaFrombois said. "I think time will tell, and it's up to me to earn my time and role on the teams."
LaFrombois was a three-time all-state basketball player for the Bulldogs and a four-time all-league player. He scored a career-high 47 points against Polson, and his senior year saw him overtake the previous Mission scoring record. In cross country, he has placed in the top ten twice at state and placed 15th at state in track and field for the 3,200-meter run.
LaFrombois anticipates new experiences at Providence, particularly because it will be a significant change from his hometown of Saint Ignatius.
"I live in one of the prettiest places in Montana with the Mission Mountains in my back yard, but Great Falls does have more to do there," LaFrombois said. "I look forward to competing for the Argos in front of the Great Falls community."
Reflecting on his journey, LaFrombois shares his awe at the realization that he will compete at the college level. Playing college basketball has been his primary goal since his early years in third and fourth grade.
As a smaller athlete, he faced discouragement from those who doubted his abilities. However, LaFrombois embraced these challenges and used them as motivation to work harder, proving the naysayers wrong while affirming his belief in himself.
"I think that discouragement was a good thing in the end because it just made that chip on my shoulder even bigger and made me more dedicated to prove people wrong," LaFrombois said. "It also had me prove to myself and show little kids all around the state that no matter how big you are or the school you come from, if you're willing to put in the work you can do what you set out to do."
LaFrombois expresses his gratitude to his teammates and coaches, recognizing their role in his development as an athlete. He also extends heartfelt thanks to his siblings and parents for their unwavering support throughout his journey.
Recent Headlines
---