Memorial Day parades on tap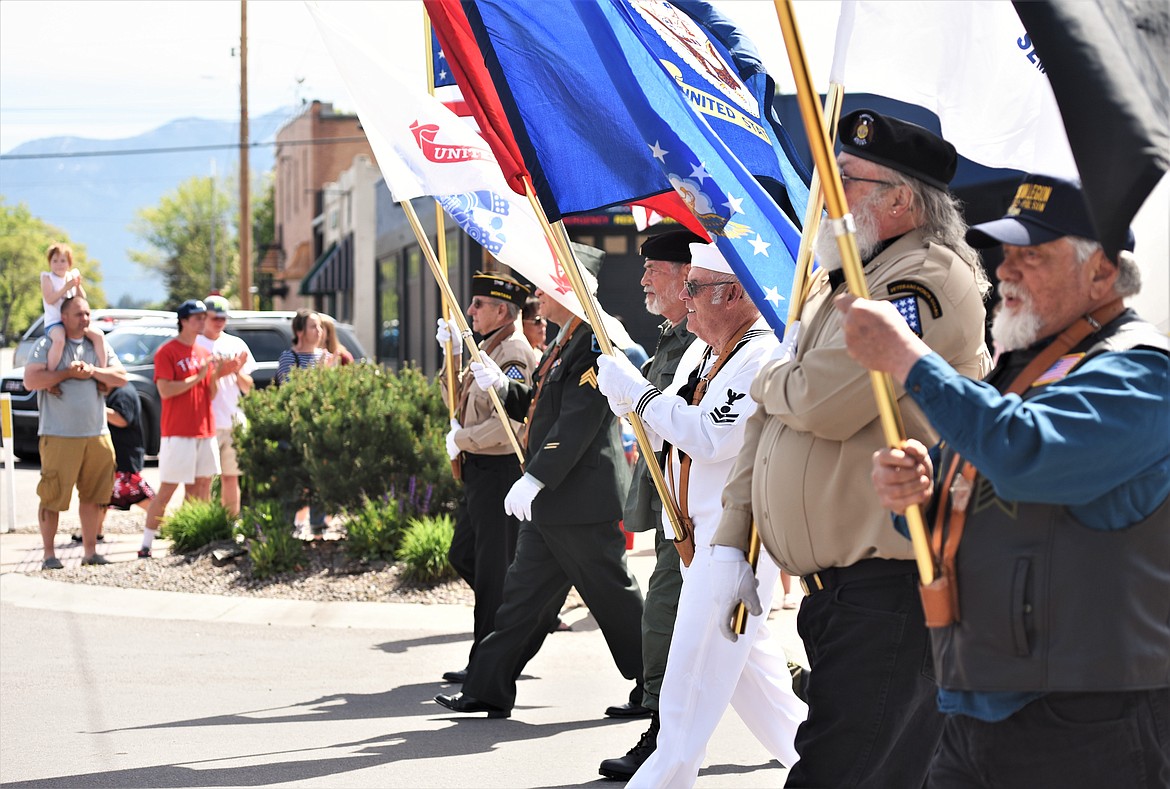 A Memorial Day parade marches down Main Street and to the Lake County Courthouse. (Scot Heisel/Lake County Leader file photo)
by
KRISTI NIEMEYER
Editor
|
May 25, 2023 12:00 AM
The Mission Valley Honor Guard will lead Memorial Day processions in Ronan and Polson on Monday, with each parade ending at community cemeteries for recitation of the names of fallen soldiers.
In Ronan, the parade assembles at 8:30 at the VFW on Round Butte Road and heads down Main Street at 9 a.m. Veterans and community members reassemble at Mountain View Cemetery on N. Foothills Drive to read the Congressional Medal of Honor citation, posthumously given to Laverne Parrish of Ronan, in honor of his heroic actions in the Philippines during World War II.
At 11:30 a.m., the Honor Guard convenes in Polson for a noon parade, followed by a visit to Lakeview Cemetery to recite the names of fallen warriors.
Glen Sharbono, a former U.S. Army Corporal who served as commander of the Bill Warren Post in Ronan and was a former commander of the American Legion of Montana, coordinates this year's events.
He notes that veterans participating in this year's ceremonies go back to the Korean and Vietnam Wars, while others served in Afghanistan and Iraq. Some, he adds, are in their 80s and 90s, and most won't be walking this year's parade routes.
"We try to get the younger generations to come out," he said. "That's getting harder to do."
Parrish – recipient of the nation's highest military honor – was born July 16, 1918, and died Jan. 24, 1945. According to his Medal of Honor citation:
"He was a medical aid man with Company C during the fighting in Binalonan, Luzon, Philippine Islands. On the 18th, he observed two wounded men under enemy fire and immediately went to their rescue. After moving one to cover, he crossed 25 yards of open ground to administer aid to the second.
"In the early hours of the 24th, his company, crossing an open field near San Manuel, encountered intense enemy fire and was ordered to withdraw to the cover of a ditch. While treating the casualties, Technician Parrish observed two wounded still in the field. Without hesitation he left the ditch, crawled forward under enemy fire, and in two successive trips brought both men to safety.
"He next administered aid to 12 casualties in the same field, crossing and re-crossing the open area raked by hostile fire. Making successive trips, he then brought three wounded in to cover. After treating nearly all of the 37 casualties suffered by his company, he was mortally wounded by mortar fire, and shortly after was killed.
"The indomitable spirit, intrepidity, and gallantry of Technician Parrish saved many lives at the cost of his own."
He's buried at the Ronan cemetery.
Recent Headlines
---