Mila Hawk signs with Fighting Saints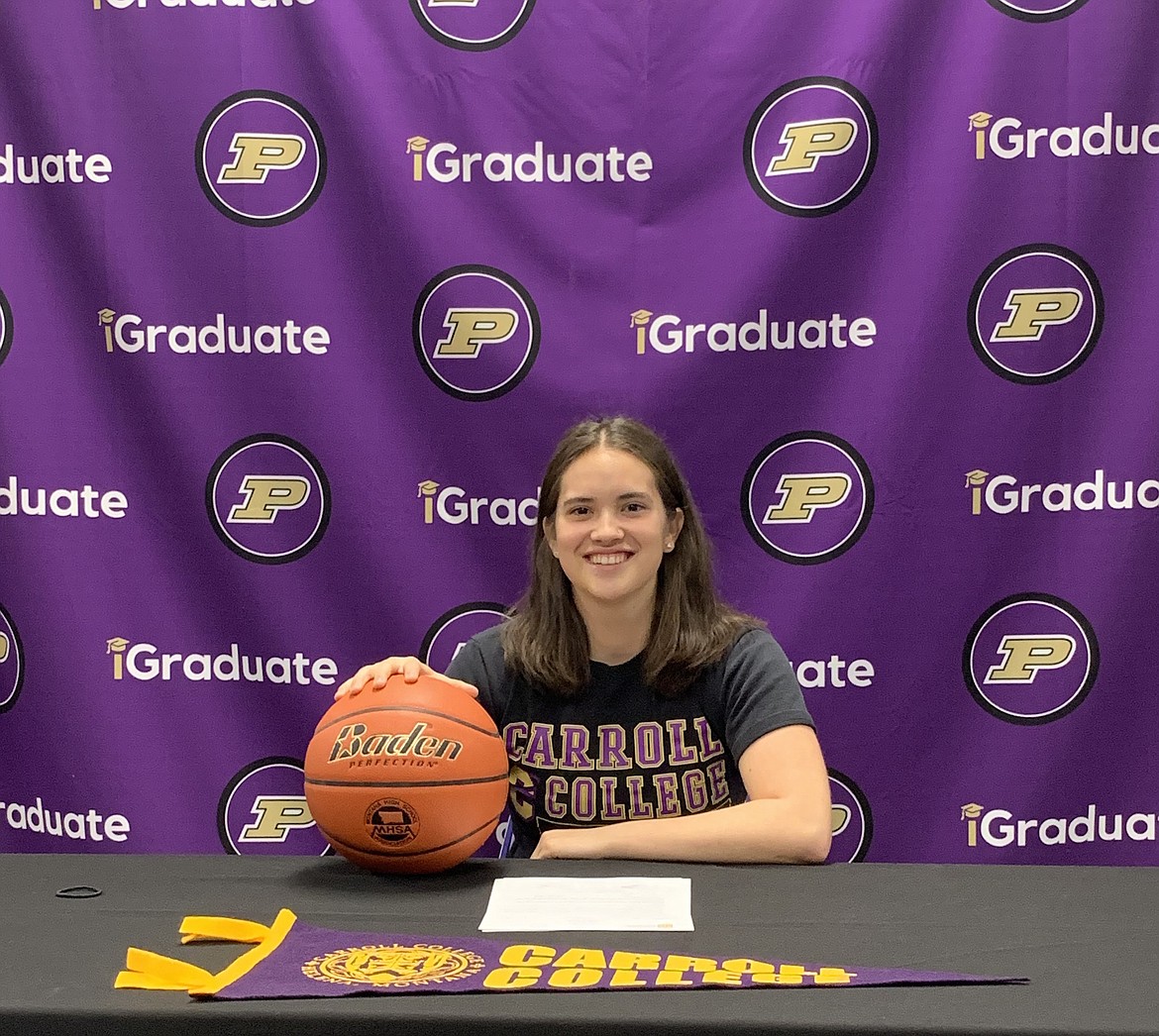 Polson High senior Mila Hawk will join the JV basketball squad at Carroll College this fall.
by
Brandon Hansen / For The Leader
|
May 25, 2023 12:00 AM
Polson High School's standout basketball player, Mila Hawk, recently signed to play basketball at Carroll College, bringing her skills to the Fighting Saints' program.
Hawk's journey to Carroll College began during her junior year when she started using an online recruitment program for schools. Although she initially committed to Rocky Mountain College, she ultimately decided to de-commit due to the distance from home.
The coaches at Carroll College caught Hawk's attention, and she established a connection with Coach Sayers. Hawk attended one of the college's basketball camps last summer, solidifying her interest in the program. Additionally, having a sister, Bella, who plays volleyball for Carroll, added to Hawk's familiarity and connection to the college.
"It's definitely nice and having Bella there is a big factor to go there," Hawk said. "It's also closer to home and we have family friends up in Helena."
Last year, Hawk took the initiative to contact the Carroll College coaching staff. During a visit to see her sister, she spoke with the coach after a game. Hawk expressed her interest in working out with the team, and the coach took notice. Since then, Hawk and the coaching staff have been in regular communication, discussing her future role on the team. Hawk is excited to start her college basketball journey on the JV team, with the goal of working her way up.
Hawk's decision to join Carroll College provides her with relief and excitement after a period of uncertainty during the signing process. Being a late signee, she acknowledges the stress surrounding the decision.
"I was late in the game in signing, so I am very excited and grateful to keep playing for another four years," Hawk said.
Carroll College's basketball program is highly competitive, and Hawk is thrilled to be a part of it. The team has had several successful seasons, making multiple appearances in the national tournament. The Frontier Conference, where Carroll competes, is known for its fierce competition and high-level play. Hawk was particularly impressed by the discipline and hard work exhibited by the team during her conversations with the coaching staff.
Hawk's basketball journey began at Charlo High School, where she spent three years before transferring to Polson for her senior year. She gained valuable experience during her sophomore year, receiving playing time off the bench alongside upperclassmen.
In her junior year, under the guidance of Head Coach Hayley Voegele, Hawk's skills, and discipline flourished. As she became more comfortable on the court, her confidence grew, and she embraced a leadership role within the team.
Hawk's decision to attend Polson High School for her senior year was motivated by a desire for a more competitive basketball environment and academic opportunities. Playing alongside talented teammates under Polson Coach Brandie Buckless, Hawk and the Lady Pirates doubled their win count from the previous season, and Hawk cherished her role as a team leader.
Hawk was first team all Northwest A League and First Team All-League in the Western 14C. She is also a two-time all-state player. Hawk scored 769 points in her career, hauled in 334 rebounds, dished out 225 assists, and nabbed 246 steals playing in the Mission Valley.
"I was pretty set from a young age that I wanted to play college basketball," Hawk said. "I just couldn't imagine not playing a sport anymore.
Hawk plans on majoring in Elementary Education with hopes of becoming an elementary PE teacher and coach.
Recent Headlines
---