Miss Minnie, Zip, and the long way home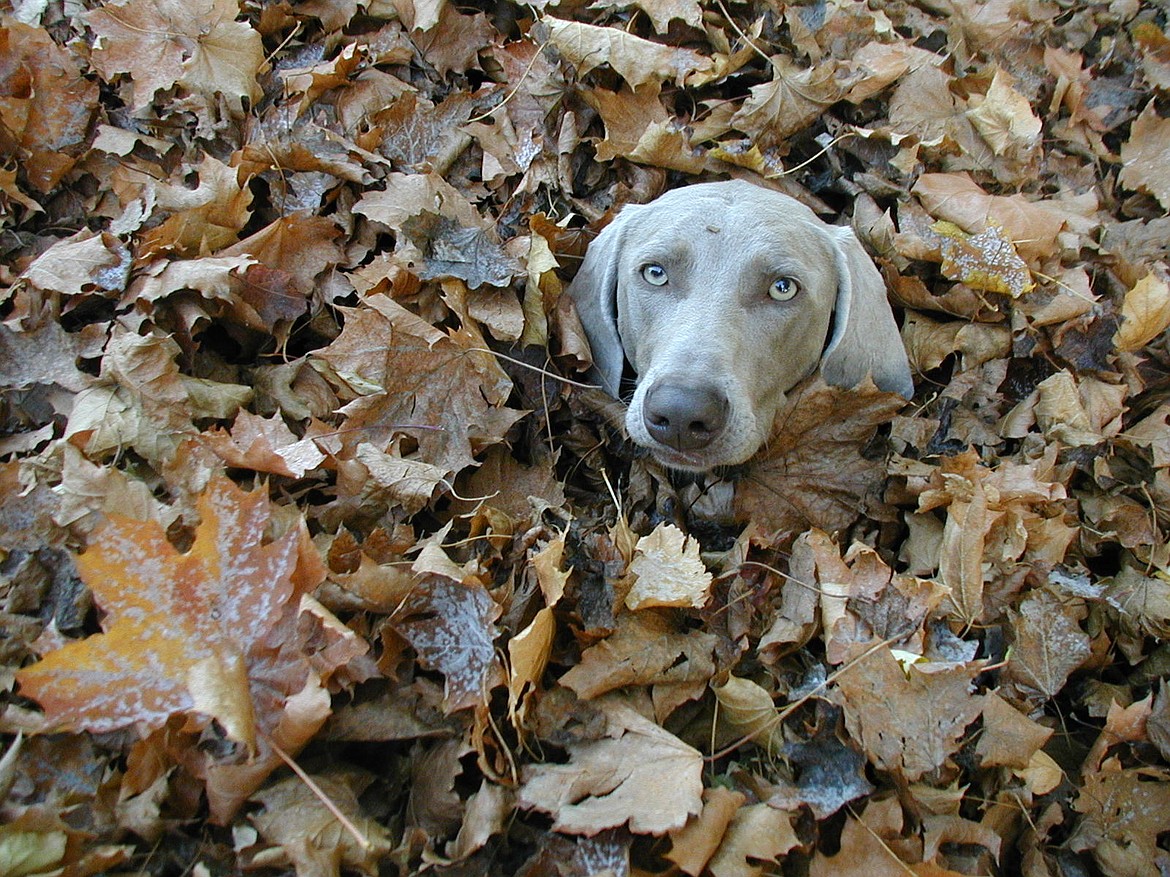 Miss Minnie, in her younger years, was an indefatigable ball-fetcher, a lake swimmer and sleek runner. She looked like a 1940s movie star, with gold eyes, one ear tossed casually back, a silver fur coat.
She arrived in spring 2008, after a friend told me someone was giving away Weimaraner puppies in the parking lot at Harvest Foods. A young couple from Arizona had arrived in Montana with Minnie's parents and a bellyful of puppies. They lost their jobs and the dog food was running out. My ex and I said, "we'll take two."
I truly didn't need another dog. I already had Zip, who found me during a reunion with high school friends in Hot Springs. Unlike Miss Minnie, he was a stranger to glamour, resembling instead a cross between a fox, a skunk and a big-eared bat.
I actually was looking for a dog in those days … but surely not this strange creature, who might not even be a dog. He claimed me nonetheless, with a level, loving look that asked, "Don't you recognize me?"
He adopted Minnie too, and raised her to sniff in all the right places, to bark bravely at friend and foe alike, and to leave the big dogs alone. The three of us roamed our neighborhood daily, their noses more precise than any newspaper at describing the who, what, when, where of our world.
Zip (whose formal name was El Zorro), slipped down a vertical slope into the wild Swan River on Memorial Day, 2022, righted himself in the raging stream and was carried away from us to places unknown. He might have been 17. We'll never know.
Miss Minnie and I were bereft. She combed the campground called (quite erroneously in this case) Point Pleasant, looking for her best friend and spent the summer in mourning. Had she been born two centuries earlier, she would have hidden her grief behind a black veil.
We recovered though, and continued to patrol our neighborhood nightly. She enjoyed tuna for breakfast at least once a week and required biscuits after walks and before bed. She swam a few times this summer off Salish Point and once in the Clark Fork, where we corralled her before she could follow Zip downstream. Although her hips were arthritic, her eyes were bright, her heart was strong.  
Until Sunday evening, when her hips betrayed her and she could no longer stand, let alone make it out the door and into the waiting arms of the world. Minnie enjoyed her last tuna breakfast Monday, and chomped through her final biscuit that afternoon, just moments before Dr. Tyler slid a needle in her silver leg and she slipped quickly away. Heading downstream, I suspect, to meet her little buddy.
Everyone who has ever loved a dog knows this: the hardest thing is saying goodbye. Among the many lessons they teach us – about unconditional love, loyalty and playfulness, how to smell, taste and listen to the earth and each other – the most profound is how to let go.
My house is so quiet this morning. I know I'll wait awhile, get used to the stillness, perhaps even appreciate the freedom from dog duties. Until someday, some pup looks my way and asks, "Don't you recognize me? I'm yours."
Recent Headlines
---