Volunteer muscle builds new Charlo weight room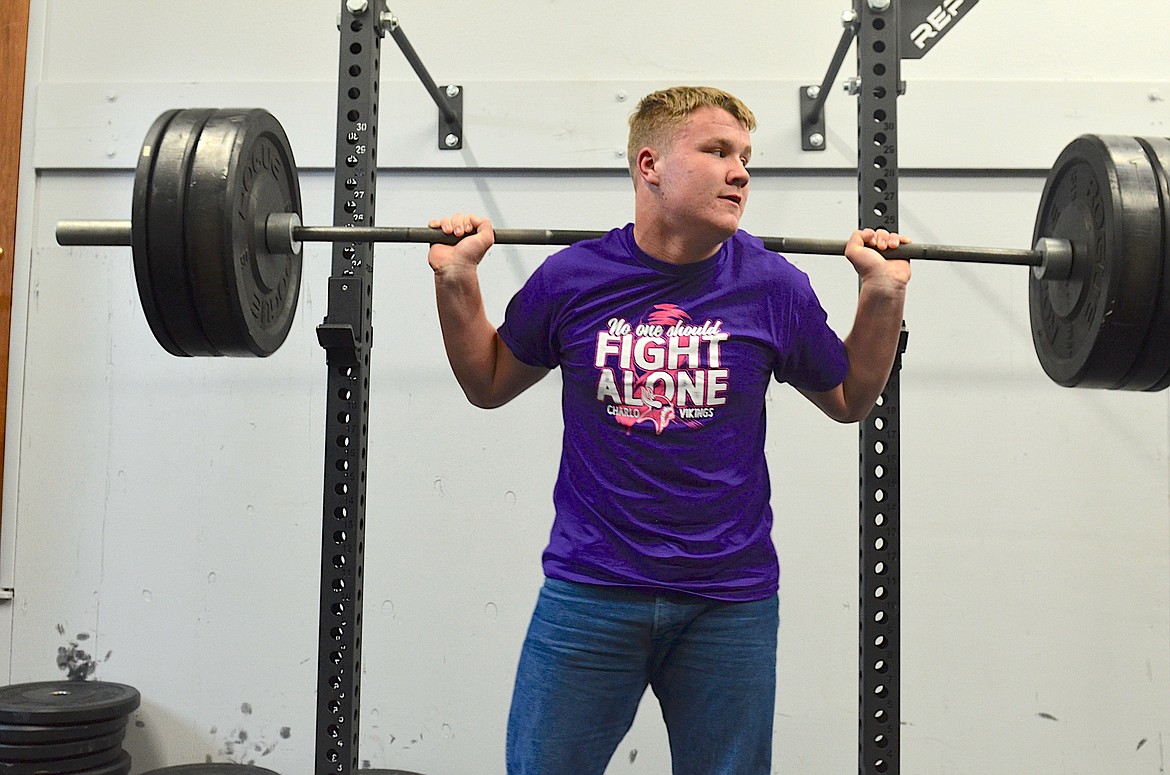 Charlo athlete Ryan Sharbono makes frequent use of the school's new weight room, built this summer with donations and volunteer help. (Kristi Niemeyer/Leader)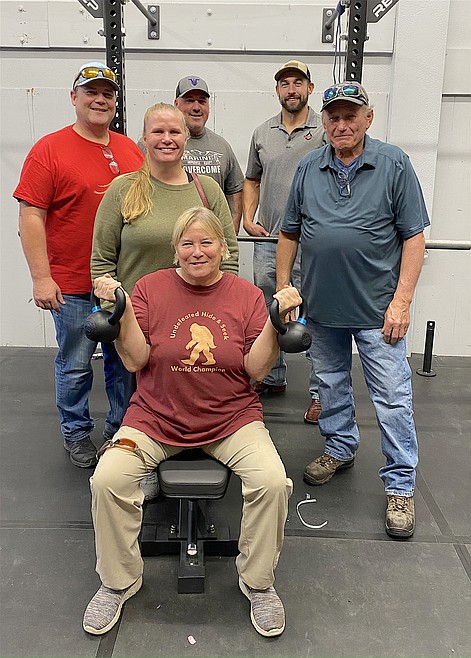 Susie Thoft pumps iron in Charlo School's new weight room, while Gregg Plimmer, Stacey Thoft-Plimmer, Jake Sharbono, Brandon Rollins, and Bob Thoft look on. Also instrumental in getting the project completed were Blaine Cox, Josh Volinkaty, Jared Doty, Stan Atchley and Reese Cox. (Photo provided)
Previous
Next
Thanks to a crew of volunteers, Charlo athletes now have a new weight room, located behind the stage in the high school gym.
Charlo graduate Brandon Rollins helped spearhead the project. According to Superintendent Steve Love, "fitness is a big thing of his, and he just came in last spring and said, 'I think we can improve things for our athletes and our students by going this route.'"
The route he proposed was moving the weight room from its cramped quarters above the new gym into the space behind the stage, which had become a "catch-all" over the years.
"We'd clean it off for graduation and then it would end up piling back up again," Love said. "So this is a way better use of this area."
Rollins pitched in some money of his own and some that remained in a fund established when his sister, Kelsey, died of cancer in 2006 at age 20. She was also an ardent athlete; and their mom, Kay, was a cafeteria cook at Charlo for nearly three decades.
The Brett Thoft Memorial Fund also contributed to the effort. Established in 2014, the fund memorializes pilot Brett Thoft, who was killed in a plane crash west of Ronan, by supporting worthy causes in the Mission Valley.  
In addition to Rollins, Susie and Bob Thoft (Brett's parents), and Stacey Thoft-Plimmer and Gregg Plimmer (Brett's sister and brother-in-law), the volunteer brigade included Jake Sharbono, Blaine Cox, Josh Volinkaty, Jared Doty, Stan Atchley, and Reese Cox.
"A lot of those community members, they just got after it," Love said.
On a recent weekday, Charlo Viking Ryan Sharbono took a little breather from math class to show off the new equipment. He said the new weight systems have helped him become a stronger athlete.
"It made me think about how much Brandon cared about our performance on the field, so it made me want to put a little more work into everything this year because he was sacrificing a lot of his time," Ryan said.
Recent Headlines
---