Arlee falls in Quarterfinals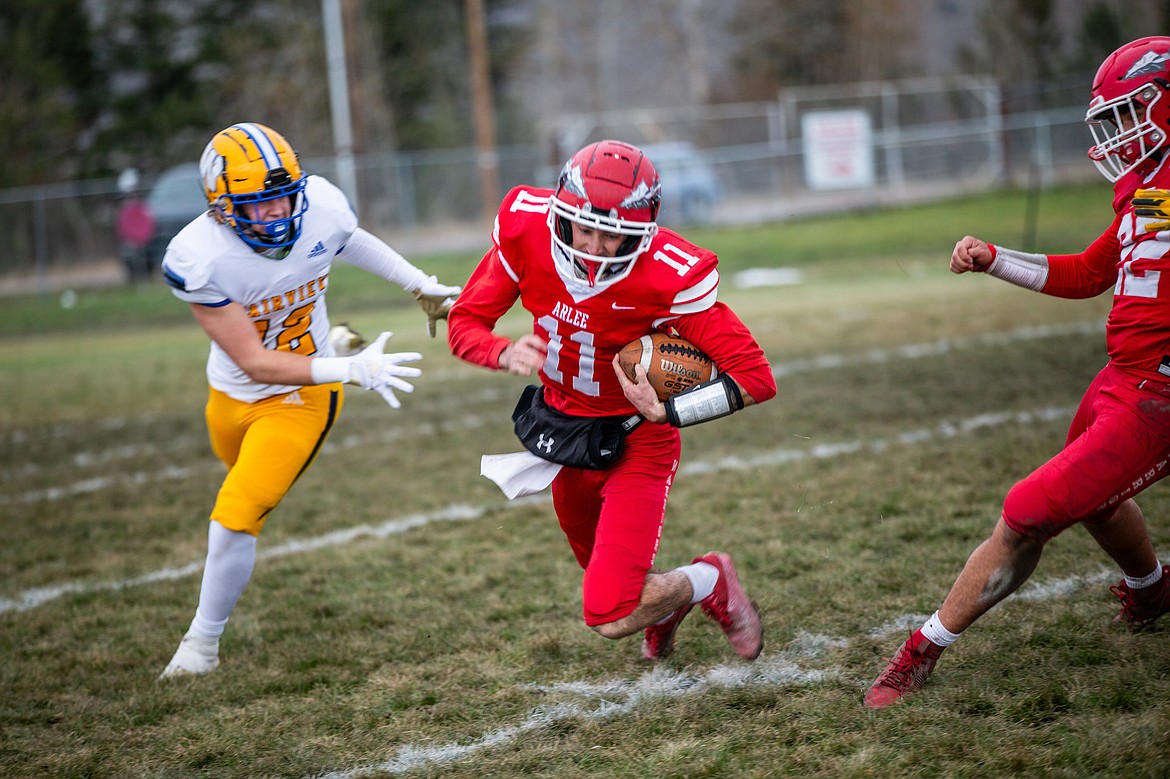 Quarterback Kendall O'Neill runs the ball during Saturday's playoff game against Fairview, which brought the Warriors' season to a close. (Jamie Sievers photo)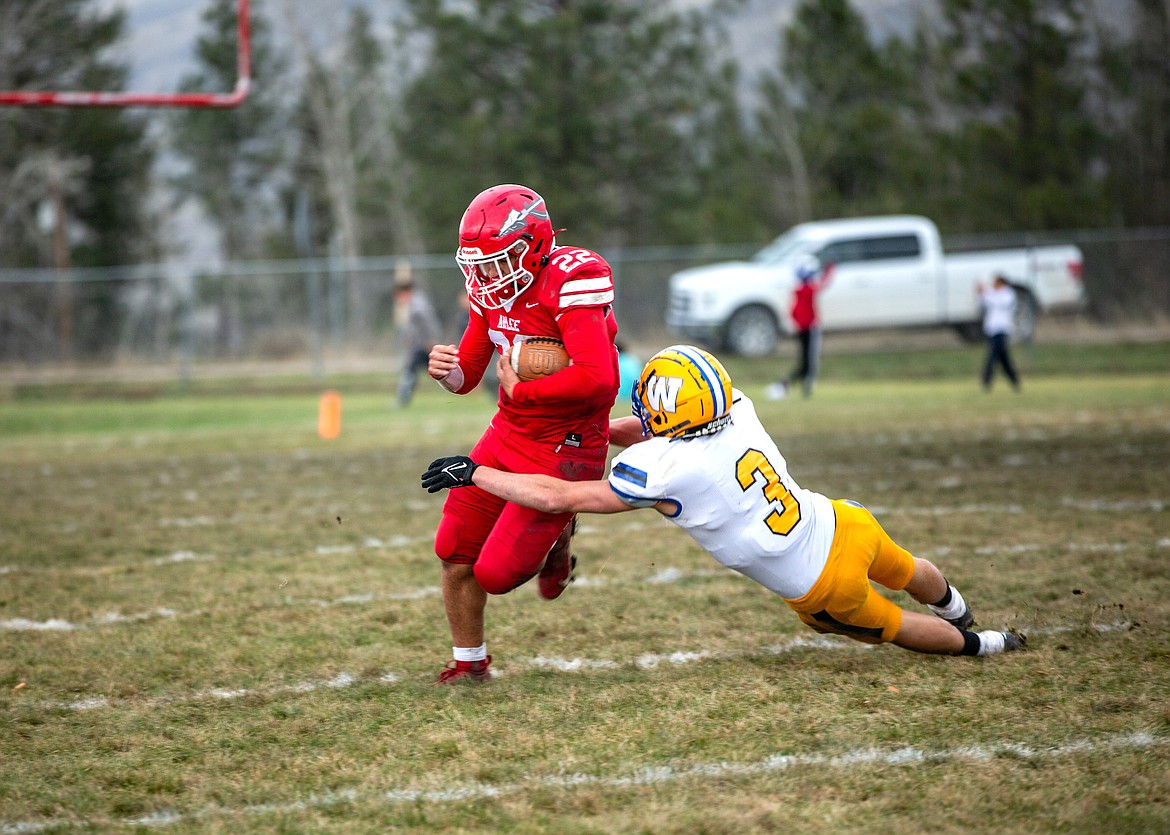 Warrior Jace Arca tries to evade Fairview tackle during recent quarterfinal playoff game in Arlee. (Jamie Sievers photo)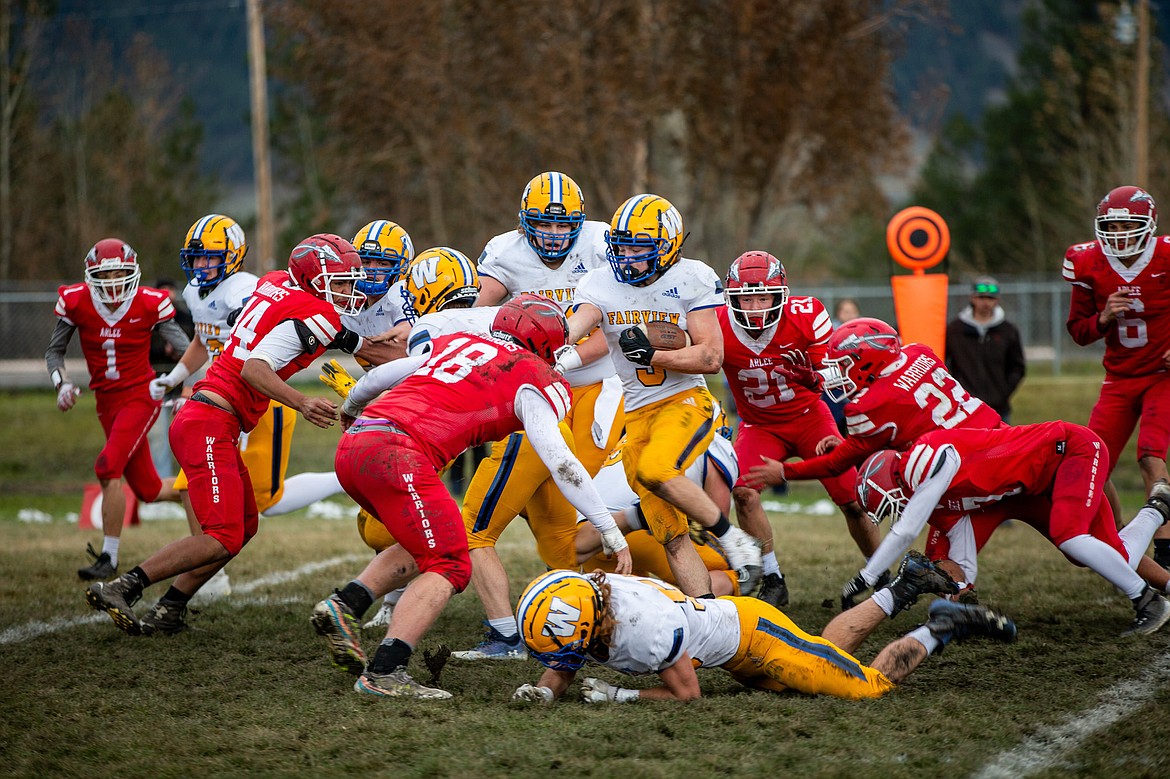 The Arlee Warriors fell to Fairview during Saturday's quarterfinal round of the State Eight-Man Football playoffs, held on their home turf. (Jamie Sievers photo)
Previous
Next
The 2023 season will go down as one of the best for the Arlee Warriors after an undefeated regular season and a playoff victory. The magical ride, however, ended last Saturday, Nov. 4, after the Warriors fell to Fairview 70-22 in the State Eight-Man Football Quarterfinals.
"This hasn't been done in Arlee since 2015, so these boys should feel good about themselves and what they have accomplished," Arlee Head Coach Quinn Huisman said.
Fairview jumped out to an early 16-0 lead with a 58-yard kickoff return and a 26-yard touchdown run. Arlee battled back as Kendall O'Neill threw a 44-yard touchdown pass to Jake Knoll, and then O'Neill connected with Matt Johnson for the two-point conversion to make the score 16-8.
"We gave up an opening drive kick return for a touchdown and never recovered," Huisman said.
Fairview then returned another kickoff for a touchdown, and threw a touchdown pass to press its advantage to 32-8 in the second quarter. Arlee found the endzone again, and Knoll punched the ball in from the one-yard line, and the Warriors trailed 32-14.
After ripping off two touchdown runs, Fairview led 46-14 at halftime. The Warriors did get a five-yard touchdown run by Jace Arca, but Fairview responded with three touchdowns to put the game out of reach.
Arlee did get the final say with a 25-yard touchdown run by Arca in the fourth quarter.
Arlee finished the season 10-1, with 442 points scored, while its defense only gave up 193 points. The Warriors will graduate six seniors, four of whom started both ways at the end of this year.
The team will bring back 10 juniors and seven sophomores next season, eight of whom were starters and conference award winners this year.
"We expect to pick up where we left off and make it to the state tournament again," Huisman said. "It was an honor to coach these young men all season and these seniors for the last four years."
At Arlee
FAIRVIEW 70, ARLEE 28
Fairview - 24 - 22 - 16 - 8 - 70
Arlee - 8 - 6 - 6 - 8 - 28
SCORING SUMMARY
F – Jaxon Vitt 58-yard kickoff return (Skogas run) 8-0
F – Wyatt McPherson 26-yard run (Skogas run) 16-0
A – Jake Knoll 44-yard pass from Kendall O'Neill (Matt Johnson pass from O'Neill) 16-8
F – Tyler Loan 55-yard kickoff return (Skogas run) 24-8
F– Deacon Gackle 11-yard pass from Loan (Skogas run) 32-8
A – Knoll 1-yard pass from O'Neill (pass failed) 32-14
F – McPherson 10-yard run (run failed) 38-14
F – Loan 10-yard run (Skogas run) 46-14
A – Jace Arca 5-yard run (pass failed) 46-20
F – Brock Schlothauer 1-yard run (Skogas run)
F – Keegan Skogas 3-yard run (McPherson run)
F – McPherson 4-yard run (McPherson run)
A – Arca 25-yard run (O'Neill run)
Recent Headlines
---