First generation college students set example for the next generation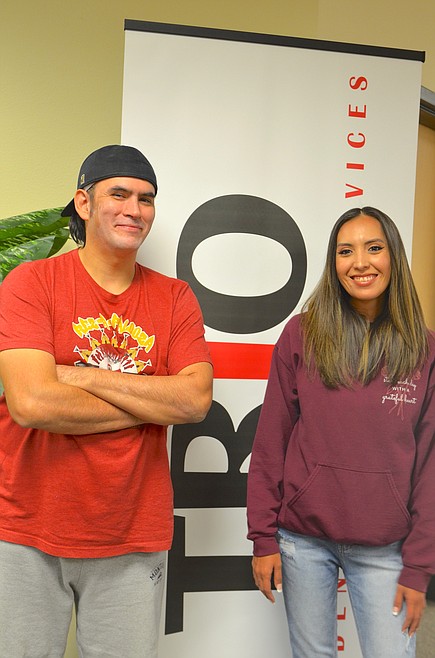 Raymond Nichols and Marie Aripa say Trio's Student Supports Services has been key to their success at Salish Kootenai College. (Kristi Niemeyer/Leader)
Last Wednesday, students and faculty gathered at the Robert Depoe Building on the campus of Salish Kootenai College in Pablo to savor pie and a sense of accomplishment.
According to Kathie Maiers, director of TRIO Student Support Services at SKC, the pie social was in honor of First Generation College Student Day, which marks the date in 1965 when President Lyndon. B. Johnson signed the Higher Education Act, aimed at lifting more people out of poverty by making education more accessible.
TRIO is the combination of Upward Bound, Talent Search and Student Support Services. On the campus of SKC, Student Support Services helps up to 230 students each year (around one-third of the college's student population) earn their associate degrees.
The program specifically targets first generation college students, those who are income challenged and students with disabilities. Last year, the program served around 200 students representing 33 tribal nations. The majority, 80%, were American Indian, 18% were white and 2% were Asian or Hispanic. 
"I'm a first-generation college student myself," said Maiers, an SKC graduate who has worked at the college for 24 years. "So I really am passionate about this program because it helped me so much."
Students who don't have college-educated parents often struggle with higher education. "They don't have anybody in their lives to really show them the ropes," Maiers said.
Marie Aripa, a graduate of Ronan High who is in the TRIO program, is an example. She attended Eastern Washington University after high school and quit after one semester.
"I had to come home because it was hard for me – I had no idea what I was doing."
Aripa grew up in the foster-care system, and says she had no one to help her prepare for life after high school. And when she looked for help at EWU, advisors seldom had time for her.
Now, at 30, she's closing in on her associate's degree, and plans to complete her bachelor's in business management, hopefully by the end of 2024, and then pursue a master's.
"I really want financial security one day, and I think that going to school will eventually lead to that for me," she said.
The Student Support Services staff has played a large role in her success. Sunshine Gauthier, a student success coach, keeps a close eye on TRIO enrollees and helps them with everything from time management, tutoring and study skills, to "informal counseling," that might include a quiet conversation in her office about how to address the obstacles they face.
According to Aripa's partner, Raymond Nichols, that sometimes includes finding solutions to child care. "At times where we don't know where to go because we have our kids, Sunshine says bring the kids here and they can study and we have a place for them," he says. "That helps a lot."
Nichols, 39, is a graduate of Two Eagle River School. The couple lives in Elmo, where internet access is limited, and are raising several kids – his, hers and theirs. They have arranged their schedules so that while their youngsters, who range in age from 7 to 17, are at school in Polson, Nichols and Aripa can attend classes in Pablo.
"I went when I was younger and I wasn't ready," says Nichols, who is closing in on his associate's degree, also in business management. "Now, I'm ready."
For Aripa, the personal connection has made a big difference. Unlike her experience at EWU, "Here, I can think of like five people off the top of my head that I could go to if I need help or if there's something I'm not sure about or if I even if I just need a place to study," she says. "I always know who to go to – it's way different."
And that's the mission of SSS – to help students find a path through college – especially those who don't have family mentors or role models. Maiers says that 60% the student population at SKC are first-generation college students, and of those, half of the first- and second-year students are enrolled in TRIO's Student Support Services.
Statistics show that the program makes a difference in outcomes. SSS students have a higher average GPA, higher retention rate and are more likely to complete their courses.
According to Aripa, even beyond SSS, the college culture bends toward seeing students succeed. "If there's something that you're stuck on or you need help with they will go to the ends of earth to figure out how to help you even if it's just pointing you in the right direction," she says.
After she left Eastern Washington University and returned to the Flathead Reservation, Aripa said she had to master some basic life skills, like how to get an apartment or open a bank account. "I had to learn all of that from scratch, and it's taken time."
But now, and armed with the skills she's learned at SKC, she's feeling confident that she can meet her education goals, even if that means returning to a larger school. "I think that by the time I complete my bachelor's and move on to a master's, I'll be ready," she said.
Both of them hope to set an example for their children.
"I feel like I'm doing it for my kids and I really want my kids to see my success," says Nichols. "I just want the future for them to be laid out so they can do even better than what I've done."
Marie feels that she was on the verge of becoming a statistic – less than 3% of people who age out of foster care earn a college degree, and many are plagued by poverty and homelessness.
"I was really close into falling into all that stuff but I came up and out of it," she says. "And I just want to keep my kids away from that, which is why I'm doing all this. It's definitely because of them."
Recent Headlines
---