Glacier View School entertains veterans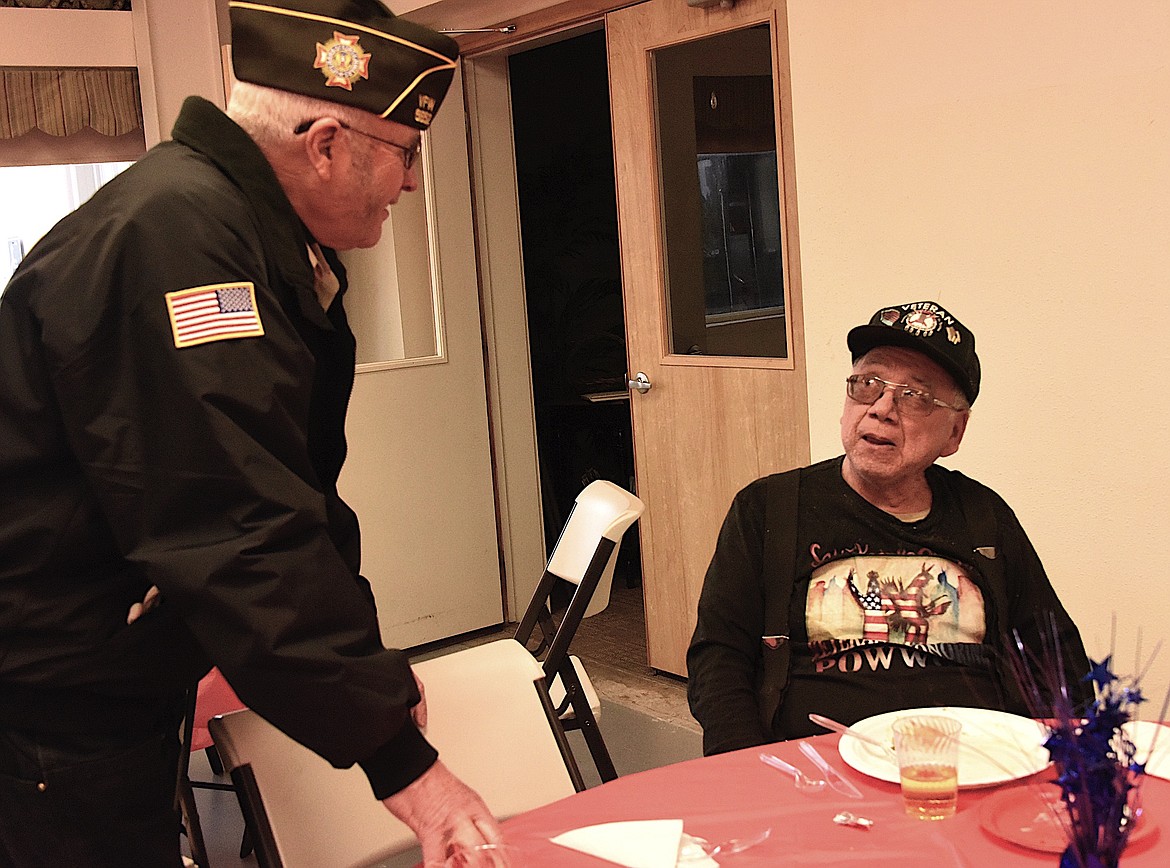 US Veterans Rich Janssen, left, and Gene Felsman visit at the Glacier View School program and dinner on Nov. 10. (Berl Tiskus/Leader)
About 20 Armed Forces veterans and their guests, plus parents and grandparents of students, filled Glacier View School's gym near Ronan Friday. 
The small school with 12 students hosts an annual veteran's program. Six home-schoolers who attend the Glacier View Adventist Church joined the fun.
The presentation started off with kids singing "Yankee Doodle," followed by a reading from the Declaration of Independence. The children wore costumes that enhanced their performances, such as nurses' caps and uniform skirts for World War I and II, a Civil War housewife's dress, frock coats. pioneer outfits and partial uniforms.
Twins Ali and Ella Cooksley were World War I and II nurses, outfitted with nurse caps, shirtwaists, and long skirts. 
"During the program, we read different things," Ella explained.
The children sang the first verse of America's national anthem and invited the crowd to join them on the second verse. The selection of songs also included the "Battle Hymn of the Republic," "Over There," and "The White Cliffs of Dover," interspersed with readings from Lincoln's Gettysburg Address, the Korean and WWII Declarations of War, and some poems, including "A Prayer for Veterans."
Following the program was a turkey dinner with all the trimmings prepared for the veterans, guests and students. 
Navy and Army Reserves veteran Richard Janssen called the program "one of the most patriotic deals I've been to. You could tell the people that are here are patriots; they aren't phony." 
"They do an amazing job for such a small school," said Sue Henderson. 
"We love doing this on a regular basis," said Head Teacher Harley Peterson. "The veterans are a really great group of guys." 
The most pressing question was "apple or pumpkin pie?" as guests settled in for food, company, and a celebration of veterans.
Recent Headlines
---