Lights Under the Big Sky postponed during water/sewer overhaul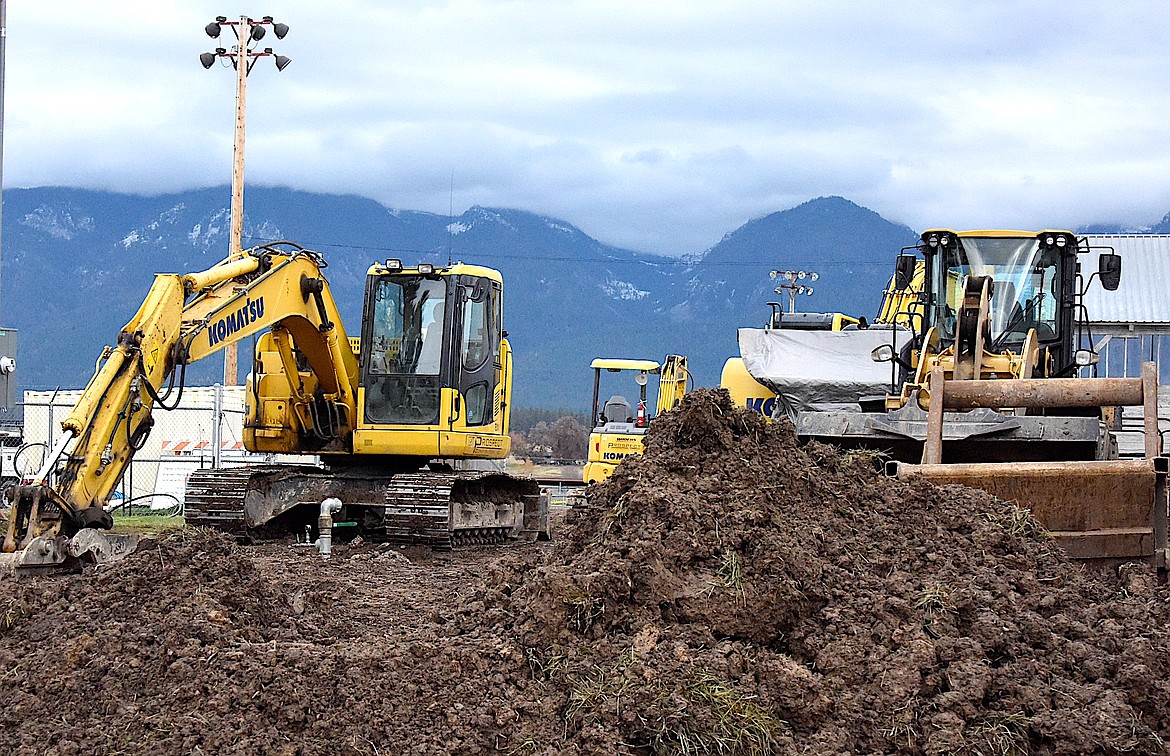 Mounds of mud and large excavating machines are part of the construction project at the Ronan Fairgrounds.(Berl Tiskus/Leader)
Due to a major water and sewer project underway on the Ronan Fairgrounds, the Lights Under the Big Sky board decided to postpone the annual light-studded event until 2024.  
Meanwhile, construction on the new project "is going great guns," said Project and Grounds Manager Sjaan Vincent.
Funds for the $806,500 project construction project came from the state of Montana's portion of American Rescue Plan Act and Lake County's ARPA dollars, as well as from the Department of Natural Resources and Conservation's Minimum Allocation Fund.  
Construction has reached the back of the beef barn, and workers have done their first pressure test. 
Prospect Construction was hired for the work. WGM Engineering did the planning, and the firm's engineers are on site every day construction is taking place. 
Vincent noted that a major improvement will be meter pits – manholes or vaults that protect the water meters from the elements. 
"We will be able to operate the fairgrounds off one big meter pit instead of six," Vincent said. "There will be a significant increase in volume and pressure."
All of the wash racks north of the fairgrounds buildings now have a two-inch pipe and there is good water pressure throughout the livestock barns, according to Vincent.
Construction workers plan to be working in the courtyard of the fairgrounds this week. While they hope to navigate around the area's underground sprinklers, they will return in early spring to reseed the lawn.   
The new system replaces leaky pipes that were time-consuming to find, and in some cases required hand-digging to unearth.  
After finishing in the courtyard, construction will move south of the fairgrounds where workers will take care of the City of Ronan's portion of the water project. Also, the fire hydrant in front of the livestock barns will be moved to the southern border between the fairgrounds and the city.
Vincent said construction might need to finish on the Ronan Community Center in the spring because new lift stations and other parts need to be installed, but the big digging will be done this fall. 
Lake County should hear if they received a Community Development Block Grant in December, according to Billie Lee, the county's director of special projects. That grant would provide a much-needed bathroom overhaul in the Community Center and also kitchen improvements.  
Vincent has kudos for Lee and said her skill set of grant writing and steering contracts through to completion has shepherded Lake County through this project. 
The Lake County Commissioners also get a nod of approval from Vincent.
"The commissioners have just been so great," she said. "We're lucky to have the crew we have."  
Recent Headlines
---