Polson wins one match at State Championships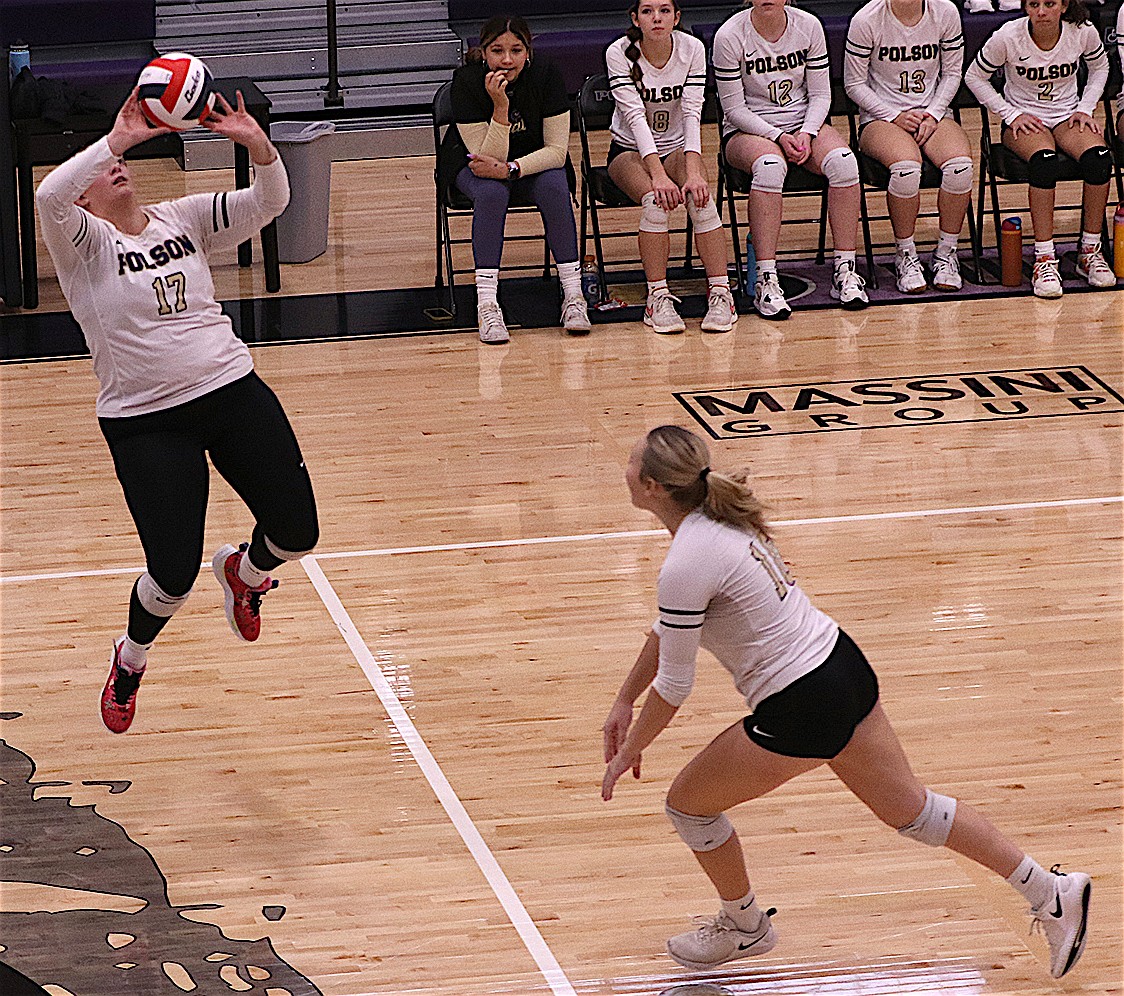 Lady Pirate Avery Staff sets to Carli Maley during the Divisional Tournament in Polson. The Pirates won one and lost two during last week's state tournament in Bozeman – their third in a row. (Bob Gunderson photo)
Polson won one match at the State A Volleyball Championships, bowing out on Friday, Nov. 10, after losing to rivals Frenchtown at Brick Breeden Fieldhouse in Bozeman. The Lady Pirates finished the season 14-11 and have advanced to the state tournament for three straight years since the COVID-19 pandemic.
The Western Division's No. 4-seeded Polson opened up the tournament Thursday, Nov. 9, facing the Eastern Division's No. 1-seeded Hardin, which defeated the Lady Pirates, 25-15, 25-15, 25-16. Polson had 23 team kills, including eight from Hannah Simpson and four from Samantha Rensvold.
Avery Starr steered the offense with 19 assists, while Polson had a total of 56 team digs, including 15 from Starr. Sam Rensvold had 11 digs, while McKenna Hanson and Julia Barnard each had 10.
At the net, Simpson recorded two blocks, while Starr and Barnard each had two aces.
The loss moved Polson to the consolation bracket, where they swept the East's No. 3 seed, Lockwood, on Friday morning, 25-15, 25-22, 25-19. Hanson led the team on offense with 11 kills, while Simpson had another strong showing with 10 kills.
Starr had another stellar game of setting with 27 assists, while Julia Barnard played excellent defense with 14 digs, and Hanson added eight.
Carli Maley had two blocks at the net, while Simpson and Hanson each had three aces.
Polson advanced into the bracket to play a familiar foe, the Western Division's No. 1 seed, Frenchtown, and both teams battled each other fiercely. Frenchtown eventually came out on top with a five-set victory 25-18, 25-22, 13-25, 23-25, 15-6.
Polson had more kills than Frenchtown, with 43, including 14 from Simpson and 13 from Hanson. Starr posted a team-high 29 assists, while on defense, there were plenty of standouts as Barnard had 18 digs, Sierra Perez had 10, Rensvold had nine, and Hanson had nine.
Maley and Simpson each had two blocks, while Simpson had five aces and Starr had three.
Recent Headlines
---