Volunteers and planners promote Ronan master plan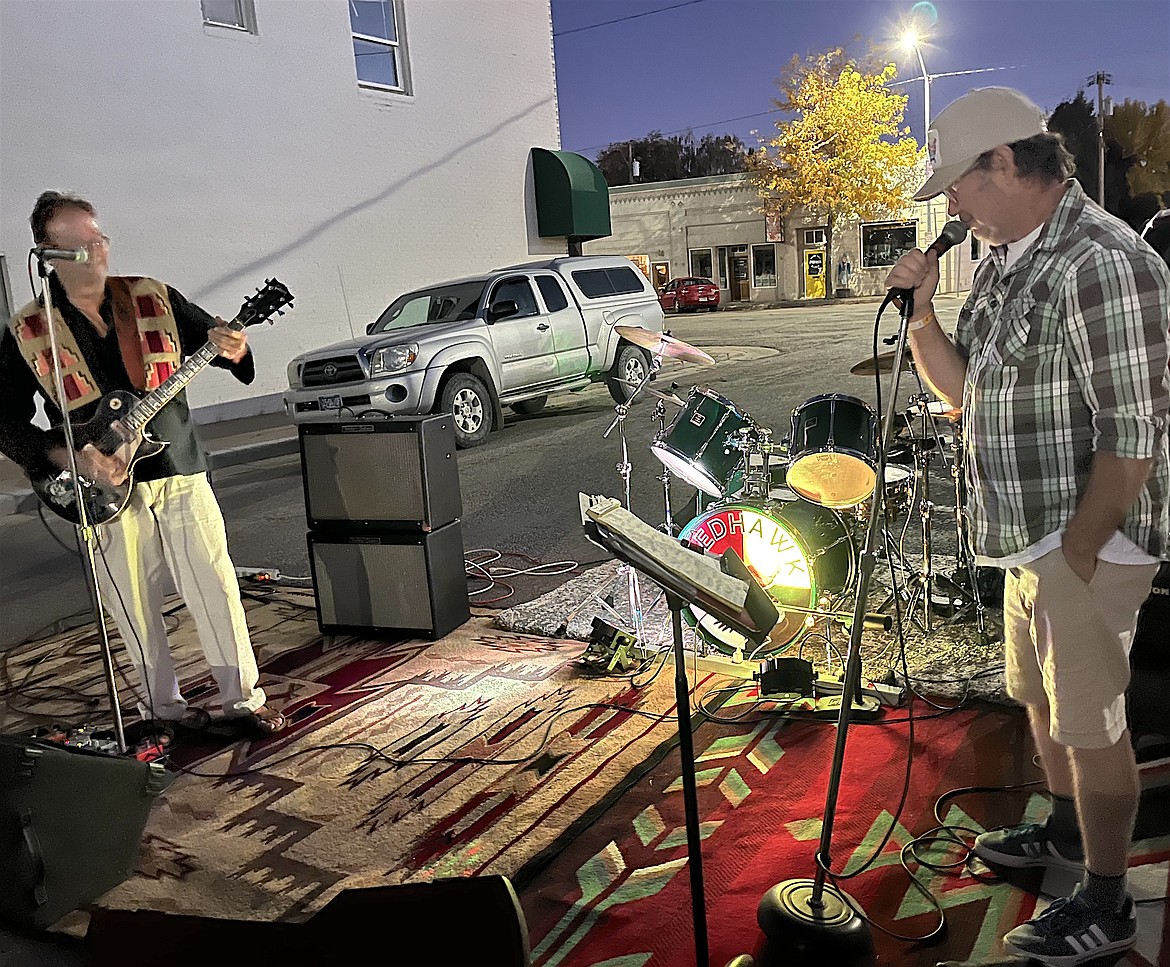 Members of the local band Redhawk close out Friday's Oktoberfest at the Ronan Cooperative Brewery. Encouraging visitors and tourism, arts and culture are part of the new Ronan Master Plan. (Kristi Niemeyer/Leader)
The City of Ronan, the Ronan Chamber of Commerce and Mission West Community Development Partners are working with the planning firm of KLJ to help chart the community's future.
Ronan received a $50,000 grant from Montana Main Street to complete a downtown master plan and Mission West helped the community leverage those funds to gain additional money from the United States Department of Agriculture to complete a five-year Economic Development Strategic Plan.
According to a press release from KLJ, both of these plans will provide a road map for Ronan and its partners to chart a path for economic growth through "prudent, achievable and sound planning."
The project partners and volunteers will be visiting various businesses to promote the plans and the survey from Oct. 10-13, including presentations at Wednesday's City Council meeting and Thursday's Tribal Council meeting. Stakeholder meetings are slated for Thursday as well, and representatives plan to attend Friday's Ronan Chiefs football game.

The public is encouraged to participate and share their vision for development and growth in the city. An online survey guides participants to consider Ronan's strengths and weaknesses, as well as the opportunities for growth.
Chamber president Whitney Liegakos has been involved in the project since its inception and says she's excited about "the partnerships it's creating and the cohesive vision it will create for Ronan."
The plans will examine existing, potential, and achievable opportunities for Ronan's future. It will analyze how to keep Ronan dollars in Ronan, compete with online and neighboring larger communities, and what resources, policies, infrastructure, and incentives might be deployed.
"We've had similar conversations in recent years, with ample community feedback and that was a great place to start," Liegakos said. "But, with the in-depth work that KLJ will be performing, we'll see a deeper dive into infrastructure needs and tangible next steps we can take as a community to redevelop parts of town and navigate growth in a way that works for Ronan."
"It's a really exciting time and it's amazing to see so many people come together to make this happen," she added.
The plans are expected to be complete in August 2024.
Part of the focus is on downtown, and how it can be enhanced through physical amenities, policies, economic programs, incentives, and development.
The second focus is on other sectors of the economy such as healthcare, retail, services, transportation, professional services, industry and manufacturing, education, visitor and tourism, arts and culture, labor force, and housing.
The survey and full schedule events are available on the plan's website at inputcentral.com/ronan.
Recent Headlines
---