The Last Harvest: Fleming brothers retire from growing seed potatoes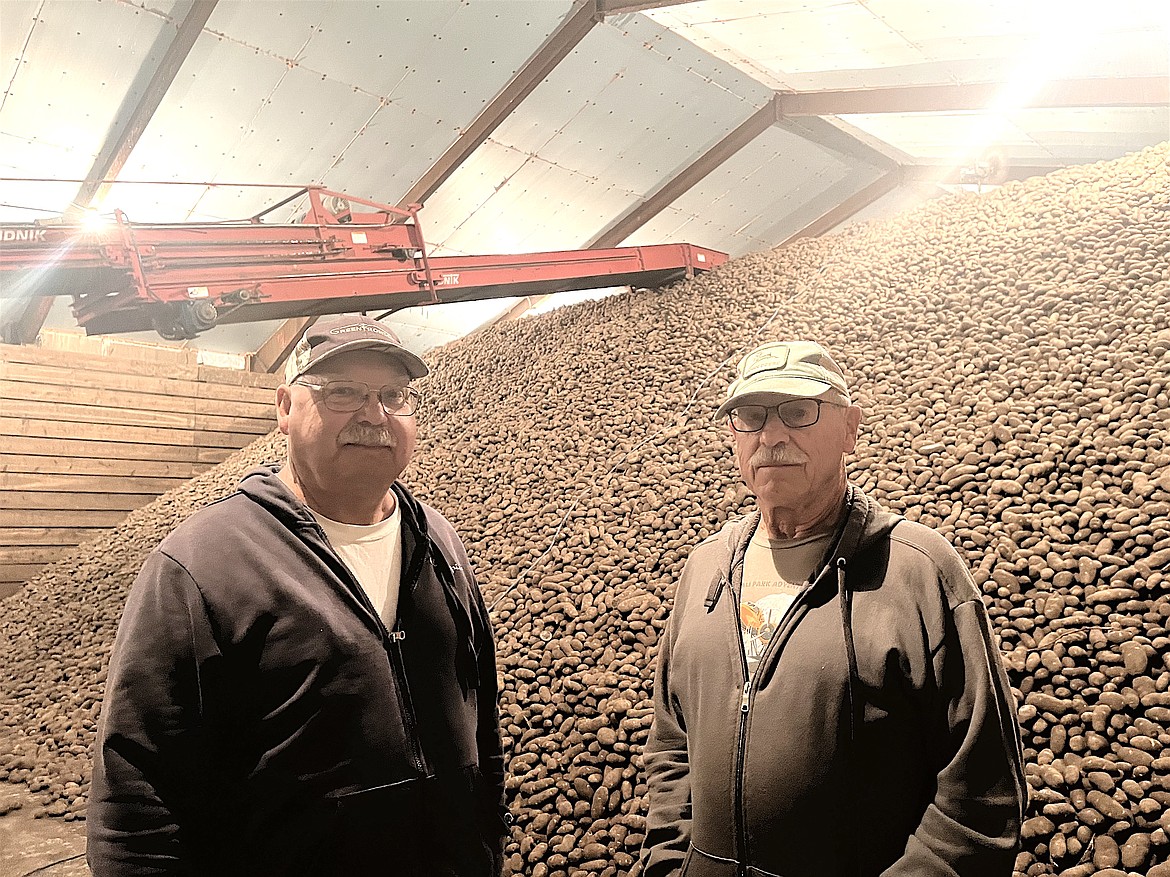 Neal and Pat Fleming stand in front of a mountain of seed potatoes – their final harvest after 70 years as a family business. (Kristi Niemeyer/Leader)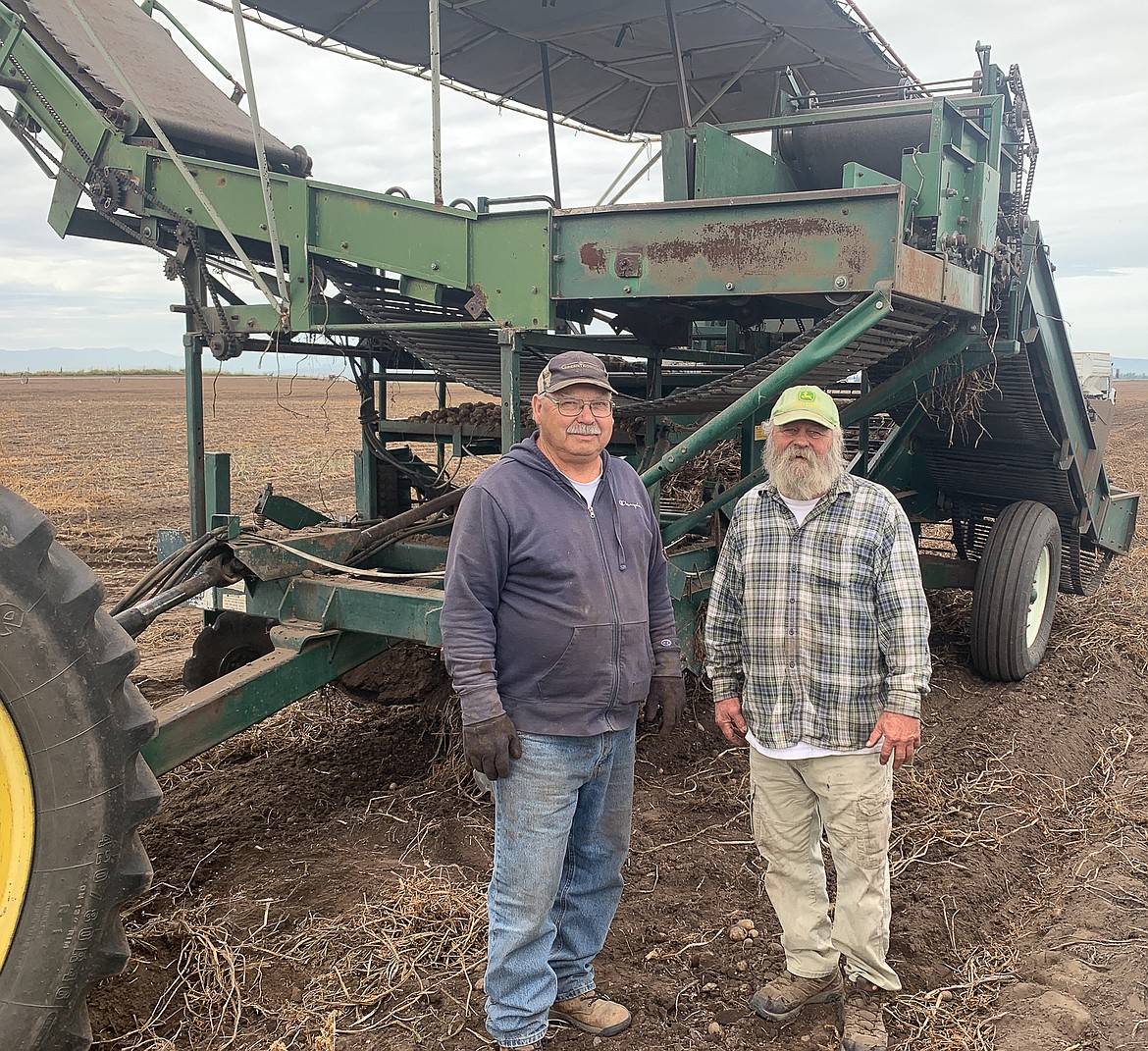 Neal Fleming and brother Greg prepare to harvest this year's crop of seed potatoes. (Mike O'Halloran photo)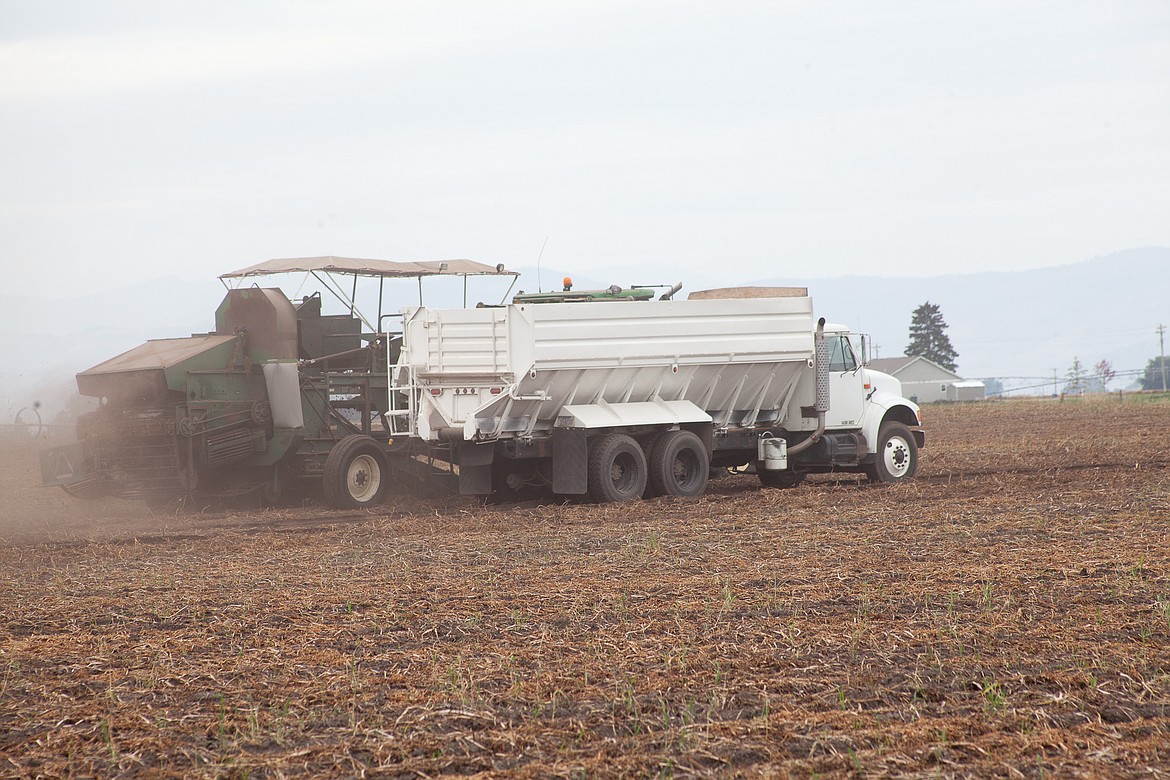 Seed potatoes are loaded into a truck at the Fleming farm west of Pablo, and headed for a cellar where they'll nap until spring. (Mike O'Halloran photo)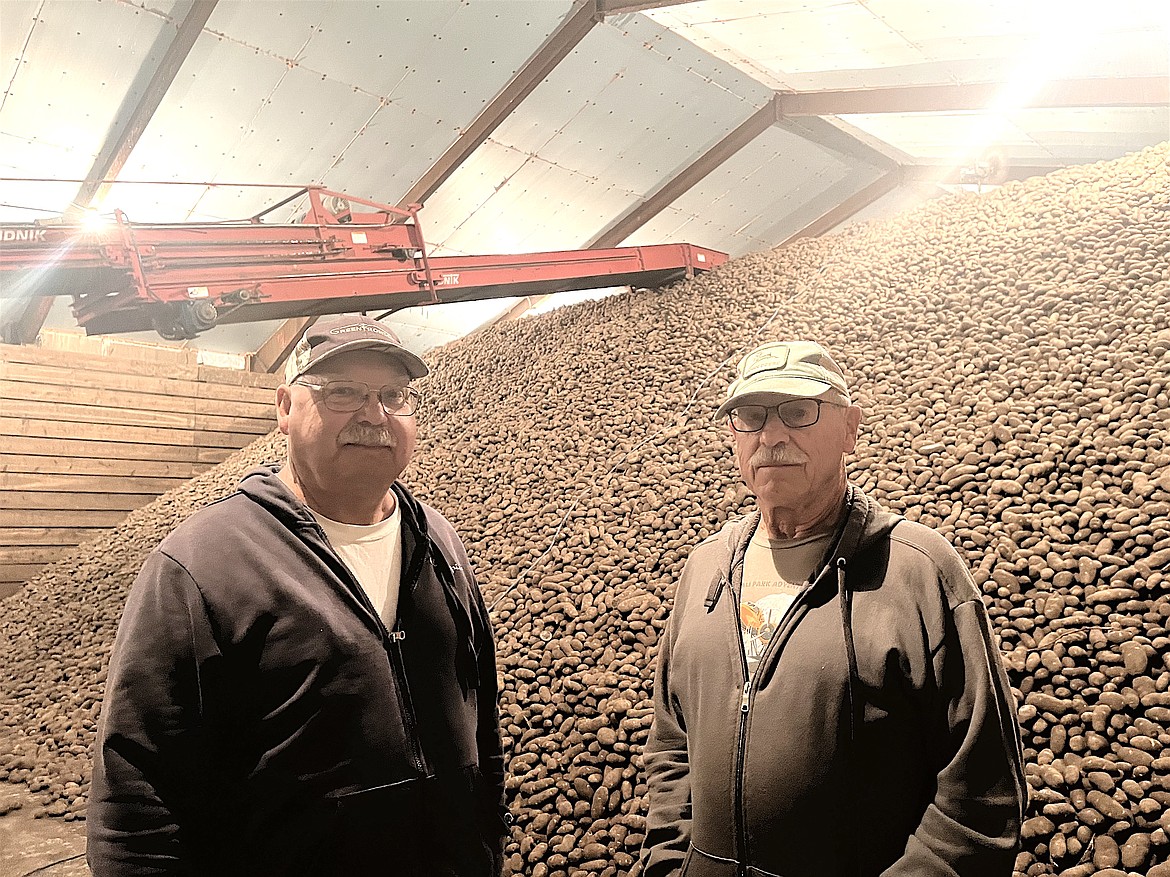 Neal and Pat Fleming stand in front of a mountain of seed potatoes – their final harvest after 70 years as a family business. (Kristi Niemeyer/Leader)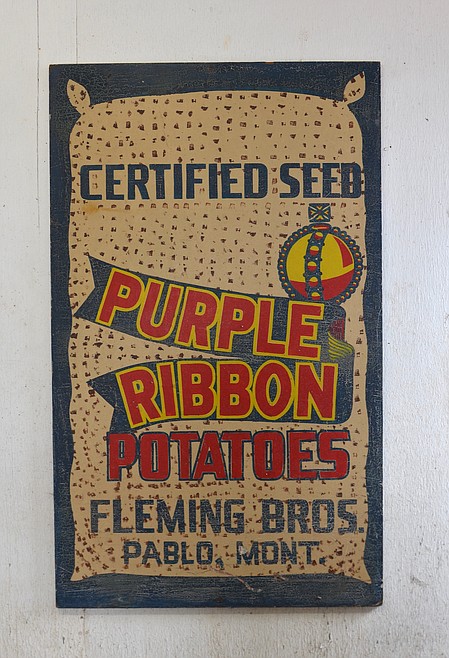 Back in the 1950s, the Flemings Brothers initially called their business Purple Ribbon Potatoes. (Kristi Niemeyer/Leader)
Previous
Next
The Fleming brothers, Pat and Neal, stand in front of their final crop of seed potatoes, heaped into a knobby mountain at one of their cellars near Pablo. Fans work nonstop to control the temperature from now until next spring, when those spuds will be sorted, graded and inspected before the brothers' final shipment heads to Washington.
It's the end of an era.
Pat, the eldest at 75, and Neal, 70, have been growing potatoes most of their lives. Their parents, Jim and Billie, arrived in the Mission Valley from Nebraska in the early 1940s, and established a successful farm near Pablo where they raised crops and 11 kids.
Neal still lives in the rambling red farmhouse where they grew up, while Pat and his wife, Charlene (the bookkeeper), live a few miles away. They've been business partners for nearly 50 years.
"You've got to work at it for sure. Give and take," says Neal.
"He's the boss," he adds, pointing to his older brother.
While their partnership will continue, the complex business of cultivating seed potatoes won't.
"We're still going to farm," Neal says. "Just not spuds."
Jim Fleming started raising seed potatoes around 1952 with his brother, Paul. The first generation of brothers dissolved the partnership in the 1960s, and Jim continued to raise seed potatoes, hay and grain. His five sons were conscripted – first for simple tasks like pulling weeds, but their duties quickly expanded with age until they were driving equipment and changing irrigation pipe.
"We just wanted to carry on Dad's farm"
When their father died in 1976, the brothers were in their 20s. They took over the family farm – initially running it with their mom, and eventually buying her out.
"That was tough," recalls Pat of those early years. "We about lost it once or twice, but we happened to luck out."
"It was a steep learning curve," adds Neal. But nearly half a century later, there don't appear to be any regrets.
"We just wanted to carry on Dad's farm. That was just what we wanted to do," Neal says.
"It's the only thing we knew how to do and we liked doing it," Pat adds. "We like to see the crops grow. The people you meet out there selling potatoes – and some of them we sold to for years."
Growing seed potatoes is labor intensive. Spuds are cut into chunks, planted, cultivated, watered, harvested and stored through the winter in cellars, where they're kept just above freezing with a mechanized ventilation system.
Each spring they're sorted, sized and shipped by semi-truck loads to Washington where they form the basis of all those potato products we love to eat. Throughout the growing process, the potatoes are inspected and must be certified by the state as disease free before shipping.
The Flemings typically hire around a dozen people to help during harvesting and especially shipping seasons, but mostly they rely on their brother, Greg ("a workhorse," says Pat), and longtime hand Mitch Bowman, who began working for their father when he was 12 years old.
"He's just about like family," says Pat. "You don't have to tell Mitch anything. He just goes out and does it.
A constant challenge
The north end of the Mission Valley and the Moiese area have the sandy loam that's best suited for growing seed potatoes. The area also benefits from relative isolation from other growers, which helps keep the spread of disease, like late blight (the culprit in the Irish Potato Famine) or nematodes, at bey.
Weather can also pose a challenge, especially drought – since potato crops require about two inches of moisture a week through the growing season – and early frost. The Flemings take some of the guesswork out of the harvest season by spraying their vines to cause an early die-off, then waiting 20 days for the skins to set on the tubers so they don't bruise when they're dug out of the ground.
"The biggest problem with potatoes is frost," says Neal. "If you don't get them out soon enough, they're gone."
"That's happened periodically over our career," adds Pat. "I've seen frost three times in my lifetime. The fourth time, I won't be raising potatoes – because it will happen again."
Even now, potatoes are gradually cooling in cellars across the county.
"They come in warm, about 60 degrees, and we bring them down slowly," says Pat. It takes about two months to drop the temperature to around 38 degrees.
Then they watch the massive pile all winter long, vigilant for signs of decay that could wreak havoc on a crop.
In the early years, the valley was home to about 30 seed-potato farmers; that number has since dwindled to around five. And in Washington, where the Flemings ship their spuds, "instead of 250 farms raising potatoes, it's 50 farms or something, and they're just huge," Neal says.
Their dad first planted around 10 acres in seed potatoes, and by the time he died at 61, the annual harvest filled two cellars with Purple Ribbon Potatoes (the family brand). The brothers have planted as many as 500 acres in potatoes, but more often plant around 200. This year, it was 75 acres, which fills half of one of their two climate-controlled cellars with a still-impressive heap of potatoes.
When those spuds leave the cellar next spring to be replanted in Washington soil and eventually transformed into French fries or tator tots, the brothers will say so long to a business that's been in their family for 70 years. Both look forward to slowing down.
"Everybody asks us, 'are you really gonna quit?' Yes, we are," says Neal. "Nobody believes us, but we're going to."
Recent Headlines
---