Anita Big Spring, 65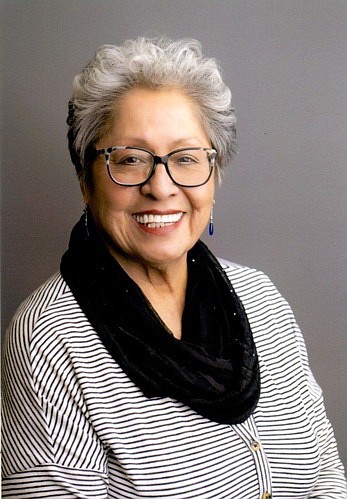 |
September 7, 2023 12:00 AM
Anita Carol Big Spring-Funke, of Big Arm, passed away on July 30, 2023. She was born May 30, 1958, in Browning to Darlene and Adam Big Spring.
Anita's youth was spent between East Glacier and Hill 57 in Great Falls, Chamawa Indian School (Oregon), and Kellogg, Idaho. An ambitious teen, Anita left the family home at the age of 16. She picked up many trades in her youth from waiting tables to welder's assistant along the Hi-Line of Eastern Montana.
Anita's heritage was Metis Cree and Blackfeet. She was enrolled with the Blackfeet Nation. However, the CSKT reservation is where she laid her roots and raised her two children. She married James Adams II (Kellogg). She later married Kenny Friedlander Jr. (Pablo).
Anita obtained her Secretarial Science Degree from Salish Kootenai College. She was hired soon after as the presidential secretary and secretary for the Board of Trustees for the college. She served under five presidents during her 28 years with SKC. Dr. Joseph McDonald was her initial hiring president. They served together from 1995 until his retirement in 2010. They had a special bond and remained close until her passing.
Anita had a nurturing spirit and took many students and faculty under her wing at the college. She kept many in line and the president's office running smoothly. It is said her laughter could be heard down the halls of the Big Knife building. She will be missed for her dedication, kindness and sense of humor.
While working full time at the college, Anita found purpose in community advocacy. She was instrumental in creating change. Since 1996 she organized many "Get Out the Vote" for school, state and national elections. She courageously disputed the 2004 Lake County HD 12 election results, and the Montana Supreme Court justices ruled in her favor, helping the Democrats win the House majority that year.
Anita was a founding board member to establish a local women's and children's domestic violence shelter in Lake County. She helped establish a mentor program in the Ronan School District to help reduce the American Indian dropout rate. In all this, she still found time to volunteer for the SKC Annual Auction and the local food banks.
Also worth telling, she was a crafter and beader. She made Blackfeet-style high top moccasins, dance regalia and beadwork. She beaded nearly 100 pairs of moccasins for the Early Childhood promotion program one year. She shared her gift for many to enjoy.
She is preceded in death by her mother and father; two older sisters, Iris and Echo; her dear friends, Lois, Bob, and uncle Bill.
She is survived by her son, James Adams III (Alisha Adams) and six grandchildren (Kalispell); her daughter, Mariah Friedlander-Camel (Mervyn Camel) and five grandchildren (Polson); her husband, Tom Funke Jr.; and her many beloved friends she considered family – Debbie, Gail, Karen, her maid of honor Tracie and Hayward, to name a few.
Anita lived the last of her years on the lake with her doting husband, Tom Funke Jr., and her beloved fur babies, Buddy, Abby, B, Toto and cats Kit Kit and Jack.
Her days were filled on the lake, sometimes sunbathing or jet skiing, many home-cooked meals, a house filled with grandchildren to share the sunsets with and bonfires into the night for s'mores. She was a wonderful mom, grandma, wife, sister and friend.
She will be missed by many.
There will be no burial services at this time, but a Celebration of Life at a later date. Memories and condolences may be sent to the family at www.lakefuneralhomeandcremation.com. Arrangements are under the care of The Lake Funeral Home and Crematory.
Recent Headlines
---