Nate Lundeen: School Resource Officer of the Year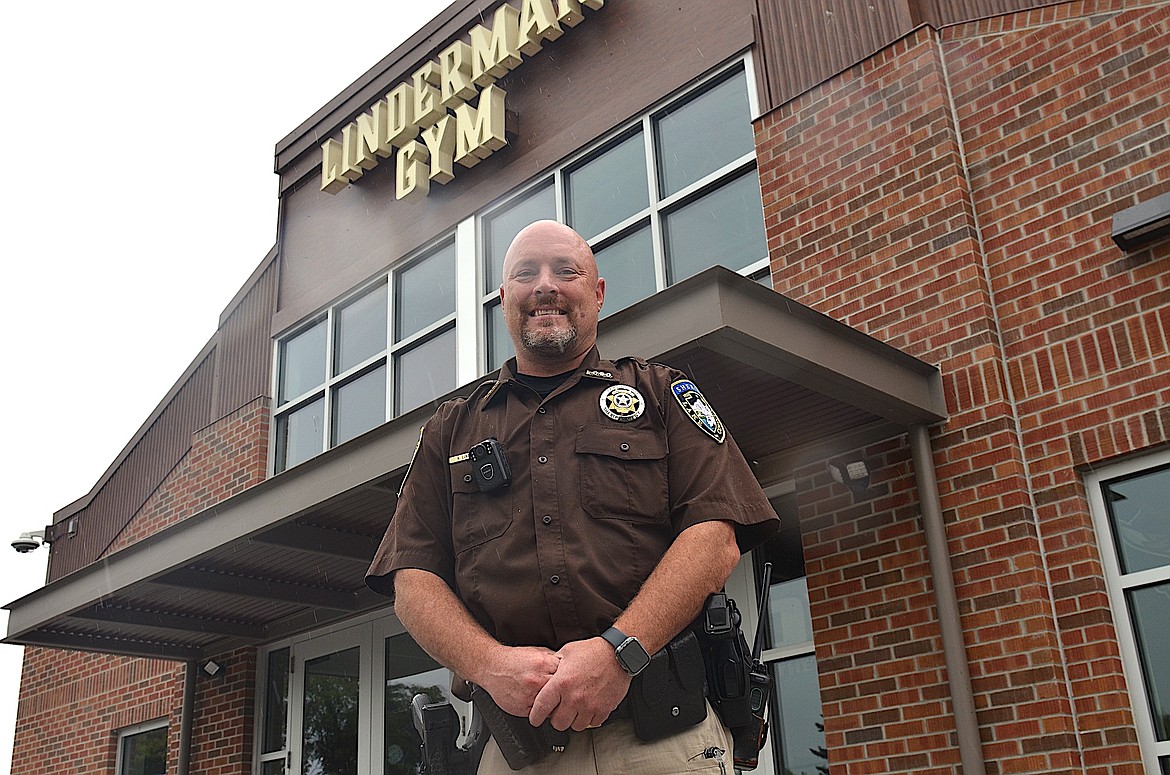 Lake County deputy Nate Lundeen was recently named Montana's School Resource Office of the Year for his work in Polson Schools. (Kristi Niemeyer/Leader)
by
KRISTI NIEMEYER
Editor
|
September 7, 2023 12:00 AM
Soft-spoken Lake County deputy Nate Lundeen, who was recently named School Resource Officer of the Year, clearly feels both a sense of responsibility and affection for the kids he interacts with daily at Polson schools.
"You do your best to help them out – like you would your own," he says. "It takes all of us to help out, to get kids going in the right direction."
Lundeen was honored last month at the School Safety Recognition Awards ceremony, held during the fourth annual Jeremy Bullock Safe Schools Summit in Helena. The summit was established in honor of the 11-year-old boy, who was the unintended victim of a school shooting at Margaret Leary Elementary School in Butte on April 12, 1994. The annual gathering focuses on cultivating safer schools for both students and educators.
The award recognizes Lundeen for his professionalism, "unwavering commitment and impeccable reputation," and his passion for school safety and community involvement. According to Polson High School Principal Andy Fors, the recognition is well-deserved.
"Deputy Lundeen is one of the most deserving individuals I have ever worked with. He works tirelessly to support students, staff and families in our school community and beyond," he said, adding that the officer "connects incredibly well with youth."
Lundeen, who has worked in Polson schools since 2008, grew up in the Mission Valley, attended schools in Pablo and Ronan and graduated from Polson High. After getting some training and a feel for law enforcement as a reserve deputy, he applied for the position of School Resource Officer and completed the 12-week basic officer course at the Montana Law Enforcement Academy.
Lake County Sheriff's Department employs three SROs. Lundeen covers schools in Polson, Dayton, Valley View and Swan River; Brandon Gale serves the Ronan/Pablo School District; and Amber Vinson is SRO for St. Ignatius, Arlee and Charlo. They also serve as regular officers when schools are not in session and respond to emergencies as needed.
For Lundeen, a regular school day might start with keeping an eye on traffic near the school zones and at bus stops before heading into his office at the high school to review emails, and check in with administrators and counselors.
He tries to spend most of his day in the schools, talking to teachers and interacting with kids. His presence, he believes, helps youngsters learn to see law enforcement as allies rather than enemies.
"It's good to build relationships with kids so they trust you and come talk to you."
Among the most common issues are disputes and bullying fomented by social media platforms such as Snapchat and Facebook.
"If I could get rid of social media for kids I would," Lundeen says. "I think it hurts their communication skills."
"You've got to be able to talk to people. But when they're sitting behind a computer or on a phone, people get a little brave. They say things they wouldn't necessarily say if they were next to each other."
Often, a third party gets involved, and the disagreement escalates. "We see that a lot," he adds. "People behind the scenes getting both sides riled up."
Lundeen works with principals and counselors to intercede, "help them sort through the mess and get down to the truth of it."
Hopefully, the situation becomes a learning process. "I expect kids to screw up here and there – it's how do we help them get through it."
Of course, he also has to contend with drug abuse, underage drinking and other more serious infractions, which can lead to students being ticketed and sent to Youth Court. He works closely with Youth Court staff to help support high-risk kids, and sits on the Child Interdisciplinary Team, the Youth Placement Committee and School Safety Team.
"If I write a ticket, I like to have follow through," he says. "Kids are going to be successful if it's up to me … I'm going to drive 'em."
For him, that means being a presence on campus. "I'm not just going to sit in my office and look at the computer all day. I'm checking on them – 'how're your grades, how's your family, what do you need help with?'"
He knows which kids are on probation or involved in youth court, and "I'm talking to them all the time … If a kid is slacking, I try to get them going back in the right direction."
Beyond the school day, he attends sporting events, dances, and graduation parties, and writes letters of recommendation for students. He's helped write grants for school safety equipment and brought speakers in to talk to students about addiction and other issues they may face.
Mostly, though, he communicates. "I talk to everybody," he says. "The teachers let you know, the custodians let you know, and the kids let you know – a lot of kids don't want negative stuff in their school."
He praises the school staff and administration. "We're all in it for the same reason – we want to see kids be successful. There needs to be a safe and secure place for kids to come and we work hard to get that done."
"Kids, for the most part, want structure and rules," he adds. "When they don't have that is when I see them go off the rails."
After 15 years, serving as SRO still offers plenty of challenges and rewards. "It's seeing kids become successful after coming from bad situations and doing positive things."
According to Fors, his efforts make a difference. "The day-to-day operations in the Polson School District are made possible due to amazing individuals like Nate Lundeen."
Recent Headlines
---