SAFE Harbor welcomes donations for annual auction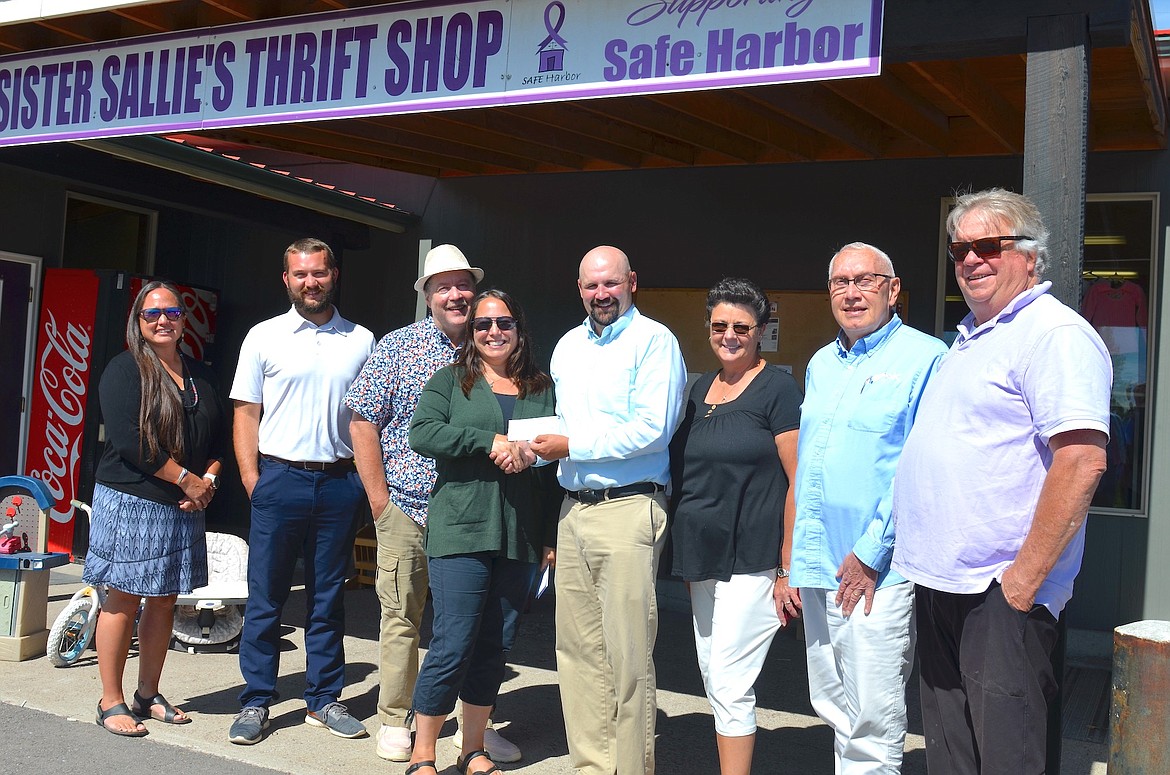 The Lower Flathead Valley Community Foundation gave a check for $5,000 to Safe Harbor last week. On hand for the presentation were (L-R): LFVCF board members Stephanie Gillin and Robbie Gauthier, Dana Grant, Safe Harbor director Brandi Clark, LFVCF president Brennin Grainey, secretary Myrna Gauthier, former board member Bob Gauthier, and board member Mark MacDonald. Following the presentation LFVCF members toured Sister Sallies Thrift Store in Ronan, a fundraising arm of Safe Harbor. (Kristi Niemeyer/Leader)
|
September 7, 2023 12:00 AM
SAFE Harbor is seeking donations of art, goods and services for its annual Art Auction and Celebration, slated for Oct. 14 at the Ronan Community Center. The gala gives an opportunity for community partners from across the region to share their creations, talents and services to help raise awareness and financial support.
Both live and silent auctions offer original artwork, jewelry, quilts, pottery, carving, sculptures and photography. Special baskets are also auctioned that include lodging, movie passes, theater tickets, concert tickets, travel, dishware, dinner coupons, service vouchers and a variety of other house wares.

"I'm excited to be part of the event for the first time," said SAFE Harbor Executive Director Brandi Clark, who assumed the leadership position in May. "It's a great time for the community to come together and of course it helps us to better meet the needs of our clients."
Since 1993, SAFE Harbor has served Northwest Montana, providing shelter, safety, nurturing, and healing to the survivors of domestic violence, sexual assault, stalking and others in need. It operates the only domestic violence shelter between Missoula and Kalispell, serving all of Lake County and the Flathead Reservation.
The organization offers advocacy, counseling, financial support, group therapy, legal assistance, education, outreach, transportation, crisis intervention, a 24-hour a day hotline, household assistance, training, transitional housing, and resource referrals. A SAFE Harbor Campus Advocate at Salish Kootenai College provides support services, advocacy, and education to students, staff, and faculty. SAFE Harbor hosts both a weekly Woman's and Children's Support Group, led by experienced professionals; sponsors a monthly Resource Roundtable to promote collaboration and awareness; coordinates a Batterer Intervention Program in partnership with the justice system; and carries out a full schedule of outreach activities.

"People don't always know about all the services SAFE Harbor offers," Clark said. "We have a well-trained, experienced and professional staff working across the community."
Annually, SAFE Harbor offers direct education on issues of consent, healthy relationships, communication, the dynamics of violence, safety planning, and the role of the bystander to more than 1,000 area students in grades 6-12, as well as college students. Staff are active with the Ronan and Polson Chamber of Commerce, the Young Child Wellness Council, and 0-5 Flathead Reservation-Lake County.

SAFE Harbor opened a thrift store in 2018 and since that time, the community has supported Sister Sallie's with donations, volunteers, and shoppers.
In the last year, the group provided assistance to over 600 clients, with more than 1,200 shelter nights, 400 hours of individual therapy, 350 transports, 140 gas vouchers, 4,000 crisis line calls, 400 legal services, 195 financial assistance, and over 300 referrals to partner agencies.
The upcoming gala "is going to be a fun time for all," Clark predicts. "We have some amazing auction items and a few surprises in store."
To donate auction items or inquire about a sponsorship, call 406-240-0640.
Recent Headlines
---