Charlo celebrates homecoming with win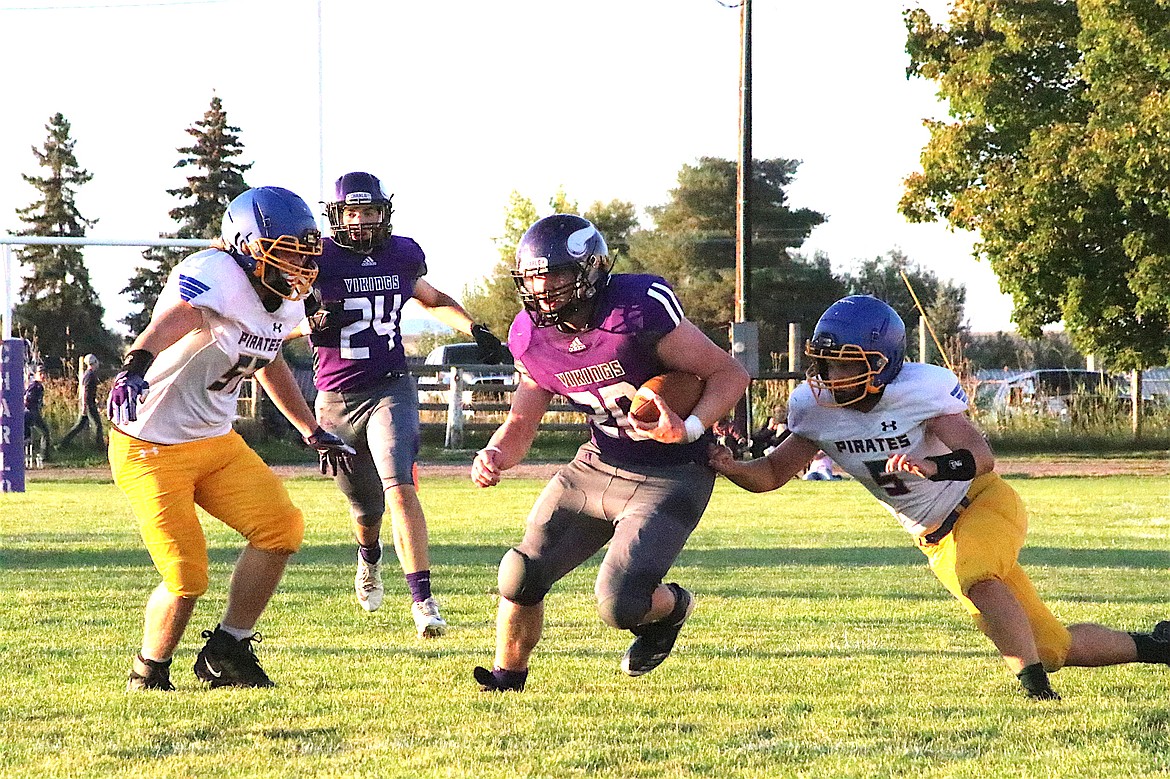 Charlo's Ryan Sharbono picks up yards in Friday night's homecoming blowout against Victor. (Photo by Michelle Sharbono)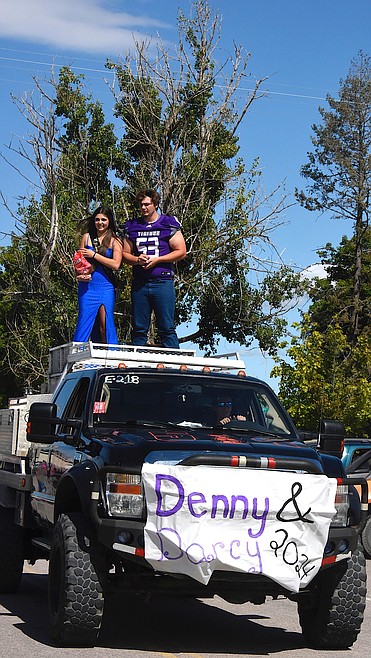 Charlo Homecoming queen candidate Darcy Coleman and king candidate Denny Black rode atop a fire truck as they wend their way through Charlo during Friday's parade. (Berl Tiskus/Leader)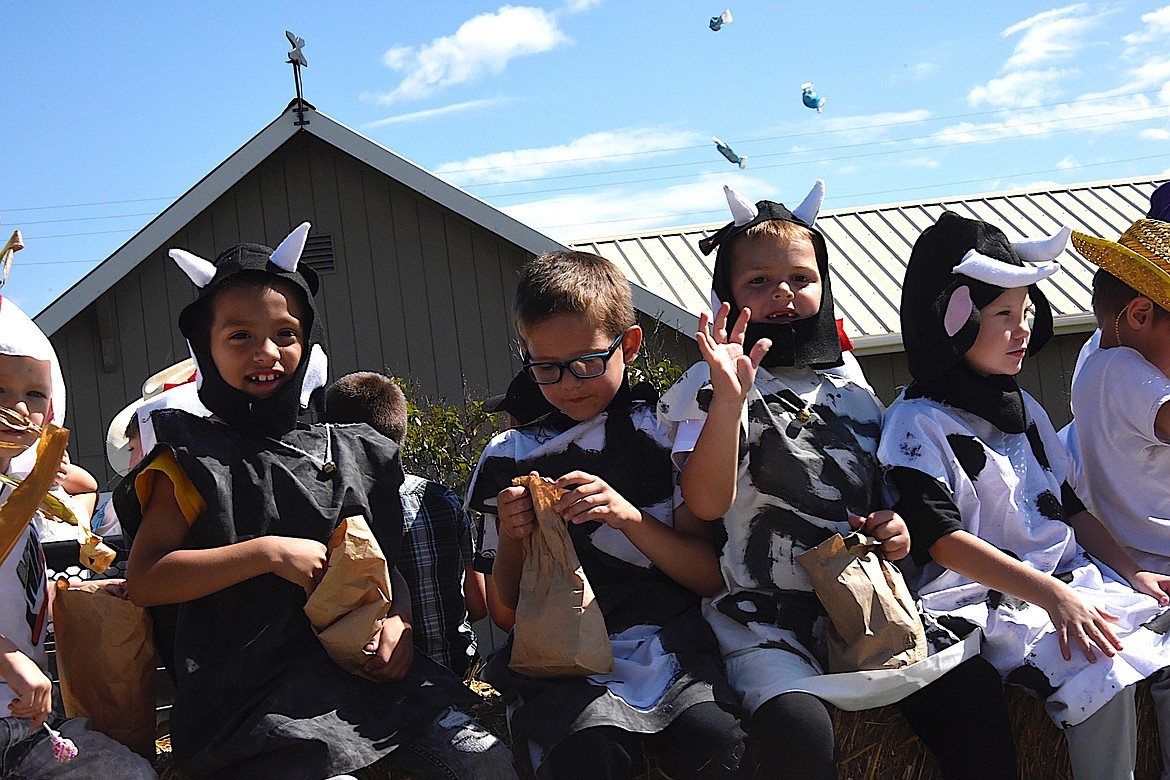 Charlo school kids can't decide whether to throw the candy or eat it. (Berl Tiskus/Leader)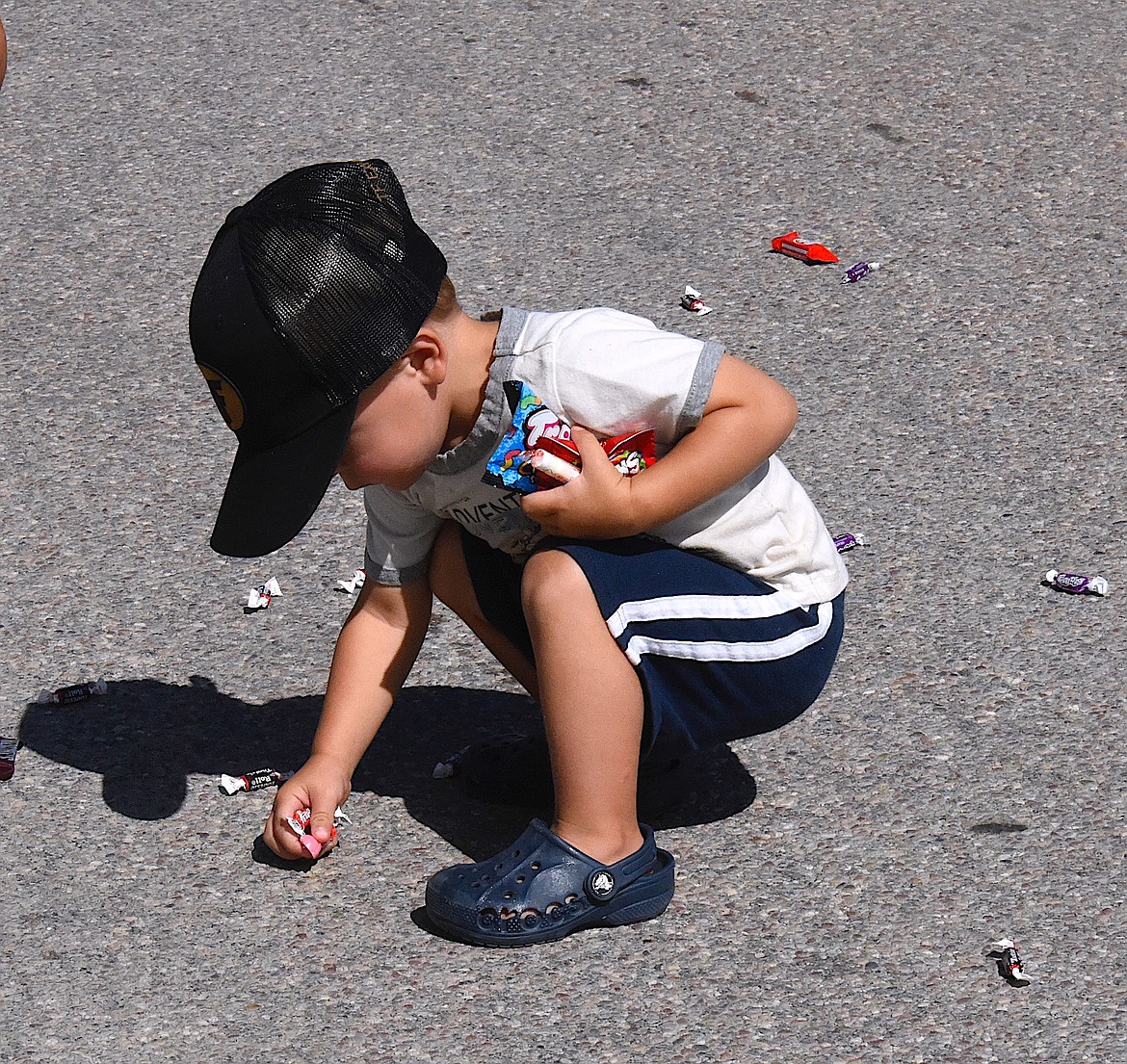 Eighteen-month old Tallon Fryberger collects candy as the Charlo Homecoming Parade goes by. (Berl Tiskus/Leader)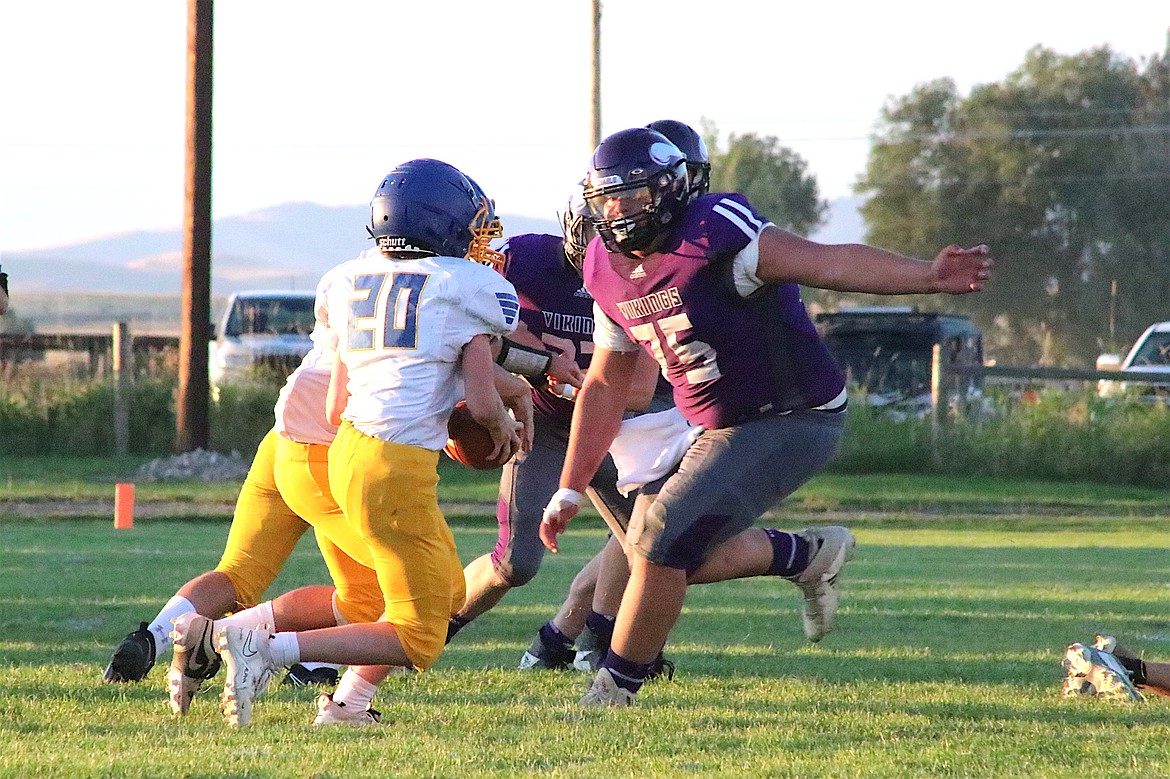 Charlo's Titan Inman blocks a Victor opponent during Friday's game. (Photo by Michelle Sharbono)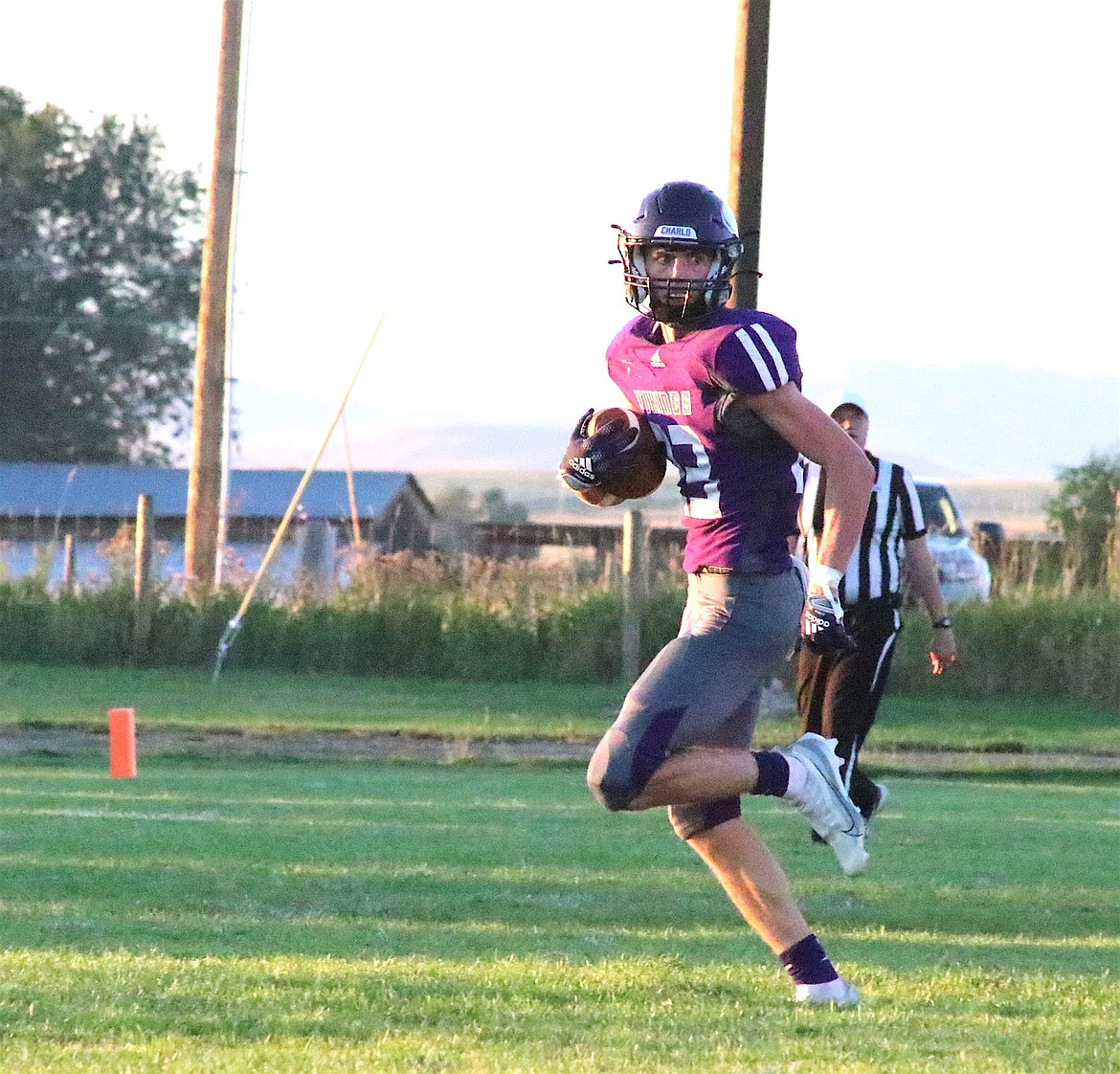 Viking Tayre Brown gallops toward the end zone during Friday's homecoming game in Charlo. His accomplishments include a 52-yard touchdown run in the second quarter. (Photo by Michelle Sharbono)
Previous
Next
by
Brandon Hansen / For The Leader
|
September 14, 2023 12:00 AM
Charlo held Victor to 39 yards of total offense and came away with a 48-0 8-man homecoming victory on Friday, Sept. 8. Hayden Hollow ran for two touchdowns and passed for two more in the Vikings' first win of the year.
Dillon Dwelle scored in the first quarter with a 53-yard interception return. Ryan Sharbono then caught a 35-yard touchdown pass from Hollow. In the second quarter, Hollow had touchdown runs of seven and nine yards, while Tayre Brown had a 52-yard touchdown run.
In the third quarter, Sharbono had a 35-yard touchdown run, and Dwelle caught a 32-scoring strike from Hollow in the fourth quarter.
Sharbono finished the game with 67 yards rushing, while Brown had 65 yards and Hollow had 60. Hollow also passed for 132 yards. Sharbono caught three balls for 57 yards.
At Charlo
CHARLO 48, VICTOR 0
Charlo - 16 - 18 - 6 - 8 - 48
Victor - 0 - 0 - 0 - 0 - 0
SCORING SUMMARY
C - Dillon Dwelle 53 Yd Interception Return (Hayden Hollow Run For Two-Point Conversion)
C - Ryan Sharbono 35 Yd Pass From Hayden Hollow (Tayre Brown Run For Two-Point Conversion)
C - Hayden Hollow 7 Yd Run (Failed Two-Point Conversion)
C - Hayden Hollow 4 Yd Run (Failed Two-Point Conversion)
C - Tayre Brown 52 Yd Run (Failed Two-Point Conversion)
C - Ryan Sharbono 35 Yd Run (Failed Two-Point Conversion)
C - Dillon Dwelle 32 Yd Pass From Hayden Hollow (Hayden Hollow Run For Two-Point Conversion)
GAME STATS
Rushing - Charlo 19-192 (Sharbono 6-67, Brown 8-65, Hollow 5-60)
Passing - Charlo (Hollow 7-10-132)
Receiving - Charlo (R Sharbono 3-57, W Anderson 2-34, Dwelle 1-32, Brown 1-9)
Recent Headlines
---