Polson Animal Care moves to spacious new building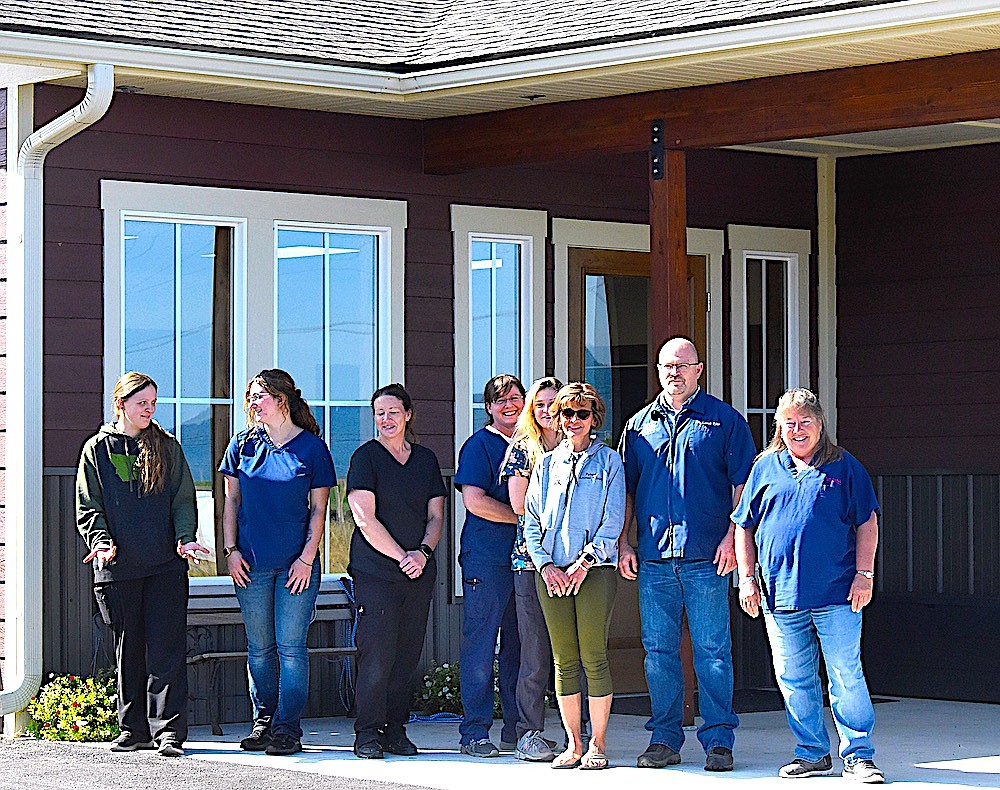 Dr. Lowell Tyler, DVM, and his crew stand in front of the new version of Polson Animal Clinic, located off Hwy 35. on WWJD Lane. (Berl Tiskus/Leader)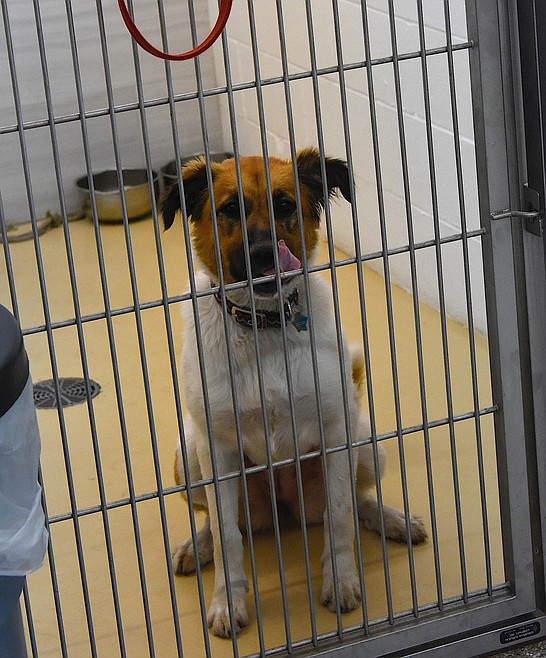 A dog hangs out in the new boarding facilities at Dr. Tyler's new Polson Animal Care clinic located at 38879 WWJD Lane off Hwy. 35. (Berl Tiskus/Leader)
Previous
Next
by
BERL TISKUS
Reporter
|
September 14, 2023 12:00 AM
Lowell Tyler's dream for 25 years has been to build his own clinic in a small mountain town, and now, he's succeeded.
Tyler, a veterinarian who owns Polson Animal Care, and his crew recently moved into their new clinic at 38997 WWJD Lane off Mt. Hwy 35. Their new digs have both a view of Flathead Lake and the Mission Mountains.
Not that they have a lot of time to enjoy the scenery. The new 4,000-square-foot clinic, clean and crisp with white walls and dark floors, is more than three times the size of the 1,200-square-foot building they moved from.
Dr. Tyler sees small animals, exotic animals, and horses, if their owners will haul them in. He doesn't have time to do house calls anymore.
The first thing clients and their animals see is a large reception area flooded with natural light from the many windows. It's a welcome sight for people who bring their animals to Dr Tyler as are the warm-hearted animal lovers who staff the area, Nancy Hemphill and Toni Wock.
Tyler said he no longer has to see six clients and their dogs and cats crammed into the former clinic's tiny waiting room. Cats and dogs, who are nervous about being at the vet anyway, don't have to sit close to another animal.
It's the veterinarian's curse, Tyler said, that animals do not always love the person who looks in their ears, diagnoses their ailment, or, horrors, takes their temperature.
The cat boarding area is off the reception area, although it's usually filled with the five "clinic cats."
Through the swinging door
Many things are new inside the swinging door that leads to exam rooms, the surgery, and other areas. Tyler luckily has an amazing crew: Kristy Jarrett is the head Veterinary Technician and works with Ellie Linderman, Ashleigh Taylor, Victoria, and Avah Eggebrecht. Jen Montgomery is Boarding Manager assisted by Leigha Laurence,
There are three exam rooms while the old clinic only had one. Tyler and his staff now have two tables for dentistry work, such as cleanings and extractions. He said they're three months behind on their dentals since their dental machine was broken for a while. Now they have two machines, in case one breaks down.
The surgery is about twice as big as before with capacious cupboards to hold all the equipment necessary, such as the endoscopy for peering into animal stomachs, as well as a large ultrasound and an x-ray machine. Surgery has its own washer for scrubs, etc.
There's also a roomy new pharmacy and a separate lab.
In his lab, Tyler has a new machine so he doesn't have "to shop around on the microscope slide for 15 minutes."
While examining a fecal sample, the machine uses artificial intelligence to find the parasite. The machine is "still learning," says Tyler. "So you click on it if it's a parasite."
Also included in the floorplan is a staff kitchen and lunchroom. Since the clinic generates about 15 loads of laundry per day, there is also a brand new washer and dryer.
The clinic has new recovery rooms on the west wall – one for dogs and one for cats – unlike the former clinic, where cats and dogs recovered from surgery in the same room. If a dog was whining or barking, it freaked the cats out; now it's calmer for the animals.
There is also an intensive care room with a nurse's desk looking directly in at the patient. Next to the ICU is an isolation room for contagious animals.
A totally new addition is a Vet Guardian, a machine with an infrared camera that videos the patient and also monitors temperature, pulse and respiration. Tyler can access it from his phone at home. That makes it handy for an animal recuperating from surgery or experiencing seizures or some other affliction that requires his attention. Tyler is alerted when the patient's vital signs change, and can go to the clinic immediately.
A huge inside exercise room for snowy or rainy days is surrounded by 6-by-8 foot dog boarding kennels with heated floors. The kennels are connected by doggie doors to an outside kennel of the same size. There's also a large outside play area where dogs can run, play and sniff when the weather is amenable.
Tyler's own two dogs, Kolby and Tasha, are in the kennels. He says he's a Newfie (Newfoundland) person, but he plans to wait until spring to get one.
Outside the door is a fenced-off area that Tyler covered with sod over the Labor Day weekend. With 5,000 square feet to put down, he managed to strong-arm a couple of friends to help and borrowed a tractor with a tiller.
His favorite new items are "the Vet Guardian, definitely the second dental sink, and a prep table where we can shave an animal and roll them right into surgery. I used to have to carry them in," Tyler said. He adds, chuckling, "Nancy's favorite is the coffee machine."
The wish list
On his clinic wish list, Tyler said, "is to get another vet." The world of veterinary medicine is changing rapidly, and COVID didn't help independently owned clinics.
According to Tyler, private equity firms and corporations are buying up vet offices. Then the firms are going into vet schools and offering $100,000 on the spot for a junior student if he or she will sign a contract for the next year when they graduate.
His next wish is a well, so he can water his sod more frequently.
Finally, the dream list includes "a pretty awesome machine that's kind of like a CT scan but taken to the next level with artificial intelligence," Tyler explained.
A CT scan can give a three-dimensional picture of an animal's lungs and trachea, "but with this machine you put on virtual reality goggles, and walk down the trachea and look at the airways."

Another magical quality of this machine is that it's capable of highlighting only the blood vessels. Unfortunately, it's also hugely expensive.
What's free is the view of Flathead Lake out of Tyler's north-facing office window.
"I find myself leaning back in my chair and just looking out the window, especially in the evening. There's an osprey who has a nest right out there," he said, pointing north toward Flathead Lake and the peaks of Glacier Park in the distance.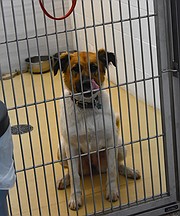 Recent Headlines
---