Ronan snags thrilling win over Libby
by
Brandon Hansen / For The Leader
|
September 14, 2023 12:00 AM
Call them the showtime Chiefs because they certainly put on a show in a 20-19 Northwest A victory over Libby on Friday, Sept. 8.
Trailing Libby 19-13 with four minutes left in the game, Ronan's Laurance Lozeau threw a 54-yard reverse option throw to Josiah Misa for the final game-winning score.
"We had the play in our back pocket for that exact situation in the game if we needed it and the opportunity presented itself," Ronan Head Coach Matt Detwiler said. "Coach Wassam did a great job setting it up in the weeks previous and then again on Friday. We saw our chance and needed a big play, so we let it fly."
Misa finished the game with two touchdown receptions, while quarterback Kolby Finley went 10-of-18 for 165 yards and a 27-yard touchdown pass to Misa.
Libby scored first in the game on a three-yard run, but Ronan responded in the second quarter with a three-yard touchdown run by Wiljame Courville. The Loggers scored on a 33-yard touchdown run for the 13-7 advantage at the half, but Ronan tied things up in the third quarter, and Finley threw a scoring strike to Misa.
After Libby took the lead on a four-yard touchdown run, Ronan's late-game trick play gave the home crowd plenty to cheer about as they won their second game of the season.
"The best part about our two wins has been that there is still a lot to improve on," Detwiler said. "We look forward to a week of hard work and then showcasing that hard work up north on Friday."
Courville finished the game with 41 rushing yards, and Ronan had 206 yards of total offense. Libby finished with 268 yards of total offense.
Ronan's Taigen Lindquist caught three balls for 55 yards, while Misa had three receptions for 102 yards. Lozeau hauled in four catches for 44 yards, and had 12 tackles, including four assists. Courville had eight tackles.
"We have a 24-hour policy, win or lose, to feel good or bad about Friday, and then it's on to the next week," Detwiler said. "The win was great, but we have a great opportunity in front of us, so it's on to the next week."
At Ronan
RONAN 20, LIBBY 19
Libby - 7 - 6 - 0 - 6 - 19
Ronan - 0 - 7 - 6 - 7 - 20
SCORING SUMMARY
L — Jace DeShazer 3 run (kick)
R — Wiljames Courville 3 run (Jason Matthew Teague II kick)
L — Jace DeShazer 33 run (kick failed)
R — Josiah Misa 27 pass from Kolby Finley (kick failed)
L — Aidan Agre-Baun 4 run (run failed)
R — Misa 54 pass from Laurance Lozeau (Teague II kick)
Rushing – Libby 42-205; Ronan 22-32 (Courville 11-41, Gabe Gagnon-Rusnac 1-0, Finley 10-(-9)).
Passing – Libby (Tristan Andersen 5-12-63-1), Ronan 11-19-219 (Finley 10-18-165-1, Lozeau 1-1-54).
Receptions – Ronan 12-219 (Misa 3-102, Taigen Lindquist 3-55, Lozeau 4-44, Nate Young 1-18).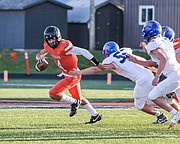 Recent Headlines
---