The Bunkhouse: Giving residents a jumpstart
Everyone has seen a western movie with cowboys in a bunkhouse, lounging around after a long day in the saddle, usually playing poker, fighting, or waiting for supper.

The Bunkhouse of Ronan is nothing like the movie version. The lawn is manicured and the building at 511 1st Ave. S.W. is well maintained.
Owner Jodie L. Hooker rents out furnished rooms to single people who're trying to get back on their feet or need a place to stay while looking for a more permanent place to live. And unlike the bunkhouse of yore, it's a welcoming space, with rocking chairs and flowers on the front porch and a warm and homey interior, decorated with honey-colored wood, cowboy gear and her father's saddles.
Jodie's dad is Jack Hooker, from the fabled Whitetail Ranch, and his saddles are saturated with a lifetime of work and memories. Retired now, he was an outfitter in the Bob Marshall Wilderness, and he also ran the Iditarod Trail Sled Dog Race in Alaska two times.
The Bunkhouse pays homage to this remarkable man with photos, his taxidermy mounts and cowboy gear.
The story of how Jody came to own the Bunkhouse could be a western movie. She's also a Real Estate agent and had shown the building, a former church, a few times, but had no takers.
She had a vision of what she could do with the building before she bought it. She wanted to build a bunkhouse that gave people a nice place to live as they were finding their way in life. So she made an offer to buy the building, which needed a ton of work, and went to the closing, where she was told she needed a hefty sum, which she didn't have.
Her dream shattered, Hooker headed to the VFW in Polson to drink away her sorrows.
An older man sitting beside her asked how her day was going. She told him the whole story, ending with, "I don't have that much."
"I bet on people," he replied. "I'll bet on you."
Hooker was amazed when Keith Normandeau, the man who wanted to bet on her, pulled his checkbook out and wrote her a check, then met her at a local bank the following day to sign a cashier's check. She paid him back two years ago.
After the closing, Hooker began to fix up the aging building. "I'm good at demolition," she said.
Not much of a carpenter, she began watching YouTube videos and buying materials as she could afford them. Eventually she got acquainted with craftsman Troy Rosin, who could do the jobs she couldn't, and hired him to help finish the building.
She calls him "the man who makes this possible," motioning to the Bunkhouse.
Eventually she offered him an apartment in the building in exchange for labor, and every Monday she and Rosin tackle some aspect of the Bunkhouse.
Hooker has her own apartment at the other end of the building's upper story, with her own woodshop at the back. She's constructed the bathroom vanities and doors and plans to make more furniture when the Bunkhouse is complete.
Bunkhouse Life
The Bunkhouse, which has been in business for four years, is almost always full, especially with the shortage of local rentals. Hooker caters to people who need a clean, friendly place to live.
"The Bunkhouse is a place to give people a jump start, a nice place," she says.
In other facilities, renters need to provide first and last month's rent plus a hefty damage/cleaning deposit. The Bunkhouse makes it easier since it is a month-to-month rental that doesn't require a big chunk of cash.
Hooker requires a cleaning deposit so she can be sure it's clean and tidy for the next renter.
All the Bunkhouse rooms are finished, furnished, with sheets on the beds. They all have western names like Spur, Lariat, Roper, Cowboy and Wrangler.
There's one person per room since she doesn't rent to couples or families with children. It's a no-pet facility. There's no drinking or drug use in the Bunkhouse, and smoking is only allowed outside.
"It usually takes them (residents) a couple of weeks to realize.'Hey, I've got to be considerate of other people,'" Hooker said. She keeps reminding them of the rules, and they get used to living at the Bunkhouse or they move on.
There's a communal kitchen; each roomer has a cupboard allotment, a refrigerator area, and freezer space to store his or her food. Hooker provides pots and pans for cooking as well as dinnerware and silverware. Each person needs to wash their dishes and clean up the kitchen after use.
The renters share the two bathrooms, and have a TV/common room where they can watch TV, play cards, or just hang out. She also provides a laundry room complete with supplies, and each renter gets two free loads of washing per month, and then she invoices them for additional loads.
Hooker continues working as a real estate agent and keeps working on the Bunkhouse, helping people get a hand up.
And she continues to write her dad a letter every Thursday to tell him about her latest adventure.
For more information on the Bunkhouse email www.BunkhouseofRonan.com.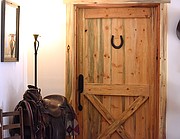 Recent Headlines
---