Live Oak Belgians heads to Draft Horse Classic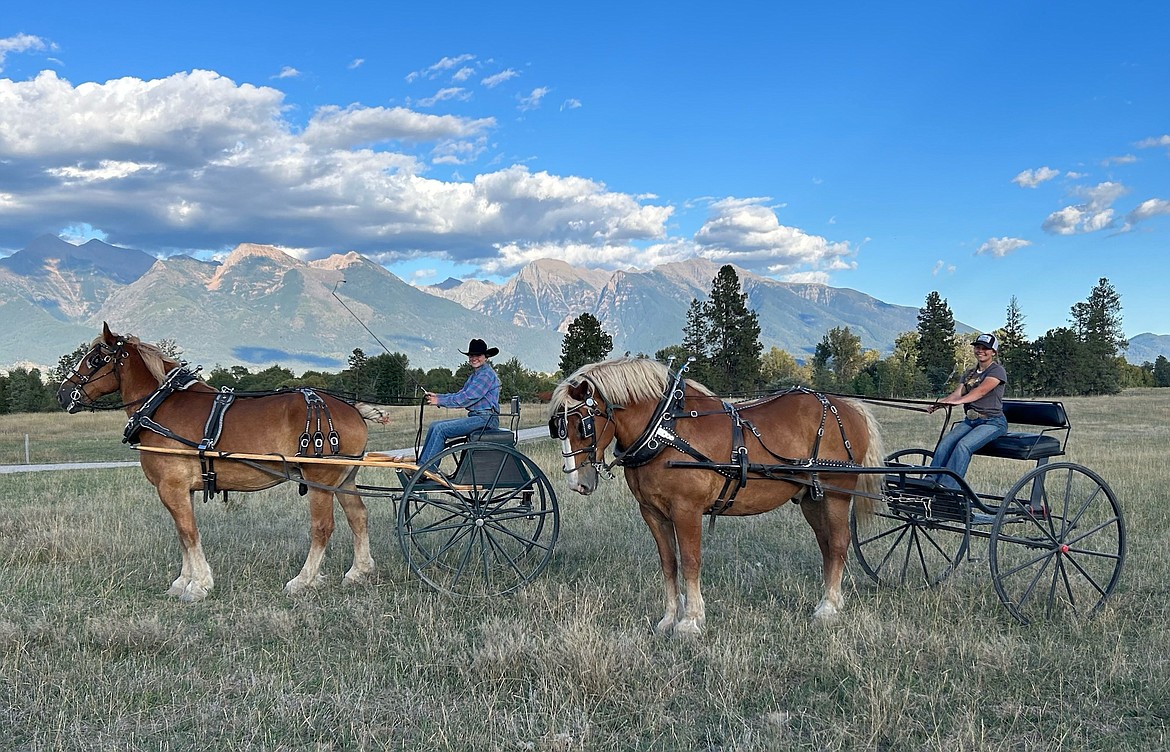 Lina Sturman of St. Ignatius is driving Mr. Max and Serenity Shore of Lake County, Calif., is holding Jimmy's lines as the girls prepare for the Draft Horse Classic Sept. 21-24 in California with Live Oak Belgians. (Kenn McCarty/Live Oak Belgians)
|
September 21, 2023 12:00 AM
Live Oak Belgians of Lake County competes this week in a prestigious invitational draft horse show, the Draft Horse Classic, held Sept. 21-24 in Grass Valley, Calif.

This will be Live Oak Belgians' 23rd year to attend this show. The farm, located on Old Freight Road near St. Ignatius, is owned by Kenn and Susan McCarty.

This show is exclusively for heavy draft horses which include breeds such as the Belgian, Shire, Suffolk, Percheron, American Cream, Brabant, Spotted Draft and Clydesdale. According to Kenn McCarty, 30 heavy draft horse breeds exist in the world and all are northern latitude horses, but only these are represented in North America.
Attending the show with the McCartys is junior youth apprentice Lina Sturman, 16, of St. Ignatius. Lina volunteers her time three to six days a week to work with and learn the care and maintenance of draft horses – a position that was called a "hostler" in yester-year – as well as learning the skills of teamstering.
Lina is a home-schooled student who belongs to the Mission Valley Ranch Hands 4-H Club. She's also a Montana State Ambassador officer for 4-H.
At the Draft Horse Classic, Lina will compete in a variety of classes for juniors including showmanship, rail and obstacle classes. These classes involve driving single horses as well as teamstering pairs.
Lina comes from a farming family and is familiar with horses and all manner of livestock. Her parents are David and Tracy Sturman of Shady Maple Farms.

"We feel privileged to be able to sponsor Lina and help her with her goals of agriculture academia as well as being a youth leader," says Kenn.
Lina also attended the Draft Horse Expo last month in Billings with Live Oak Belgians.
Serenity Shore (15) will also be showing with Live Oak Belgians at the Classic, marking her fourth time competing at the event. She's been an apprentice for Live Oak Belgians since she was 9 years old and has competed as a Pee Wee at the Draft Horse Classic three times. Although she lives in Lake County, Calif., Serenity flew to Montana to practice and help prepare the team for the show.
Participating horses include Mr. Max, a Flemish-style Belgian who stands 18.3 hands high and weighs 2,300 lbs., and Jimmy, another member of the equine team.
Recent Headlines
---